Braxton Miller is an amazing college quarterback. When it's all said and done, he should be Ohio State's all-time leader in total offense (just 505 yards away from Art Schlichter's 8,850), touchdown passes (just six TDs away from Bobby Hoying's 57) and he'll have the most total touchdowns of any player to wear the Scarlet and Gray (one TD away from Schlichter's 85).
Those vaunted records are only the tip of the iceberg. With a solid season, Miller could pass Schlichter on the career passing list (2,256 yards away from Art's 7,546), the career wins list (11 wins away from Schilchter's 36) and could move into OSU's second all-time leading rusher spot behind Archie Griffin with another 715 yards on the ground.
The two-time Silver Football winner has accomplished plenty in his Buckeye career, but there's one glaring hole on his resume: a bowl win. The senior signal-caller owns two pairs of gold pants, countless highlight reel plays, and zero wins in January. Obviously Miller's situation is incredibly unique. Thrust into a sink-or-swim situation his freshman year, then denied a shot his sophomore season, Miller had to wait until his third year for a legitimate chance.
So is Braxton's situation unheard of? Could a player enter a season ready to fill up the record book without a single notch in the bowl win belt? To answer the question I took a look at the top four quarterbacks in Buckeye history determined by the only record that really matters: win total. Then I broke down how many games it took them to achieve their first bowl win. 
*Programming note. "Total games before a bowl victory" only counts games started.
#3 Bobby Hoying
Leaving Ohio State with a record of 30-6-1, Bobby Hoying comes in at No. 3 on the list of all-time Buckeye wins. Hoying earned the starting spot as a redshirt sophomore in 1993 and never looked back, racking up eight wins and a tie before losing to Michigan 28-0 in the season finale.
Still, the 9-1-1 record was good enough to get the Buckeyes into the Holiday Bowl against BYU. John Cooper guaranteed a win and that's exactly what they got beating Brigham Young 28-21. The victory gave Hoying a bowl W in his first season as a starter.
Total games before a bowl victory: 12
#2 Cornelius Greene
Cornelius tallied a 31-3-1 record as a starter from 1973-1975. In just his second season in the Scarlet and Gray, Greene earned the starting spot over senior co-captain Greg Hare.
The fleet-footed Greene coupled with sophomore running-back, Archie Griffin, proved to be a deadly combination.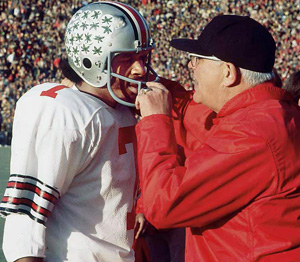 The duo rolled through their competition posting a 9-0 record before tying Michigan 10-10 in Ann Arbor. What followed was the infamous vote sending Ohio State to the Rose Bowl over a Michigan team with an identical conference record (7-0-1).
Greene and the Buckeyes made the most of the Wolverines' misfortune, beating USC 42-21 in Pasadena. Cornelius was named the game's MVP, tossing 6-8 for 129 yards.
Total games before a bowl victory: 11
#2 Terrelle Pryor
Say what you will about Terrelle Pryor, but the kid could fill up the win column. The Jeanette, PA native left Columbus with a 31-4 record and three pairs of gold pants.
After a humiliating loss to No. 1 USC in 2008 Pryor took the reins as a freshman, winning his first start 28-10 over Troy. Terrelle quickly proved worthy of the recruiting hype, beating No. 18 Wisconsin and No. 20 Michigan State on the road. Unfortunately he couldn't pull off the ranked team hat-trick, falling to No. 3 Penn State in Columbus 13-6.
Pryor would lead the Buckeyes to wins in their final three games, earning them a Fiesta Bowl matchup against Texas. The Scarlet and Gray fell just short of a victory, losing 24-21 and putting off Pryor's first bowl win for at least another season.
Terrelle refused to be denied in his second year, posting an 11-2 record including a Rose Bowl victory against the Oregon Ducks where he was named the game's MVP (23-37 for 266 yards and 2 TDs with 20 carries for 72 yards on the ground).
Total games before a bowl victory: 23
#1 Art Schlichter
With 36 total wins, Art Schlichter comes in at No. 1 in the Buckeye record books.  Much like Pryor and Miller, Schlichter began his career as a starter in his freshman season.
In his first year, (1978) Art posted a 7-4-1 record including a loss to Clemson in the Gator Bowl (yes that loss).
A sophomore season delivered a new coach but the same result for Schlichter at the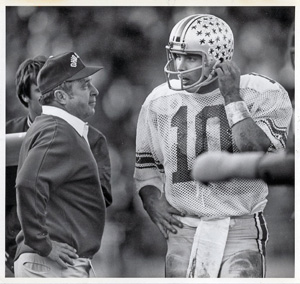 end of the season. The '79 Buckeyes went undefeated and entered the Rose Bowl with a chance to win a national championship in Earle Bruce's first season. The Buckeyes fell one point short of that goal, losing to No. 3 USC 17-16.
Coming off of three straight bowl losses, the 1980 Buckeyes were determined to get a W. Once again it didn't come to fruition. Schlichter and company mustered a 9-3 record losing to Penn State 31-19 in the Fiesta Bowl.
In 1981, after four years at the helm, Schlichter finally got his bowl win. The Buckeyes finished the season 8-1 with a 14-9 victory over Michigan in Ann Arbor. The record gave the Scarlet and Gray a share of the B1G and pitted them against Navy in the Liberty Bowl. Schlichter delivered a solid performance, managing the game and tossing two touchdowns en route to a 31-28 win.
Total games before a bowl victory: 48
---
In 2014, Miller will begin his march to a bowl game win where Schlichter ended his: against the Midshipmen. If all goes as planned, Miller will start his 48th game in the first round of the four-team playoff and his 49th in the national championship game. Of course that's the  best-case scenario. At the very least it will take Miller 48 games to get a bowl victory. Coincidentally, it's the same number held by the player he finds himself frequently chasing in the record book.
Miller's bowl win drought is lengthy but it isn't unprecedented. Still, there's a feeling Braxton must end it this season; filling the hole on his mantle while simultaneously cementing himself as one of the greatest Buckeye quarterbacks of all-time.