In East Cleveland on the corner of St. Clair Ave and E. 113 St sits a school that goes by the name of Glen Hi, short for Glenville High School. Students call themselves the Tarblooders because they beat the blood and tar out of their competition.
Perhaps the mascot was inspiration for two 1920s Glenville students who went on to develop a comic book character they named Superman. This larger than life being did everything in his power to beat the opposition while always fighting for the good guys. Since the inception of Superman the school and neighborhood surrounding Cleveland Glenville High have seen changes, but the idea of fighting for what's right remains alive and well in the hearts and minds of the Tarblooder football team.
That's why many of them have chosen to continue their education at Ohio State. Over the past 12 years, 22 Tarblooders have committed to the Scarlet and Gray, more than any other high school over the same period. This tally includes three players in the 2014 class: offensive guard Marcelys Jones, safety Erick Smith and cornerback Marshon Lattimore.
The fact so many Glenville players make the decision to don the Scarlet and gray is no coincidence. The pipeline continues to flow because of one man: Tarblooder head coach, Ted Ginn, Sr.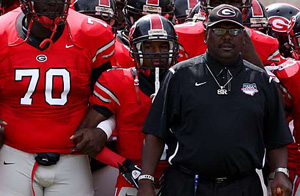 Under his tutelage the Red and Black have been a veritable force, dominating the Cleveland public high school circuit while making noise in the OHSAA playoff picture. In 2009, Glenville became the first Cleveland Public school to advance to the State Final in playoff history. In an era where private school money breeds results on the football field, this achievement can't be understated.
A number of Glenville alumni have walked the halls of the Woody Hayes Athletic Center and many have seen meaningful playing time on the field, but five have truly set themselves apart from the rest. What follows are the top-five Cleveland Glenville commits over the last 12 years.
No. 5 Marcus Hall
Hall signed with the Scarlet and Gray in 2009 as a four-star offensive tackle. On first look it was evident Marcus had the frame for the position, standing at 6'5'' 293 lbs. As a true freshman Hall played in nine games and started one before red-shirting during the 2010 season. In 2011 Hall started the first five games before moving into a back-up role to finish the season. The early experience paid off as Marcus earned a starting position in 2012 and never looked back. He started all 12 games of the Buckeyes undefeated campaign where the Buckeyes averaged 242 rushing yards per game (10th in the nation) and 37 rushing touchdowns (the best for a Buckeye team in 34 years).
2013 was more of the same for Hall who, along with senior veterans Jack Mewhort, Corey Linsley and Andrew Norwell, formed one of the most effective offensive lines in the country, rushing for 308 yards a game (5th in the nation). Hall's career wasn't without some controversy, but it's the kind most Buckeye fans can stomach. He was a beast on the line and will certainly be missed.
No. 4 Christian Bryant
Bryant was a 2010 four-star cornerback out of Glenville who immediately made an impact in his freshman season, appearing in seven games and earning a starting position his sophomore year. In 2011 Bryant had eight pass-breakups (tied for third in the Big Ten), eight total passes defended (13th in the league) and was third on the team in tackles with 68.
Bryant continued his upward trajectory in 2012 where he tallied 70 tackles (2nd on the team), and 13 passes defended (good enough for sixth in the B1G). The performance earned him Second-Team All-B1G honors and set him up for success heading into his senior season.
Unfortunately Christian's final Scarlet and Gray campaign was cut short after a broken foot against Wisconsin, but that shouldn't diminish his achievements as a Glenville great. Christian was a leader on the defense and all-Buckeye. His contributions in only three seasons were enough to land him on this list.
No. 3 Tedd Ginn
Back in 2004 Buckeye Nation was abuzz with the commitment of five-star cornerback Ted Ginn, Jr. The son of Tarblooder head coach, Ted Ginn, Sr., the speedy athlete had all the tools to be an amazing cornerback or wide-receiver at the college level.
There's not much to say here as Ted was all OSU fans wanted and more. In his freshman season he returned four punts for TDs breaking a B1G conference record. The performance earned him First-team All-American honors. His production continued in 2005 where he hauled in 51 catches for 803 yards and 4 TDs. He also housed a punt and a kick return for TDs and punched another score in on a rush. Once again he earned First-team honors tallying a First-team All American nod as a returner by Rivals.com.
In 2006, his last season as a Buckeye he reeled in 59 catches for 781 yards and 9 TDs and added another punt and kick return to his total. He helped lead the Buckeyes to the National Championship and earned First team honors as an All-Purpose player by Rivals and a First-team All-B1G nod.
Ginn is not only one of the greatest Tarblooders to play for Ohio State, but he's one of the best players to suit up in the Scarlet and Gray period.
No. 2 Donte Whitner
A five-star recruit back in 2003, Whitner was slated as the No. 1 CB in the state and the No. 3 CB in the country. He made his presence known in his freshman season leading the special teams unit with 22 tackles while also blocking a punt and forcing a fumble. In his sophomore year, Donte started six of ten games and finished the season with 69 tackles (good enough for fourth on the team), one sack, four tackles for loss, a pass break-up and an interception.
But, 2005 was Whitner's break-out year. In that season he racked up 73 tackles (third on the team), four sacks, nine tackles for loss, one forced fumble, six passes deflected and two interceptions including one for a score. Not too shabby Tarblooder. Not too shabby at all.
No. 1 Troy Smith
You probably saw this one coming, but Troy Smith is number one on the list of top Glenville talent. Interestingly enough, he was also the least heralded of any of the recruits on this list.
The now famous story is that Troy was one of the last commits in the class of 2002. Things looked bleak at the onset for Smith who played sparingly at kick-returner and running back as a redshirt freshman in 2003. Sitting behind what appeared to be the Buckeyes long-term answer at QB in Justin Zwick, Smith's playing time appeared to be minimal at best. That all changed when Zwick was injured in 2004 against Iowa. Smith walked into the middle of a 17-0 trouncing and managed a TD pass to Rory Nicol but it wasn't enough as the Buckeyes went on to lose 33-7. That was one of the last times Smith would endure a loss as the signal caller of the Scarlet and Gray.
Smith went on to win four of the team's last five games in the 2004 season. From 2004-2006 Smith compiled a 25-3 record as a starter with three wins over Michigan, a bowl win over Notre Dame, a win over No. 2 Texas in Austin and a National Championship game appearance. In his senior season he threw for 2,542 yards and 30 TDs while adding another 204 yards and 1 TD on the ground. The performance earned Smith a Heisman in a landslide, making Troy the best Tarblooder commit in Buckeye history.
Take a bow Troy.