The Hurry-Up is your nightly dose of updates from the Ohio State football recruiting trail, keeping tabs on the latest from commits and targets from around the country.
"Once you get to college, your position coach is basically your dad"
The news became basically official on Thursday night – Al Washington is staying at Ohio State.
And with that, the No. 1-ranked recruiter in the 2022 class will not be going anywhere for the time being, and one of the best relationship-builders on the Buckeyes' staff is cemented in Columbus for at least another year.
When Gabe Powers heard the news, the Buckeyes' borderline five-star outside linebacker commit in the 2022 cycle was as ecstatic as should be expected.
"I was really excited," Powers told Eleven Warriors about hearing the news. "I wouldn't wanna be coached by anyone else. He's a great guy, great coach. Such a personable coach and just feels like family, you know?"
When we spoke with Powers and his dad, Mike Powers, prior to his commitment this past summer, each of them sang the praises of Washington, with Mike saying "I can't say enough good things about that man."
The younger Powers had just as high of a compliment for Washington upon hearing the news of his non-departure.
"Once you get to college, your position coach is basically your dad," he said. "You're with him basically 24/7. As far as relationships go, it's a great relationship. He means a lot to me. To have a coach that good not only for football but that you can relate outside and have a great relationship outside of football means a lot."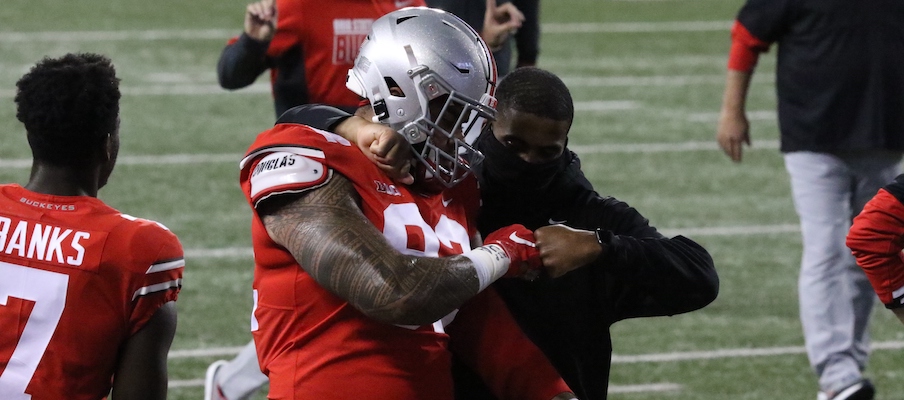 Powers and his family actually had a Zoom call with Washington, Ryan Day, Kerry Coombs and a couple other Buckeye coaches on Tuesday to catch up. The question of whether or not Washington would leave for Tennessee was brought up, and Washington said "I'm a Buckeye," Powers said. "So I kind of knew he'd be staying."
So Washington is in place for now in Columbus, but that doesn't mean we won't find ourselves in this same situation a year from now. There remains the possibility, of course, that Washington could become a defensive coordinator somewhere else when we hit the offseason of 2022.
That's a possibility that has crossed Powers' mind. But it doesn't matter as far as his college destination is concerned.
"Yeah, I have thought about that," Powers said. "After this situation, you wind up thinking about it. But I'm a Buckeye. I'm a Buckeye for life. As long as things stay how they are right now, even if he leaves, as long as the coach (who replaces him) is good, we'll be Buckeyes. I didn't just commit for one coach, although that made it a much easier decision to commit there. I'm a Buckeye."
Now that his future position coach is once again solidified, Powers can get back to focusing on his main objective for this offseason – training.
"I'm trying to get up to 240 pounds before my senior season," he said. "(The Ohio State coaches) think it'd be great if I can get to 240 and keep my speed. That's the big thing. I wanna keep my speed, for sure. I wanna go to some camps this offseason, if there are camps. Training's been going good, though, just getting a lot bigger, stronger and getting faster."
"I just took his word for it"
While we spoke with Powers after the Washington news was announced, we also spoke with Ohio State 2021 signee Jaylen Johnson on Thursday just hours before the news broke.
Johnson, a safety commit who has the potential to become a linebacker in college, was pretty confident Washington would be sticking around. Johnson texted Washington the day he heard the rumors start to spread about him possibly leaving for Tennessee. The communication was there, no matter what the linebackers coach ultimately decided.
"I'm not that worried because if it was that serious, Coach Washington would've contacted me personally," Johnson said. "When I asked him, he told me that if anything like that were to happen, you would've been one of the first commits, one of the first people, I would talk to. He said, 'You know you have my respect J,' and I just took his word for it. So I'm pretty sure he'll stay at Ohio State."
And then Johnson had to throw in a little jab with a laugh: "Who would wanna go to Tennessee? Especially with those McDonald's bags."
Johnson and Washington have been close ever since Washington was the one who gave him his Ohio State offer. And you may remember this story from shortly after Johnson's commitment in which Washington had a bit of fun with Johnson. He pretended to tell Johnson that the Buckeyes didn't have room for him in the class before flipping it around on him and telling him they were all in on Johnson.
If the two didn't have a tight bond like that, Washington never would have cracked that joke (to which Johnson agrees).
"We're close. Real close," Johnson said. "It's not even on a football standpoint. He's a great man outside of football, and our relationship is very tight. So I'll be leaning on him when I go to Columbus."
Like Powers, Johnson is now back to his main focus of training before he heads to Ohio State on May 30 as a summer enrollee.
One of the best peer recruiters in the 2021 class, however, is near retirement (with the exception of pushing for J.T. Tuimoloau). With C.J. Hicks and Dasan McCullough leading the way for the recruiting class of 2022, Johnson is all set to let them handle it.
"It'd be cheating if I came in and helped," Johnson said.
Nolen drops top 10
As we talked about earlier this week, the country's No. 1 defensive tackle and No. 2 overall player in the 2022 class, Walter Nolen, has included the Buckeyes in his top-10 list of schools he's considering.
Honored and blessed to say at this moment to have named my top ten schools at the moment recruitment is still fully open @Hayesfawcett3 @ChadSimmons_ @YONO96933567 @BigWalter79 @Coach_WallsSBA @dzoloty @ESPN3ALLDAY pic.twitter.com/An8GLk8v5G

— Walter Nolen9 (@WalterNolen4) February 12, 2021
Ohio State is pitted against schools such as Alabama, Clemson, LSU and Michigan for the services of the five-star defensive tackle out of Tennessee.