Al Washington is just a few days away from helping lead one of college football's colossal brands into a battle on the sport's brightest stage.
It's late December of 2019, and even as he sits in an Arizona ballroom on media day, fresh off answering a bombardment of questions on how to contain Clemson's rushing attack or how to handle Trevor Lawrence in the College Football Playoff, there is no hesitation when asked to recall memories from 2007.
And, really, how could he forget?
Even at one of the lowest levels of the profession, that was the year his coaching career saw its true take-off moments. It was the first major step on a journey that helped bring him all of this – the 100,000-fan atmospheres, opportunities to work with and develop NFL talent and stashing more than $500,000 a year in his bank account.
All of that began with learning the best ways to build relationships and recruit at a small private research school on the east coast.
Washington accepted his first non-graduate assistant college coaching job that year as a defensive line coach at Division III Rensselaer Polytechnic Institute in the city of Troy – a smallish town sitting just outside Albany and nestled about halfway between the Massachusetts border and Schenectady in Upstate New York.
He was less than a year removed from his retirement as a defensive tackle, which was highlighted by 48 games played as a three-year starter at Boston College and a brief stint up north playing for Canada's Saskatchewan Roughriders and Hamilton Tiger-Cats.
It's not like it was a career destined for Canton. But still, here he was, at a level much lower than what he was used to, grinding as part-defensive line coach, part-admissions counselor and part-tour guide for RPI – a job he credits his stepmom for attaining since she sent RPI his résumé, unbeknownst to him, while he was on the precipice of leaving the world of coaching football behind.
At RPI, his duties included heading up information sessions with prospective students, taking families all over the university to show them the campus digs, doing laundry for the players and film exchange with opposing coaches in the Liberty League.
"I did it all, man," Washington tells Eleven Warriors, a grateful and telling open-mouthed smile forming as he leans back and reaches behind himself to grab those memories from the back of his head. "I was responsible back then – and this was only 12 years ago – to exchange film with the opponent. You would have to go travel and meet halfway with the other coach. So you drive two hours to meet at a rest stop, exchange the DVDs  – back when DVDs were big – and then drive back.
"And it's all on faith. 'Cause I'm not gonna watch the tape until I get back to the school. I get back, and half of it doesn't work. And then you have to set up another time to go back and get the rest of it.  It was just a pain in the tail, but it was all those moments – the 24-hour nights – all those moments, man, they were kind of a headache in the moment, but now you just look back and laugh and enjoy those times. … (We did) anything that was needed. That's the beauty of that level. I was a coach, but I had to do all the other pieces. I had to video exchange, cut film up, we all did that. Everybody did that. That's just the way it was. It definitely shapes you. It makes you appreciate it."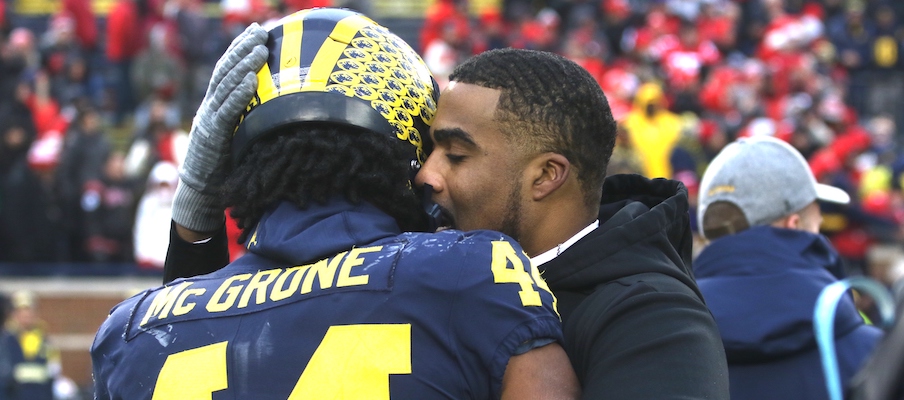 Washington was grinding away as a jack of all trades, restricted-earnings coach, making just $12,000 a year at the Division III level. (For comparison's sake, he now makes nearly $20,000 on a bi-weekly paycheck.)
But the best job experience, the one he has been forever the most grateful for, came in places like high school gyms in New York City and on the tiny RPI campus, the spots where the key groundwork was laid in his first taste as a college football recruiter. 
He would set up his own station at college fairs, trying to convince engineering students to come to RPI, and he would stand on the university's 296-acre grounds, hoping to get the next local standout linebacker to become the 6,629th enrollee at the private school.
"The best experience was going to NYC and doing college fairs, man," Washington says. "It was a job fair, and you wanna learn about how to recruit? You were sitting there, and you have to draw people to your station. It was an awesome experience, man, and just learning. That was really how I cut my teeth."
He didn't yet have the Block O, its monstrous alumni network, or any of the tens of thousands of students walking around the 1,665-acre Columbus campus to show off to recruits. He really only had himself to lean on in those moments.
Those moments and those days are when and where he says he "absolutely" dug into and crafted the recruiting approach he uses to this day. It was just like walking into a house party and meeting new people over a game of beer pong.
"It absolutely carved it out," Washington says of developing himself as a recruiter during those years. "It kind of highlighted the fact that you have to build relationships in order to stand out, in order to connect. It's just like going out to try and meet new friends. You have to connect with people. You've gotta take the time."
"I kind of go about it the same way I did at RPI"
It was the same type of situation he found himself in two years later, coaching defensive linemen at Division II Slippery Rock University, and it was the same type of situation he found himself in a year after that, coaching linebackers at Elon University of the FCS (formerly known as Division I-AA).
"That was probably the biggest benefit from being at those lower levels because it's not about the logo," Washington said. "It's about who you are. Especially when you look at Division III and Division II, they have to pay (to play). So why are you gonna pay to come play for me instead of playing for another?
"They're paying. The only thing you can offer them is the experience. You can offer them opportunity once they graduate."
So, he found out it was "all about relationships." It's about time. It's about being creative. It's about engaging the parents and coaches of those players.
Getting creative means "getting outside your comfort zone," Washington says. You have to find out the player's interest, find out what other sports they play and connect with them through things outside of football. 
"If I'm recruiting you, I'm gonna do more than the next school to try and get to know who you are, what you're like, how I can help you," Washington said.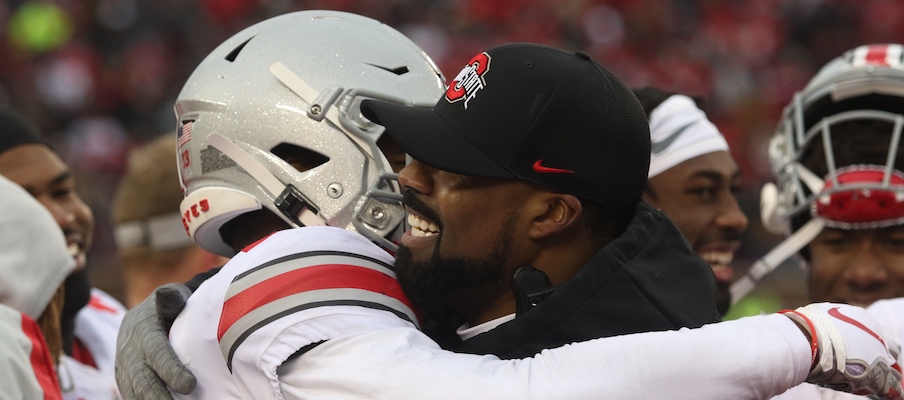 Those relationships don't stop. A lot of the players, and parents of the players who he coached at Slippery Rock and Elon, are people Washington still talks to at least once a month.
"I love all those guys," he says. 
And now? Now he can tell them about where everything has taken him – a place where recruiting, actually, gets a bit simpler. 
"Now, I'm at Ohio State where it's its own brand, so to speak, and it definitely helps to have that experience," Washington said.
The entire recruiting game is different now, though, right?
"In some ways, no. In some ways, yeah. Obviously, being at Ohio State, the facility and like this, right now," Washington says, pointing around to the hectic hubbub of media day, "that's obviously no comparison. But in terms of relating to kids and being on the field, I kind of go about it the same way I did at RPI. When you're out there, football's football so in that way, it's a lot of the same."
"I respect him like crazy"
There have been some concerns that Washington may not be as effective of a recruiter based on the fact that Ohio State has not landed a second top-tier linebacker in the 2021 class – and as we talked about this week, that remains unlikely to happen.
But Washington did land that first top-tier linebacker in Reid Carrico, the No. 2-ranked inside linebacker in America. And even though it may seem like landing an in-state player was like shooting fish in a barrel, Washington crafting a relationship with Carrico was massively impactful and helped keep him home instead of heading to Clemson or Alabama. 
"I'm kind of the same guy as Coach Washington," Carrico told Eleven Warriors in October. "I get hyped up, and I'm a high-energy guy. Coach Washington is, too, so it just seemed like I could feel myself in him. He's a motivator. He's gonna give you a pat on the back when you do good, and he's gonna tear your heart down when you do wrong. He does it the right way."
Washington called up Carrico on a weeknight before the Buckeyes' September game against Indiana, just to take some time to break down film and have a chat. That was when the moment hit the Ironton star that he had made the right decision by pledging himself to Washington.
"I felt like I was already one of his players," Carrico said. "He's got everything to do to get ready for Indiana, and he's spending all this time with me so obviously I mean something to him. And he means something to me. I respect him like crazy, and that's why I felt so good (about committing).
"That night he was supposed to be breaking down Indiana's passing game, and he was sitting there talking to me. That's kind of when it really clicked — when the idea really hit home that, hey, that's my coach right there."
Carrico isn't the only one who has sung Washington's praises. Fellow commits Cody Simon (in January), Jack Sawyer (in October), TreVeyon Henderson, Jaylen Johnson (in January) and C.J. Hicks have all lit up when Washington's name has been broached in the past.
"It kind of highlighted the fact that you have to build relationships in order to stand out, in order to connect. It's just like going out to try and meet new friends. You have to connect with people. You've gotta take the time."– Al Washington on building relationships in recruiting
So, too, have uncommitted targets in a 2022 class – Gabe Powers, Justin Medlock and Dasan McCullough, to name a few – that will serve as a great indicator of how Washington is able to cultivate relationships with recruits, if he is successful.
It's one of the highest-priority positions in the 2022 cycle, and being able to show off the recruiting chops that have him ranked as the 16th-best recruiter in the country will be monumental in determining the Buckeyes' future at the position. Especially in the recruitment of Powers, who appears like he should be a slam dunk, but fending off Clemson will likely be Washington's main challenge.
It's a hell of a far cry from trying to build a championship-winning roster at RPI – which, for the record, he helped accomplish, as the Engineers captured the Liberty League title in his lone season in 2007 en route to Washington and Co. being named the conference's Coaching Staff of the Year.
Nonetheless, it will require the same strategy as it did a decade ago.
"Every stop I've had, they've helped cut my teeth," he said. "I wouldn't say I made it. But you definitely look back at your experiences, man, and you appreciate where you are. They motivate you."