The Hurry-Up is your nightly dose of updates from the Ohio State football recruiting trail, keeping tabs on the latest from commits and targets from around the country.
McCord hoping to fill out class
This isn't any sort of breaking news, but when filling out a recruiting class, the four most important pieces for an elite program to fill are quarterback, pass rusher, cornerback and a cornerstone left tackle (in some order).
In Ohio State's 2021 class, the Buckeyes already have three of those spots filled out with five-star Kyle McCord, five-star defensive end Jack Sawyer and the best one-two punch at cornerback the program has had since bringing in Jeff Okudah and Shaun Wade in 2017 with top-70 overall players Jakailin Johnson (No. 3 CB) and Jordan Hancock (No. 4 CB).
That last piece to fill is that spot at left tackle, and there's really only one player left on the board who is a damn-near surefire cornerstone at the position in five-star Tristan Leigh out of Virginia.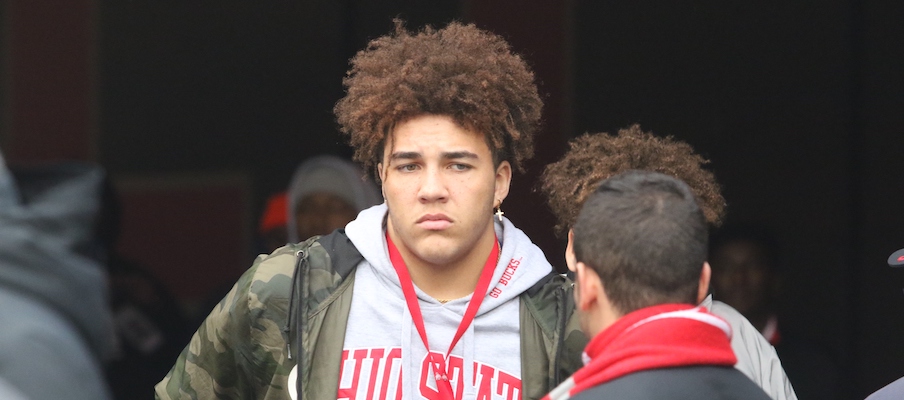 And the Buckeyes' quarterback of the future knows how important Leigh is to taking an already special class to another level.
"Tristan Leigh is one of them we're really going after," McCord told Eleven Warriors. "We probably need one more offensive lineman to wrap up the class, offensively at least – Emeka (Egbuka) and one more offensive lineman would be the ideal picture."
When looking at the 2021 class, it's really the same set of five guys that we have been talking about for the past three or four months as Ohio State's biggest remaining targets (with the exception of Jager Burton, who committed to Kentucky last week): Leigh, J.T. Tuimoloau, Tywone Malone, Egbuka and Derrick Davis Jr.
Regarding Tuimoloau, McCord said that the five-star defensive end is "a little bit of a quieter guy, but I know Ohio State's all over him and we're in a good position with him. So hopefully we can land this last batch of guys and really finish out the class strong. That's really gonna be a huge way to wrap it up."
Two of the recruits McCord is closest to, however, are the last two players mentioned on that list in Egbuka and Davis. 
"My relationship with Emeka goes way back," McCord said. "Really, ever since we first started getting offers and started becoming national recruits – even before I committed to Ohio State – we talked about teaming up in college, and once I committed to Ohio State I was obviously all over him. I know Marvin (Harrison Jr.) talks to him a little bit too. It's kind of been a team effort to try and bring him home. We told him don't rush your decision and don't commit anywhere if you feel pressured. I know Coach (Brian) Hartline is not that type of recruiter and not that type of guy to pressure a kid who's committing. So I know he's taking his time with it, and he's got a lot of schools coming after him. But right now, I feel pretty confident about our chances of landing him."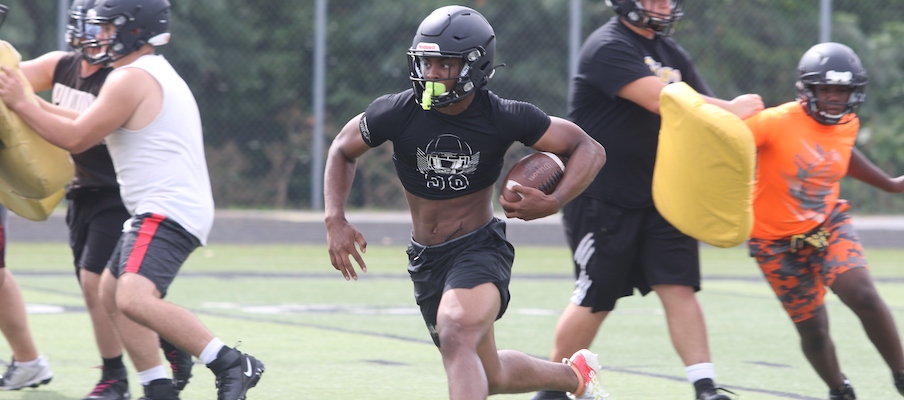 McCord and Davis both play their high school ball in Pennsylvania, and McCord has long been trying to get Davis to be next up in the line of Keystone State stars to commit to Ohio State. Just like a lot of people, though, McCord isn't quite sure what Davis is thinking in terms of his recruitment because the safety keeps things so close to the chest.
"I'm pretty tight with Derrick," McCord said. "We talk every now and then. I'm completely honest with him. I tell him exactly what I think. It's kind of the same thing I told Emeka – don't rush your decision and don't feel pressured to commit anywhere. I know Ohio State's gonna wait for him to make his decision before going another direction because he's an awesome player. I've been on him to try and keep that PA-to-Ohio State pipeline going with me, Marvin and Julian (Fleming) these last couple years. You know, right now I'm a little bit up in the air. I'm not really sure what he's thinking. He's more of a quieter guy, and he keeps to himself a little bit. But I'm hoping we land him. That'd be huge."
Picking Fields' brain
When we spoke with McCord extensively in July following the quarterback's standout performance at the Elite 11, one topic we failed to discuss with him was the presence of Justin Fields at the event. 
So, we made up for that on Friday, asking him to detail what he learned from one of America's best quarterbacks. 
"I was picking his brain a bit on the smaller things and just asking about the playbook a little bit and just seeing how he goes about his business on the field," McCord said. "Obviously, we didn't have a ton of time together, but the workouts we did have it was neat just to kind of see what a guy who is in the position that I wanna be in in a few years goes about his day and how he goes about his business. He was a really cool guy, down to earth. Talking to him was great, just picking his brain on some of the smaller things that don't get attention sometimes – like smaller things in the playbook or footwork or a read here and there – it was awesome to get to talk to him about that."
Rucci comes off board
As mentioned above, Ohio State is seeking that cornerstone left tackle in the 2021 class, and another option officially came off the board tonight. 
Five-star Warwick (Pa.) prospect Nolan Rucci committed to Big Ten opponent Wisconsin, giving the Badgers its left tackle of the future who will be squaring up with the likes of Sawyer (and maybe Tuimoloau?) in conference battles one day. 
Next story to write... pic.twitter.com/yTrDLYteNb

— Nolan Rucci (@nolanrucci) September 8, 2020
Rucci did not have Ohio State in his final five, so his commitment elsewhere was obviously not a surprise. Should be fun to see him battle against the Buckeye pass-rushers down the line.
---
Header photo: Kyle McCord – Courtesy QB Collective