MEDINA – The pace at which Ohio State brought in and developed heralded pass-rushers was already plenty fast.
Then Larry Johnson arrived and sent the cycle into turbo speed.
Brenan Vernon, the youngest five-star defensive end in the state of Ohio, knows all of the names. Raised in Mentor in a family a Buckeyes, he's seen each of the sack artists who have come through the program to line up for Johnson since Urban Meyer hired the defensive line coach in 2014.
Joey Bosa. Noah Spence. Adolphus Washington. Jalyn Holmes. Sam Hubbard. Dre'Mont Jones. Jonathan Cooper. Nick Bosa. Chase Young. Tyreke Smith. Tyler Friday. Zach Harrison.
The list of heralded pass-rushers to don Ohio State jerseys gets longer every year. Pickerington North's Jack Sawyer, a five-star defensive end commit who's five months from enrolling, is next in line. Vernon, a high school sophomore, waits in the wings if he opts to play for the Buckeyes.
"I'm not here to follow in nobody's footsteps," Vernon told Eleven Warriors on Friday night after Mentor beat Medina. "I'm here to do my own thing and I'm here to work my butt off."
Yet by doing just that, he might end up on the same path as all of the others.
In Columbus lining up for Ohio State as he spends a few years preparing for the NFL.
Two weeks ago, Vernon had just arrived back at home from football practice when he got word from Mentor coach Matt Gray told him to call Buckeyes defensive coordinator Greg Mattison as soon as possible. Gray didn't tell him why, and Vernon didn't suspect anything out of the ordinary. He hadn't spoken to Mattison in a bit, so they spent the first portion of their conversation just catching up.
Then Mattison sprung it on the 6-foot-5, 245-pounder. As Vernon put it, Mattison pulled the trigger. On behalf of Ohio State, he offered Vernon – the No. 9 overall prospect in the 2023 class – a scholarship.
"Tears started running down my face, man, because that's what I grew up on. I grew up on Ohio State football," Vernon said. "From my father to my uncle. From everyone. That's what I grew up on. That's what I'm striving for. I got it, but it's not the end. Definitely not the end."
Like most people in his town, Vernon got indoctrinated into Buckeye football from a young age. His father and uncle played a major role in that: "They bleed Ohio State," he says. 
"I won't let them down. I can tell you that much."– Brenan Vernon on receiving an Ohio State offer
As Vernon got older and grew into the frame he now fills out better than almost anybody his age, the Buckeyes ties he has always had remained steady, and he added another one. Noah Potter, now a rising redshirt freshman defensive end at Ohio State, spent the summer before his senior high school season working with Vernon, a rising eighth-grader.
"He taught me just the basics," Vernon said. "That's why I'm here where I am right now."
Two years after those workouts, Vernon has no shortage of offers, which makes sense given that he could physically get mistaken for a Big Ten defensive end – or a previously unknown third Bosa brother – right now even though he's just beginning classes as a high school sophomore.
Kent State extended an offer before he ever played a down in high school, and Duke and Indiana offered scholarships in the midst of his freshman season. Michigan gave him an offer during his unofficial visit to Ann Arbor to see the 2019 rendition of The Game. Since then, offers from Cincinnati, Kentucky, Iowa State, Notre Dame, Toledo, Michigan State, West Virginia, Nebraska and Tennessee have rolled in.
But this one, he says, he was the offer he wanted most. The Ohio State offer. A quickly-fought-off wobbly voice while explaining what the scholarship meant to him backed those words up.
"There's no time to stop now," Vernon said. "No time to stop now at all. I'm beyond blessed and beyond happy to have this opportunity to be offered to The Ohio State. It means the world, but right now that's not what I'm focusing on."
Vernon didn't outright call Ohio State the favorite to eventually earn his pledge. He says he hasn't thought too much about his recruitment yet, especially with the football season now underway. But it's far from a stretch to feel as though Ryan Day, Johnson and Mattison are sitting in the driver's seat.
Truly, they have everything going in their favor.
He's a born-and-bred Ohioan with a rich family tradition of rooting for the Buckeyes who's being recruited by arguably the nation's best defensive line coach. When has Johnson lost out on a top-of-the-line edge rusher from Ohio? It simply doesn't happen. In a sense, the Vernon-Ohio State pairing is the perfect match.
Oh, and he feels totally comfortable with the coaching staff after slowly building up relationships, which originated with executive director for football relations Tim Hinton and has slowly spread to other coaches.
"The way they carry themselves is amazing," Vernon said. "They look at me as more than just a football player, and that means the world because I'm not just a football player. I'm a human being. That's the way they look at me, and that's amazing. The way they all carry themselves is awesome, and I love them. I love them to death down there. Love them to death."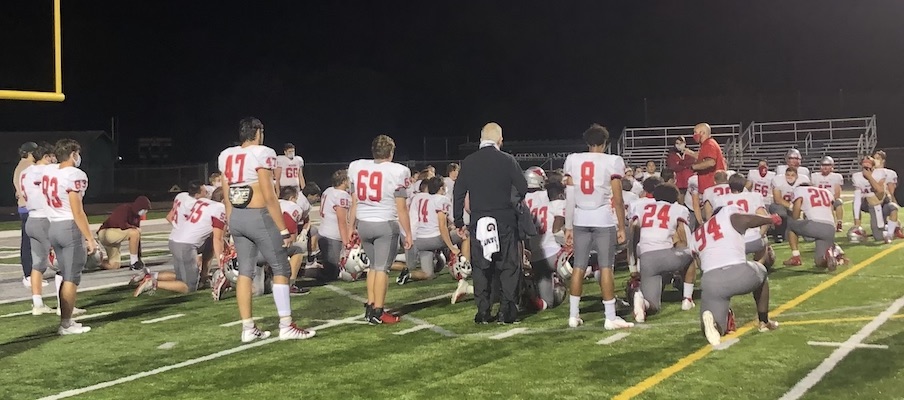 Now, it'll be up to the Buckeyes to use all their built-in advantages to land Vernon.
If they can make it happen, they'd suddenly get another possible stud in the pipeline. Harrison came out of Olentangy Orange as the No. 12 overall recruit in 2019, and Sawyer will leave Pickerington North in a few months as the nation's No. 3 overall prospect. It might be unfair to place someone as young as Vernon on their level, but that's where national analysts have him ranked right now.
Putting his early rating as the No. 9 player in his class into perspective, Ohio State has landed just 12 players ranked that high in the modern recruiting era, including Young and Nick Bosa who both ended up as top-three NFL draft picks. 
"I've got to keep this grind going," Vernon said. "Just the basic things. I've got to continue to work my pass rush, my strength, my speed and my technique-wise. But I've just got to keep grinding. That's it. Simple as that. Day in, day out. And that's that."
He's also third five-star defensive end from Ohio in a five-year span and a third who might end up as a Buckeye.
Johnson helped write the five-star-turns-into-a-first-round-pick stories in the past with Young and the Bosas. Now, he's trying to repeat history with Harrison, Sawyer and Vernon if – or, quite possibly, when – he chooses to attend Ohio State.
"I won't let them down," Vernon said. "I can tell you that much."