Last Friday afternoon, Jack Sawyer – Ohio State's five-star defensive end commit and the cornerstone of what could be a historic 2021 recruiting class – chose to end his high school career at Pickerington North and get started down his path to Columbus.
Sawyer grappled back and forth with the decision, talking it over thoroughly with his parents before ultimately making the call after a four-day period of tough conversations and weighing his options. He had a face-to-face conversation with his head coach, Nathan Hillerich, to tell him that he would not be returning for his senior season, as Sawyer told Eleven Warriors "it was tough to spit those words out of my mouth and get that across."
Hillerich was supportive and understanding of Sawyer's decision, and he gave Sawyer some time to go tell the guys. He didn't have to stand up in front of the team and give one final speech, but he was able to approach some of the teammates he was close with and look them in the eyes to tell them of his plan. Better that than having them find out on Twitter, Sawyer says, as he made the decision public hours later.
"Luckily, all the guys understand and they all support me," Sawyer said. "They all understand why I was doing it. They said it was a great decision. Even them saying that broke me down even worse. They were supporting me and backing me no matter what.
"It's definitely one of the hardest decisions I've ever had to make, just being such a loyal guy and team-first guy and competitor, it's really heartbreaking is all it can be described as. I love Coach Hillerich and I love all the guys on the team, so it was a very hard decision to make. But at the end of the day, I think it's the right decision."
Thankful for the awesome 3 years playing for Pickerington North. See you soon #BuckeyeNation. pic.twitter.com/mC09WDWcTJ

— Jack Sawyer (@jacksawyer40) August 14, 2020
The No. 1 reason Sawyer made that call is simple – he believes he will have the opportunity to play in games at Ohio State in the winter or spring, when the Big Ten is hopeful it will be able to resume a postponed fall season. When he was speaking with Ryan Day and Larry Johnson, and when he heard of Day's push to get early enrollees immediate eligibility, that's when the gears started grinding in Sawyer's head to possibly make this call.
"To tell you the truth, it was never a thought in my mind that I was gonna do that until I saw the Big Ten and all those guys cancel their seasons and that we could possibly have a season in the spring and have the early enrollees play and not lose a season of eligibility," Sawyer said. "That went into the decision making a lot, just possibly getting on the field a lot and going into a spring season and making some plays and making some noise. It's a huge development period that I can gain, and I just wanna go in there and be ready. After all that news came in, that talk just kind of fell on us with me and my family and some of my close coaches and stuff like that.
"I saw a bunch of different things, and then when I saw that early enrollees are gonna get a chance to play this winter-slash-spring season, after that it became almost a no-brainer what the right move was. Especially with all the uncertainty surrounding the high school season and not knowing if you're gonna get to play – right now, you still don't know. It could get pushed back or postponed, or you could be getting ready to play a game and it gets delayed or whatnot. After we heard that news and with the uncertainty of high school sports, we decided to make the right decision for the future."
That's something we talked about last Wednesday, the potential for early enrollees to come in right away with immediate eligibility in the spring and only use up one year of eligibility if they play in both the spring and fall. When we asked Sawyer about that in early July, he didn't scoff at the idea at all, but it was a bit of an afterthought. 
"I think that would be crazy to think a freshman could be playing there in two months (after enrolling in January), but I guess anything's possible," Sawyer said at the time.
(Multiple reports have since come out reporting that the Big Ten is targeting a Jan. 1 start date to the postponed season.)
It doesn't sound as crazy anymore. In fact, Sawyer believes that's exactly what is going to happen, and everything he has heard from Day and Johnson seems to back that belief. 
On Friday, the NCAA Board of Directors approved the NCAA Division I Council's recommendation that this year won't count as a year of eligibility for any fall sports athlete, so that furthers the momentum for Day's push to get guys like Sawyer and the Buckeyes' other early enrollees his "two-for-one" special. Now, the question is whether the NCAA will approve immediate eligibility for early enrollees.
"They've kind of just been saying the same thing. We're all just hoping and praying that they are gonna let us play because they think it's a great opportunity for us to come in there and get all that coaching and extra work right away," Sawyer said of Day and Johnson. "That's never been seen before, it's unprecedented times. Coach Day is definitely pushing for that right now, and I think all the coaches across America hope that's the case that they'll be able to play. It'd definitely be huge."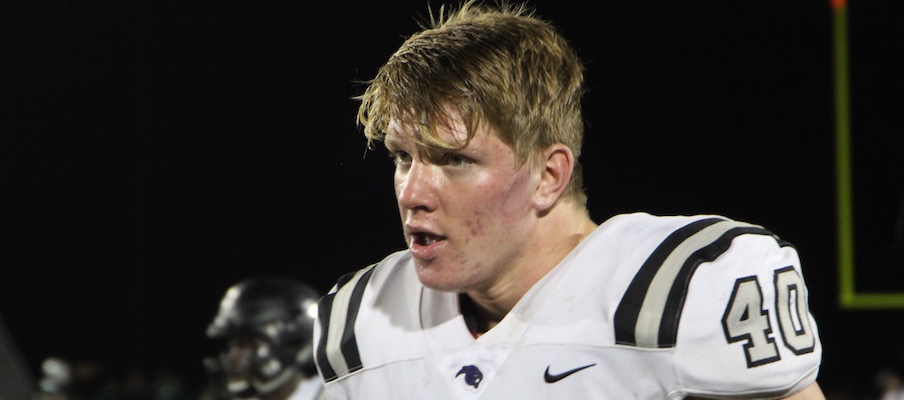 But what if he's wrong? What if the NCAA decides against allowing early enrollees immediate eligibility? Did he pull the trigger on a decision too soon?
"I don't think I did," Sawyer said. "I think it's gonna be official soon that it's gonna come out that we're gonna be able to play. And if, for some weird reason, that doesn't happen, then at least I'll be able to go in there and get some practices and see some live in-season types of practices and seeing how we game plan and prepare for games and whatnot, just get all that coaching with Coach Johnson and Coach Day and experience a season when I wouldn't normally be able to experience a season, you know what I mean?"
Another factor playing into the decision – what Sawyer calls "an added bonus" – is the possibility to work his way into some endorsement deals. Sawyer and many other players are hopeful that they will sooner rather than later be able to profit off their name, image and likeness – the NCAA is supposed to implement name, image and likeness legislation in time for the 2021-22 academic year – and playing for the Buckeyes earlier than anticipated could help lead to more exposure and quicker endorsement deals. 
That's a big plus, Sawyer says, but the main reason remains the same: "Really, what it was is the opportunity to play in the spring and get all that coaching, all that teaching."
In the meantime, Sawyer is going to continue training four or five times a week. Sawyer also met Wednesday with a nutritionist, who is putting together a strict diet plan for Sawyer to follow beginning this weekend. It will be a guide/blueprint of what he should be eating, when he should be eating and how much of it he should be eating, with a strong emphasis on getting more vegetables in his diet and ensuring he hits his protein numbers every day. 
"I think it's really gonna help my muscles get the nutrition it needs to help me recover and whatnot and just get better," Sawyer said. "I haven't really been the best with (my nutrition), but now it's time to start getting serious about it and make more responsible moves. I'm gonna be taking my diet more serious and try to get as strong as possible and as fast as possible. And really just polishing up my technique and try to get as best as possible before I come in the doors."
"I saw a bunch of different things, and then when I saw that early enrollees are gonna get a chance to play this winter-slash-spring season, after that it became almost a no-brainer what the right move was."– Jack Sawyer on the decision to opt out of his senior season at pickerington north
The calorie number he will be trying to hit each day is between 4,500-4,800 calories because of a very fast metabolism that burns all of those calories up. 
"I'm probably gonna shoot for a lean, ripped and carved-out 255," Sawyer said. "Who knows? I might be a big 260 or 250, but I'm really not trying to gain too much. I'm really confident with how strong I am now and definitely gonna feel a lot more confident with how much bigger and stronger I'm gonna be in four months, especially after following all of this nutritional stuff. I don't really have a set number I wanna get to but at least about 255."
Sawyer says Ohio State's strength and conditioning staff, led by Mickey Marotti, are not too concerned with what weight he enters the program at. They are not having him shoot for a certain number because, after only a few weeks – maybe less – his body will undergo a substantial change.
"(Marotti's) told me multiple times before that whenever I come in, it's gonna be instant and that I'm gonna put on at least 10 pounds right away just with all the food I'll have access to daily and the weight training we're gonna be doing," Sawyer said. "It's such a different lifestyle when you get there. A lot of kids don't have enough food. It's hard to get the food at home by yourself. A lot of times your parents are gone and you've gotta make yourself food. When you're there, you've got a full-time kitchen at the Woody Hayes."
Now it's just a waiting game until Sawyer can get in that building and get to work. And even with Ohio Gov. Mike DeWine announcing this week that Ohio high schools can move forward with having fall sports in 2020, Sawyer is not second-guessing his decision, though he is hoping the season will go smoothly for his former Pickerington North teammates.
"I was super excited," Sawyer said of hearing the news. "A bunch of my friends have been working their asses off so hard during the summer and even during the winter after last football season just waiting for senior year to show out and get out some good film to different colleges that are looking at them and waiting to see their senior film. I'm so excited for them. I can't wait to see a bunch of my friends and a bunch of my teammates get to go out and show off what they've been working so hard for."