MONROEVILLE, Pa. – If you're trying to get Derrick Davis Jr. to speak openly about his recruitment, good luck with that.
One of the greatest football players Gateway (Pa.) High School has ever seen lets his game do the talking on the field, and he rarely talks about where he's going to play when his Gateway days are over. He's not as intensely private as Washington's J.T. Tuimoloau, but he's still been keeping those things to himself since he was a freshman. 
That's when his recruiting process began, as he received an offer from Pitt just two games after he took over as the Gators' starting running back in 2017. He had been one of those kids that Gateway's coaching staff had heard was going to be the next big thing, but then again they've heard that sort of thing about a lot of kids. This time, it turned out to be the real deal.
After an injury to their top running back, the coaches put the offense in the hands of the freshman – who up to that point had been a defensive back and a minimally used receiver – and he shined. He plowed through the competition in the last two regular-season games and helped lead Gateway to three playoff wins, a state championship game appearance and what his head coach Don Holl described as "the classic coming-out game" as he led his team to a title on a rainy Heinz Field in Pittsburgh. 
An offer from Penn State in December was followed by an offer from Urban Meyer and the Buckeyes in February; soon enough, offers would flow in from Clemson, Georgia, LSU and USC. Those six schools, along with Pitt, are the final seven programs Davis is considering as we've now fast forwarded all this time later, and as he walks over to a reporter following a Monday afternoon practice at Gateway, he's going to do what he still doesn't like to do: talk recruiting. 
Don't take it the wrong way. On and off the record, Davis' coaches relentlessly praise his character and how he approaches the spotlight. He's grateful for everything that's come his way, and he works hard for it. But coming up on four years since all of this started, dealing with it all can get repetitive and tiring. The endless texts, people blowing his phone up, 40-minute interviews with people who all ask the same questions. 
It's hard to get a great read on where Davis is leaning. Even Ohio State's coaches haven't been able to get a great feel for it, and it sounds like that's the case at other programs, too.
I did, however, start getting the feeling – not a strong feeling, mind you – that we could be getting close to this whole process ending for Davis, who is the No. 52 overall player and No. 2 safety in the country's 2021 class.
"Hopefully I'll try to get it before the season," Davis said when asked about his decision timeline. "I'm hoping we can take official visits, that way I can make it fair for other schools. Because I've been to Ohio State, Penn State, Pitt multiple times. I wanna at least give LSU, Georgia, USC a shot."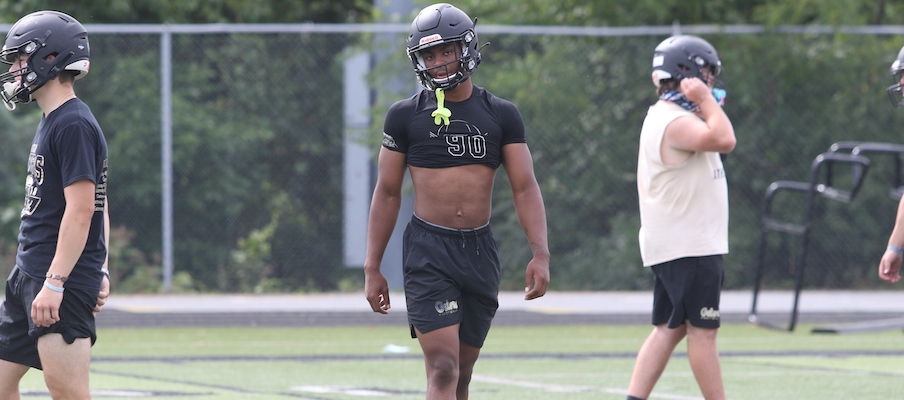 It's looking more and more likely that the NCAA is going to extend the recruiting dead period through Sept. 30, however, so if official visits are not allowed and he can't get to those places, that could factor in, too.
"If they cancel official visits, it's who's gonna stick with me the longest?" Davis said. "I'm not really the type to rush anything, especially this. You only get this one time so, for me, I'm just playing it cool."
So, yes, Davis' decision could get pushed back even further with a dead period extension, but dead period or not, this recruitment is almost certainly coming down to two teams: Ohio State or Penn State.
The Buckeyes' recruitment of Davis is being headed up by Matt Barnes, an assistant who has been underrated since he joined the staff but is starting to get some deserved shine and recognition. Barnes is the special teams coordinator, and he now officially holds the title of safeties coach instead of his previous title of assistant secondary coach. 
Barnes has built a good relationship with Davis, who holds a good deal of respect for him.
"I feel like Coach Barnes is underrated," Davis said. "A lot of people talk about Coach (Kerry) Coombs – of course Coach Coombs knows what he's talking about – but I feel like everybody sleeping on Coach Barnes. He just slept on. I feel like he ain't gonna be slept on more."
When told that Barnes has the coaching chops to become a coordinator at some point in the next five years, Davis said, "Shoot, I don't even know if it'll take that long. If they have another successful year, the year after next I see him being a coordinator, if not a head coach, somewhere. 
"He just knows what he's talking about. He studies the game just like we study it, but he studies it more. You can tell he has love for the game. Everything to him ain't football-minded. We talk about other stuff. It's not like we talk about just football. He asks me how my family's doing, I ask him how his family's doing. To me, that's what makes him a complete coach. Not everything is about football. We still talk about life."
Penn State, on the other hand, has Terry Smith heading up his recruitment, and I think that's going to end up being the No. 1 determining factor in Davis' decision. For a few months, my gut has been that Penn State is going to win out here, and that belief has been buoyed by his relationship with Smith.
Smith was the head coach at Gateway for 11 years before becoming Penn State's assistant head coach, defensive recruiting coordinator and cornerbacks coach. Smith lived in the same area of Monroeville as Davis during his time at Gateway; Davis said they lived "around the corner" from each other. 
"I ain't really start knowing him until my freshman year, really, but our relationship is real good," Davis said. "We don't have to talk about football, either. That's one thing I like about him. That's one thing I like about any coach, for real. If we gotta talk about only football and that's it, I feel like that relationship isn't really a good relationship. If we can talk about other stuff that's going on in the world, that's what, to me, I trust you. Everything around you don't revolve around football. Coach Terry, he's one of the ones that check up on my family and tell my sisters and my mom happy birthday and stuff like that. To me and to us, he's like family."
At Gateway (Pa.) High School today, home of Ohio State 2021 safety target Derrick Davis Jr. (@D_Dav1s)

Davis is the No. 52 overall player and No. 2 safety in America. Might be the best running back in Pennsylvania too. pic.twitter.com/8fEBq5waCS

— Zack Carpenter (@Zack_Carp) August 3, 2020
Relationships are always No. 1 in any given recruitment, and similar to how I believe Brian Hartline's relationship with Emeka Egbuka is going to be what allows the Buckeyes to win out in that recruitment, that's how I feel about the Smith-Davis relationship putting Penn State over the top with Davis.
I don't believe, however, that Ohio State having six defensive back commits in the class of 2021 (five, if we don't include Jaylen Johnson, who is likely to be an outside linebacker) will be much of a factor here, and neither does Davis.
"That don't bother me because at the end of the day, if I get there, I'm battling to take whoever's spot," Davis said. "That don't matter to me. You can have as many DBs as you want. If I get there, my goal is to start."
And wherever he chooses to go to college, he says that's going to remain his top goal.
"I'm battling to be No. 1, help my team win games and hopefully a national championship," Davis said. "And win a Jim Thorpe Award. I dream big. I don't dream small. I dream big. Everybody wanna win a Heisman, but the only time a safety's been in that top tier really was Tyrann Mathieu. But I feel like if I really put my mind to it, I can do the same thing Tyrann Mathieu did. Maybe better."
Davis says Mathieu is the player he looked up to when he was growing up, as he noticed how Mathieu was used all over the field – in the box and back deep – and he drew some inspiration from that. Davis, though, doesn't believe he should be compared to any other player. With maybe one exception. 
"Whatever school I get to, I feel like there should be no comparison," Davis said. "They're gonna say 'That Derrick kid is a baller.' I can't be compared to nobody else but myself. The only person I feel I can be compared to is Ed Reed. He a dog. But I gotta play like Ed Reed."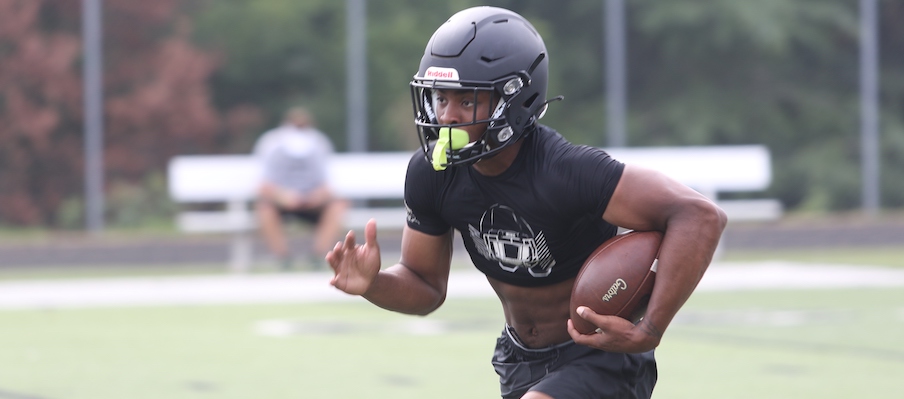 Reed had a 40 time of 4.57 seconds, but Davis recently clocked in at a 4.49 a couple months ago. His bench press is up to 225 pounds for eight reps, and his squat is at 500-505 pounds. Though he says there are some improvements he wants to make in his senior season before he enrolls early in college – like sharpening zone coverage, diagnosing plays pre-snap and reading the quarterback's eyes – that combination of size and speed is what has him so high up the board for Ohio State, Penn State and those other programs.
"And my ability to be coachable," Davis said. "I feel like that's one trait about me that people take for granted. I study the game on and off the field. For me to be coachable I think is the reason they want me to start right away.
"I watch film every other day, if not every other day. I watch college film, too, to see what O-State and Penn State run. Not even just the schools that's recruiting me. Other schools too."
There are some schools that want Davis to play on offense, but his future lies at safety, the position he says he believes is "the quarterback of the defense."
He keeps everything close to the chest with a tight family circle – one that wants the best for him and his future.
"My mom, she don't really care about football," Davis said. "All she cares about is me getting the right education I need to get and me being a successful man in life. My dad's the same way. As much as he loves football, he just wanna see me shine wherever I go and lead that school and just be a better me."