The Hurry-Up is your nightly dose of updates from the Ohio State football recruiting trail, keeping tabs on the latest from commits and targets from around the country.
Johnson looks to make big leap
Two weeks ago, we hyped up five-star cornerback William Johnson after traveling up to Grosse Pointe South High School in the suburbs of Detroit. We came by our strong impressions honestly because the 6-foot-2, 182-pounder – ranked No. 15 overall, No. 3 at cornerback and No. 1 in Michigan's 2022 class – has massive potential. 
That's all well and good, but in that same interview, his father Deon Johnson reminded us that this upcoming season could go a long way in determining just how far William has developed and what he needs to work on.
"I've always been wanting to see the jump from sophomore to junior season," Deon said. "That's why I'm really hoping we have a junior season because the junior year is always the biggest year. I've been waiting on the junior year the last couple years. Senior year, yeah, but I wanna see how well he does this year.
"I'm just hoping that he'll get the opportunity to showcase some of his defensive skill sets. Last year, he probably only had three balls thrown his way in nine games. They're moving up to a different division so hopefully these guys will be a little bit more active on his side of the field when they're on offense. So that's what I'm really hoping to see. And then we'll see how well he does on offense. If that's the only highlights that you can get, then you've gotta make the most of what you've got, right? You'll take what you can get. You gotta do it on both sides of the ball and make it happen."
At Grosse Pointe South (Mich.) today to meet with five-star Ohio State CB target William Johnson (@Willj1228)

The 6-foot-3, 190-pound Johnson is ranked No. 15 overall and is the No. 3 CB in the 2022 class. pic.twitter.com/nHjbwFqt1W

— Zack Carpenter (@Zack_Carp) July 23, 2020
William started showing some major improvements the year before he entered high school, buoyed by a major growth spurt. He went from about 5-foot-8 to 6-foot-1 in a one-year span. That growth in height led to a confidence boost because he was then physically more ready to compete with some of the older players.
"Once he hit the growth spurt, he came out and realized he could compete with these high school kids," Deon said. "I think I really saw him improve in the middle of his ninth-grade year. You could just tell things started slowing down for him. He was catching up with the speed of the high school game."
Eventually, that has led into this critical offseason for William's development, and because COVID-19 shut down the spring and summer travel basketball circuits (he is also a standout shooting guard in addition to his football exploits) it has actually allowed William to focus solely on football. This is the first summer football has been the only sport he's put his time into. 
Ever since the shutdown was put in place, he hasn't really stopped putting in work, either. William and Deon would go find a field to get their work in, as the younger Johnson has been able to work a lot on his footwork, route recognition, press-man coverage, speed training, swiveling and opening up his hips and accelerating out of breaks.
"It's been all football," William said. "I've been able to get in the weight room, do a lot of speed training and get out here a lot. I think this is the most I've worked in football, ever, and I got a lot better this offseason. So I'm hoping we can get a season this year.
"Definitely my speed has got a lot better over the past two or three months. And in the weight room, I've been putting on more muscle. Out here working on footwork and hips and DB drills in general. All over the board just trying to get better."
Getting more work in-season
Johnson is hoping Grosse Pointe's move up in divisions will lead to more passes being thrown his way so he can work on his coverages in-season.
"I'd say that's kind of harder than getting balls thrown at you all the time because then you get kind of lackadaisical out there because you could get caught slipping thinking it's not coming," William said of not getting the ball thrown his way. "And then when it does come, you get thrown off. I like to get the ball thrown my way so I can work on my DB stuff a lot more."
And just because he's ranked as a five-star prospect right now doesn't mean it can't be taken away if he doesn't continue putting in the work.
"I'm a proud dad, but like I tell him all the time, to whom much is given, much is expected," Deon said. "That's where the work has to take place. The more accolades and recognition you get, the harder you've gotta work. There are kids out here reading it just like you're reading it, and they wanna get that same spot as you. So you gotta outwork these guys. They want the same offers he gets, so you gotta work harder than them."
Advice on recruitment
As for William's recruitment, he has been able to glean some advice from his dad, who went through the process himself, having played defensive back at Michigan. That was in the early '90s, so the recruiting process was vastly different than it is these days, but Deon has still been able to guide William throughout the process.
"Just take it slow and don't rush anything," William says of the advice his dad has given him. "Just try to build a relationship with all the coaches. Because you never know where somebody's gonna be, at the end of the day. Coach (Kerry) Coombs left to the NFL and got Damon Webb picked up. So you never know what coach you'll have. Just keep a good relationship with everybody because you never know where (the coaches) will end up. Because if I'm at one school and they're in the NFL one day and they drafted me, because I had a good relationship with them, that'd be good."
And speaking of Coombs, William says he has a really good relationship with the Buckeyes' defensive coordinator, and he has also spoken with Webb, Mike Weber and other Cass Tech (Mich.) players who Coombs helped recruit to Columbus.
"All I hear is good things about Ohio State," William said. "I hear a lot about how they put DBs in the league and how they develop their DBs. That's what I hear the most."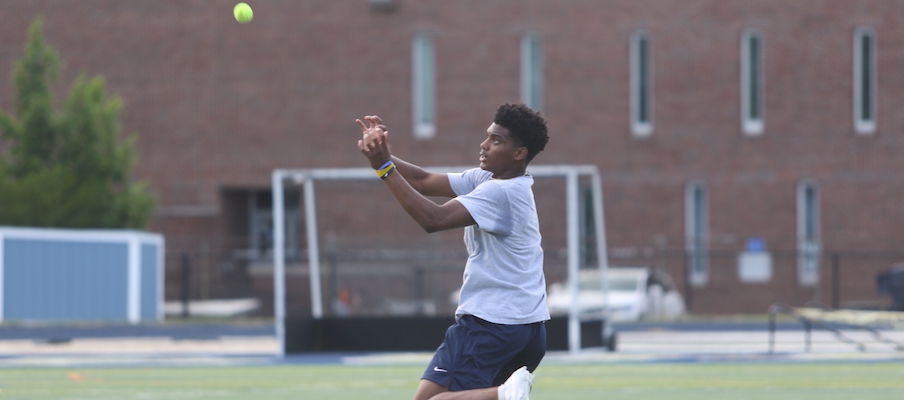 He's also hearing plenty from both Michigan and Ohio State fans alike while up in Wolverine territory, with one fan base wanting him to stay home and the other wanting him to migrate south. 
But just because he is a Michigan legacy doesn't necessarily mean he is going to choose the Wolverines. And just because he has a great relationship with Coombs and sees their propensity for putting cornerbacks into the NFL doesn't mean he's a shoo-in to join Ohio State. It's going to come down to comfort and relationships.
"I know from experience that the decision is gonna have to be his decision," Deon said. "He's the one that's gonna have to live there and be there. Not me. He's gonna have to go somewhere where he's gonna feel comfortable in the city or the town wherever that school's in. He's gotta be able to like the town. You could be there possibly five years of his life, so he's gotta like where he's at. Comfortable with the coaching staff. 
"We'd love to see a winged helmet, but if that doesn't happen we'll be happy with wherever he goes. My daughter's a Michigan State grad, for crying out loud. She's a track and field athlete. I had to sit in Ann Arbor at track meets and root for a Spartan. You just gotta do what you gotta do. It's all about the kids. So wherever he decides to go, it'll be a well thought-out decision, and it's gonna be the best thing that he decides is for him. Whether it's Ohio State, Michigan or Hampton, it's whatever is best for him."