GROSSE POINTE, Mich. – It's an hour before the NFL Draft, maybe even less than that, and Ohio State knows exactly what it's doing. 
The Buckeye coaches know what's about to happen a short time from now, with scarlet and gray about to bleed onto TVs tuned into ESPN or the NFL Network. So they know they are going to have to take advantage of the moment as best they can. That's what is leading to this moment, as they have arranged a Zoom call between William Johnson, his parents and a large portion of the coaching staff – including Ryan Day and Kerry Coombs. 
Johnson is a huge recruit in the 2022 class, and even though the Buckeyes will have a smaller defensive backs haul than in the 2021 cycle, he's still one of the more important targets in the class. By July, he will become a composite five-star prospect, America's No. 15 overall player, No. 3 cornerback nationally and No. 1 rising junior in Michigan. 
So this April night is planned plenty in advance. Day hops on to officially extend an offer to Johnson before he soon gets off to hit media opportunities that will essentially double as recruiting pitches. Then, the rest of the Buckeye staff takes over and details what Johnson remembers as a "real impressive" showcase of learning about academics, how to build a media presence and everything you can think of that you can learn about a school without actually being there. 
Then they get off the call, and it happens. Joe Burrow, Chase Young, Jeff Okudah and Damon Arnette get selected first, second, third and 19th overall in the first round. Three former Ohio State players – and another who began his career there – all get drafted in the top 20 picks right after Johnson receives his Ohio State offer. What a wild coincidence, right?
"It was like they planned it to make it even more of a big deal," a smirking Johnson says sarcastically, knowing that was almost certainly what happened. "It was really nice. It was a good setup, for sure."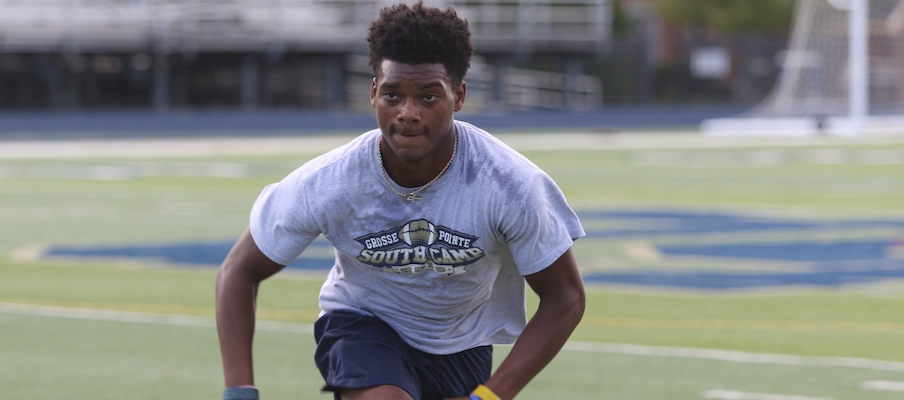 That Zoom session came on April 23, and only one other recruit (receiver Luther Burden) got an Ohio State offer that close leading up to the draft (though his came on April 20). 
And there's a reason for that. Johnson is good enough to get to that same stage himself one day, and the Buckeyes believe they can get him there.
"(Coombs) says 'I only recruit first-rounders.' That's his line for me," Johnson told Eleven Warriors. "He said he's only offered five guys, and he says he only offers first-rounders. So that's basically him saying that he thinks I can be there and that he thinks I can be a first-rounder.
"They put corners in the league every year. He just got back from the NFL so he knows how that goes, too. So he has connections in the league that would help me get there, so that helps a lot. … I think he just knows that he's able to coach and develop kids. There's a certain style of corner he recruits that he thinks he can develop into first-rounders so he has the confidence to say that."
Okudah was selected by the Detroit Lions, putting him less than a 25-minute drive from Johnson's school, Grosse Pointe South High School, located east of Detroit. Like Johnson, Okudah was a five-star recruit, ranked as the No. 1 cornerback and No. 8 overall player in the 2017 class. 
Not counting Ted Ginn Jr., who was ranked as a cornerback in the 2004 class but played wide receiver at Ohio State, Okudah (0.9955 rating) is the highest-ranked cornerback commit Ohio State has landed in the modern recruiting era. 
Rankings will fluctuate up and down over the next two years, of course, but as of right now, Johnson (0.9927) would be Ohio State's second-highest-ranked cornerback recruit in the modern recruiting era – a distinction held right now by Shaun Wade (0.9904), also from the 2017 class.
"(Coombs and I) talked on draft night," Johnson said. "I was talking about how I was hoping Okudah would get drafted by the Lions, and he was saying he thinks I can be him one day. And he thinks I can get drafted just as high as him. That was a little comparison between us."
In our trip to Grosse Pointe South on Thursday to get our first in-person look at Johnson, it was clear to see the Detroit connection and the potential to follow in Okudah's footsteps as a first-rounder are not the only parallels between the two corners. 
At Grosse Pointe South (Mich.) today to meet with five-star Ohio State CB target William Johnson (@Willj1228)

The 6-foot-3, 190-pound Johnson is ranked No. 15 overall and is the No. 3 CB in the 2022 class. pic.twitter.com/nHjbwFqt1W

— Zack Carpenter (@Zack_Carp) July 23, 2020
Johnson has the size and the length that Coombs loves in a cornerback. Add in Johnson's competitiveness, how he gets out of his breaks, his 4.5 speed in the 40 and ball skills, and all of that makes him one of if not the top target for the Buckeyes in the 2022 cornerback class.
His athleticism on the basketball court as a standout shooting guard and his comfort with press-man coverage – which Grosse Pointe South runs 90 percent of the time – only adds to his repertoire.
But one of the things that makes Coombs the recruiter he is has been his ability to acknowledge that sort of potential in a player but also not fluff him up. In fact, he believes Johnson's backpedaling and foot quickness could each use some improvement. 
"I think he's just honest," William's father, Deon Johnson, said of Coombs. "What you see is what you're gonna get.
"He's a straight shooter, and he wants you to do the same with him. ... I'm gonna be honest with you, I want you to be honest with me."
In fact, one of the first questions Coombs asked the younger Johnson was why his feet look quicker on the basketball court than they do on the football field, and Coombs wanted to show Johnson how he could move his feet more quickly at the cornerback spot.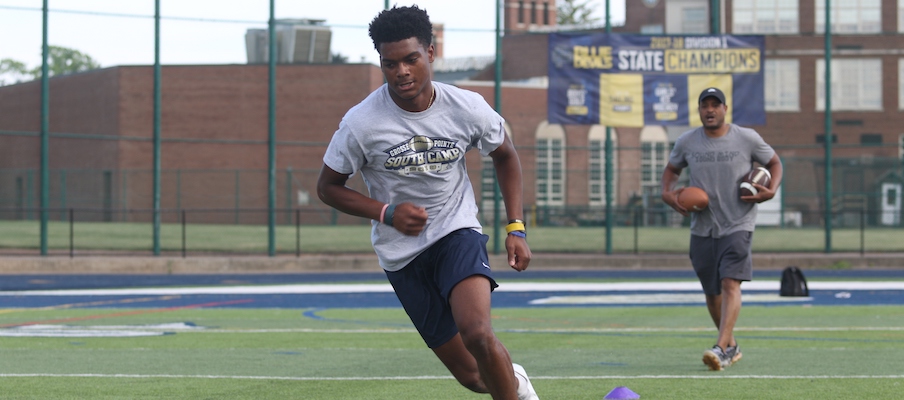 Since that first conversation took place, William and Coombs have continued building a relationship.
"We try to talk at least once a week just to check up on each other and see what's going on," Johnson said. "He seems real down to earth. When we call, we don't talk about football a lot. We just talk about what's going on in our worlds. He talks about how I'm doing, how he's doing, what's going on that day. What's been going on the past week. Just checking in on each other. Nothing crazy.
"I've seen him before at camps, but I didn't really get a chance to talk to him because I was younger then. But just the past couple months is when I started talking to him. When I got the offer, I've started talking to him every week since then. Getting more and more comfortable with each other each time we speak. Just getting stronger with that relationship."
If you're looking for more connections between William and Coombs, you don't have to look any further than William's dad. Deon was a defensive back for Michigan from 1991-1994, making William a Wolverines legacy, and William has grown up in the state where his dad played his college ball. 
Deon first met Coombs around 2013 when Coombs was in attendance for a session at Sound Mind Sound Body Sports Academy in Detroit, where Deon is the camp director. So Deon is plenty familiar with the reputation Coombs has recruiting Michigan, which includes snatching Damon Webb – a top-40 prospect in 2014 – from the Wolverines years ago. 
"He's been coming around for a while," Deon said. "He's been getting kids out of the city since before 2013. He had that two years that he went to the Titans, but I know a lot of kids that Kerry Coombs recruited. Damon Webb, Mike Weber, a couple linemen from Cass Tech. Kerry Coombs has always had success getting some of the top kids out of the city. And then Ohio State's always putting defensive backs into the league. That's always a good thing, when you know you've got a coach like that who gets the guys prepared."
And Coombs already believes William Johnson could be next.