MARYSVILLE, Ohio – Gabe Powers is only 2 years old, barely even old enough to walk across his parents' living room consistently without falling down.
But that's not stopping him from sprinting onto the Xenia High School practice field to do some drillwork at linebacker.
When your football-lifer father, Mike, is a high school coach whose team is knee deep in August two-a-days, sometimes the only time Gabe will see his dad during the day is when his mom, Erin, brings him to the Buccaneers' practices. 
Gabe might be the youngest out here, but the toddler is not alone in being a young kid learning the position that will define his future in the sport. Powers' 5-year-old brother, Mikey, is also running around with some of the older kids during a practice break, and their little brother, Colt, won't be far behind in a couple years. 
And over the years, when dad comes home from practices like these, there's going to be plenty of time spent with the three boys spreading knowledge of the position he knows better than anyone else in their lives. At their Marysville home is where film will be dissected, tidbits of the position's intricacies will be doled out on a forever basis and more than a few bruises will sprout up and objects will be broken as the boys wrestle and compete in just about anything.
"That's what our whole family is about is football," a now-16-year-old Gabe told Eleven Warriors last week. "I play basketball and stuff, but a lot of my life has been about football. Growing up, it's tough because it's all linebackers in there so you all think you're the Alpha. We fought all the time at our house. We're linebackers. So it was tough.
"We were big competitors. No matter what we do. First to get in line for food. On Fourth of July, me and my dad were out there playing cornhole, fighting and arguing over who beat each other. I ended up winning anyway. It's rough, you know? But we also have a really good family and a really great base, and I'm blessed to have that."
That's how it went, and that's how it still goes for the Powers boys now that they're more than a decade removed from those days when Mike was a co-defensive coordinator at Xenia. 
This is a family of linebackers that has handed the position down from one generation to the next.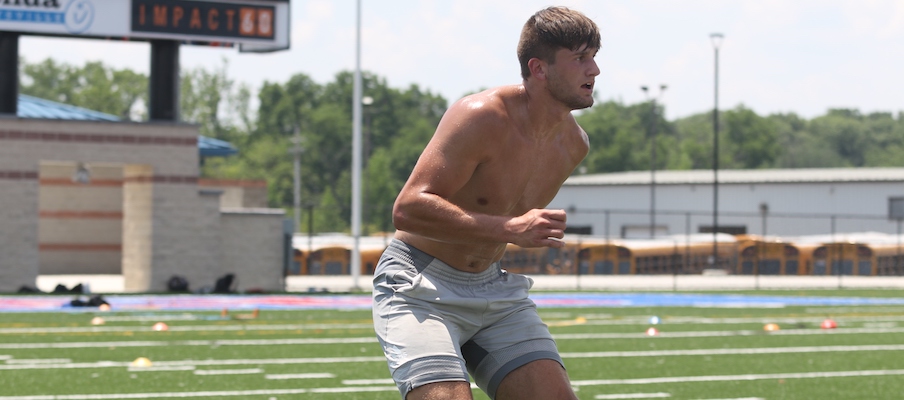 Gabe's great-grandfather, Sam Powers, had a successful 35-year career as a police officer, rising to the rank of lieutenant in Franklin County and police chief in Huber Heights and Des Moines, Iowa. Long before his law enforcement career began, Sam was a football star himself, good enough to get an NFL tryout with the Green Bay Packers. When his wife told him he needed to chose between football and his family, there wasn't much of a decision to be made. Sam got on the phone with Vince Lombardi and officially retired when he turned down Lombardi's offer to join the team. 
Gabe's grandfather's football career never materialized due to injuries, but there was enough genetics passed down to Gabe's father that he became a standout linebacker at Marysville High School. Mike was good enough to earn a scholarship at Division II University of Findlay in northwest Ohio, where he redshirted his first year, played four seasons and finished as a captain and All-American his senior season before eventually earning a tryout with the Dallas Cowboys. 
Most importantly, Findlay is where Mike met Erin, who was also a star athlete on a softball scholarship for the Oilers. Soon enough, they were married and a family was started, and, well...
"Chances were that we'd have athletic kids," Mike says with a laugh.
Once he retired from playing, Mike was able to coach up all of his boys throughout their careers. Following his stint at Xenia, he became Hilliard Darby High School's defensive coordinator and eventually Marysville's linebackers coach, the position he now holds. 
First up for the Monarchs in the Powers lineage was Mikey, who became a two-time honorable/special mention all-state performer at Marysville in 2017 and 2018. He is now a redshirt freshman linebacker at West Virginia.
Soon enough, it was Gabe taking center stage as a team leader, and down the road, Colt will get his chance to become a Division I athlete, preparing now for his sophomore season.
Gabe makes sure to point out that it's not football 24/7/365 in their family. They still do all the regular stuff that a family does. 
"We're still a family and go on vacations together and stuff like that," Gabe said. "It's football, but we still have fun with it."
Got out to Marysville today to check out Ohio State 2022 linebacker target Gabe Powers (@GabePowers21)

Powers is an OLB who could play a hybrid spot in college. Today, he was working on his footwork with a few teammates, led by former Ohio State CB Donald Washington (@DWashIII) pic.twitter.com/haWKs3PpTn

— Zack Carpenter (@Zack_Carp) July 7, 2020
But football is a big part of their lives, and having all those linebackers in one house made for a rugged environment that cultivated a couple things:
Competitiveness – "Coming from this family, it gives me kind of an upper edge when going to college because I've already been competing with every single person I go against," Gabe said. "Even when I go back home, we compete in everything we do so I feel like that's gonna give me an upper hand because I'm gonna be ready for the competition."
Some Mike Powers-sized grocery bills – "The food bill is astronomical," Mike said. "When our oldest son was in there, we spent about $700 a week in groceries. Gabe has to eat 6,000-8,000 calories a day just to maintain or he'll be malnutritioned because he goes through so many calories. So think about it – 6,000-8,000 calories a day and you've got three of them. That's a lot. That's almost a full cow a month.
"We cook a lot. It's never enough. They'll eat five to six times a day. It's crazy. We've constantly gotta go to the grocery store. We're always trying to get half cows and full cows from some of the farmers around here because it's cheaper."
Half cows and full cows, huh?
"I'm not joking," Mike said. "It's usually about $2 per square hoof. So if it's a 1,200-pound cow, with butcher fees included, it can be a few thousand. We cut up our own deer. We're big hunters. We live way out in the country, and it's a good time. I wouldn't wanna raise my kids anywhere else."
And in this town is where the spotlight will be heavily lit on Gabe over the following two years, Marysville football's main attraction has emerged as the No. 1 player in the state in the 2022 class and the No. 4 outside linebacker in America – one with 18 scholarship offers from the likes of Ohio State, Michigan, Penn State, Notre Dame, Stanford, Tennessee and USC.
And what makes Gabe's rise even more unique for Mike is that he's watching the evolution of the sport and the linebacker position through the lens of his son's career. 
Mike played his namesake position at Findlay, the Mike linebacker spot, where his main job was to be a bull and smash some skulls as a run stopper. But Gabe's game is entirely different than his dad's. 
"When I played, it was more of a run game, obviously, and now it's all turned into a spread game," Mike said. "It has changed a lot, and you need that hybrid. So (at Ohio State), you'd have him and C.J. Hicks, who to my understanding is more like a bullet that will be like a Pete Werner who can cover tight ends but be more like a hybrid safety type of kid. Whereas they're looking at Gabe as a hybrid linebacker who can walk up and rush or step back – one who can do both. Because, like I said, it's hard to come by (a player with) the speed, the size and everything all in one.
"His strengths are, cerebrally, knowing the game inside and out. That's one of his biggest strengths. Obviously, his size, speed and agility are also strengths. To be honest with you, because I've coached the linebackers a long time and I'm not saying he's all there, but I don't know of too many weaknesses that he has."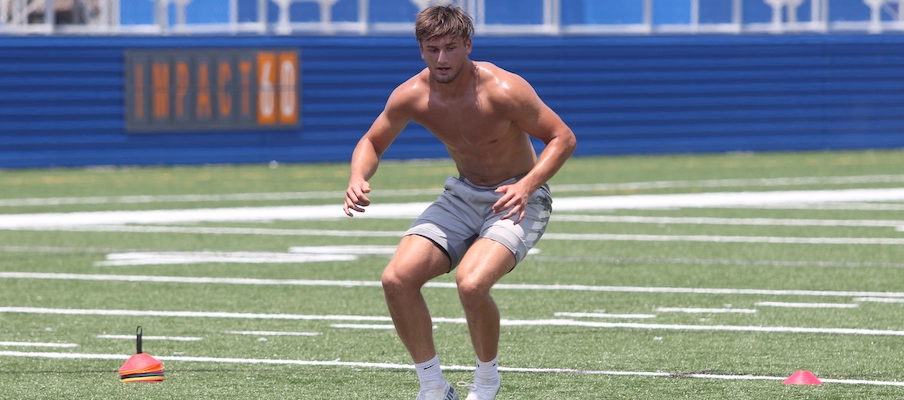 One weakness heading into the offseason, though, was Gabe's inexperience as a pass defender, as Marysville had never asked him to be an integral part of the pass defense. That's now changing, as Gabe continues putting in work in preparation for his junior season. 
He has the physical tools to be successful in that area of the game, and that much is instantly obvious on this cloudless, low-90s afternoon on the smoky Marysville turf – one that is shadowed only by the sign marked "Powers Family Pressbox" that Gabe's grandparents, two of the dozen-plus Powers family members in the Marysville area, paid for as one part of the 5,000-person capacity Impact Stadium that opened last fall.
Here, he is grinding through hip, footwork and change-of-direction drills with a handful of teammates under the direction of former Ohio State cornerback Donald Washington. It's the one thing, Mike believes, is left to add to Gabe's arsenal to make him a complete linebacker.
Everything else – how to play downhill, being aggressive by hitting first, shedding blocks, developing footwork as a linebacker, using peripheral vision, all-around toughness – he inherited and learned from his dad.
"As far as linebackers, he's taught me everything," Gabe said of Mike. "He's taught me the ins and outs of football. He's very, very educated in the game. As far as everything about the linebacking position, I've gotten everything from him."
Gabe, who already has offers from many of the nation's top programs including Ohio State, hasn't made up his mind on where he will take that skill set yet. He has plenty of options on the table, and he says he plans on waiting it out until at least next summer to decide. 
Wherever he goes, he will be carrying with him a family linebacker legacy that he's been involved in since he could walk. And maybe even before that. 
"That's all I've ever known is football," Gabe said.