The Hurry-Up is your nightly dose of updates from the Ohio State football recruiting trail, keeping tabs on the latest from commits and targets from around the country.
Day's "Circle of Care" similar to "Block O of Life"
When Jim Tressel took over Ohio State's program in 2001, he implemented his life philosophy into the program, labeling it the "Block O of Life."
It was a six-pillar philosophy based on six core values: the first three were created to define a player's purpose (which included personal family, spiritual morals and caring/giving), and the second three were created for players to define their goals (in the areas of strength/fitness/football, academics and overall career).
Tressel used that "Block O of Care" philosophy as one of the cornerstones of the program's recruiting strategy, incorporating it into the pitches of prospective Buckeyes and the younger players who had entered the program and were in their crucial, early development years. 
When Ryan Day came along, he tweaked that idea, putting emphasis on the physical health and mental health of the players and re-labeling it the "Circle of Care."
"Ryan came in and saw that our logo is the big block O," said offensive coordinator/tight ends coach Kevin Wilson, during an April teleconference. "And we tell our kids you're in the center of this thing, and we're gonna surround you with our big Block O of Care, taking care of you medically with our team doctors and our trainers, taking care of that with sports science with all the resources we have to track our guys' sleep, rest, recovery and your exertion with the running and how much they're running and how fast they're running.
"Coach (Mickey Marotti) will use that to determine what he's doing in the weight room and what he's providing with the weight staff. Coach Mick will use that information and share it with Coach (Al) Washington, Coach (Greg Studrawa), myself and all the coaches. Sometimes that determines the next practice and the things we do to prevent hamstring injuries. We do a lot with hydration, not just for (hamstrings) and cramps but also for concussions because your brain's 90 percent water. We do a great deal of testing in sports science that Coach Mick uses in the weight room."
Perhaps just as strong of a focus is on the mental health side of the equation, which Day has been well-known for focusing on throughout his young tenure as the man in charge of the Buckeyes. 
"In our community and within our building and our team, Coach Day's been on the forefront of providing resources mentally with our guys and all the things they deal with mentally with the stresses of college, playing, being away from home, schooling, relationships and getting their life on track," Wilson said. "You keep going around the world, we have all the resources in nutrition, down to academics with how our guys are doing in school."
Just like Tressel before him, Day and his staff use the Circle of Care in its recruiting pitches in speaking with prospective Ohio State athletes, their families and the people closest to them.
"That's just a way for us to encapsulate everything we have in the program and just kind of wrap it up and explain to the recruits everything we have," Day said in a teleconference in April. "It's gotten a good response. People appreciate it and respect everything that we've put into the program and the resources we've poured into the student-athlete because at the end of the day, that's what it comes down to."
"A great sell in recruiting"
Personal branding is something we have discussed often in previous Hurry-Ups as a major point of emphasis for the Buckeyes on the recruiting trail. That branding strategy showed itself in 2019 when the program hit a home run with Chase Young being marketed as "The Predator" on social media.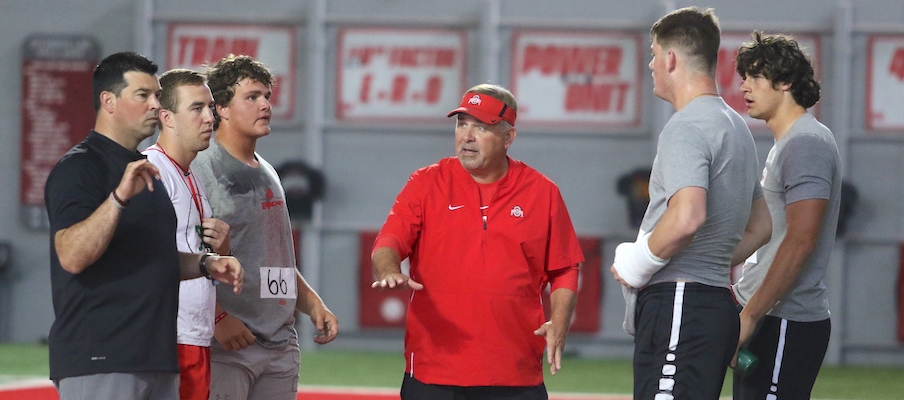 Branding will increasingly see a strong emphasis in recruiting as we get closer to college athletes being able to make money through their name, image and likeness, and it's already been instituted in the program with Ryan Stamper, Ohio State's assistant athletic director for player development, and the Real Life Wednesdays program as another aspect of the Circle of Care.
"Our platform of what we do to get our guys set to promote themselves and using Ohio State and the brand to help their careers – not just in professional football, but branding in their professional life outside of football," Wilson said. "All the benefits with Buckeye Benefits with the Nike contract. Then we finish up with football. You go around and there's 12 bullet points, and we say these are all the ways we're gonna try to touch you. It's a great sell in recruiting. It's a great sell for our program.
"Coach Day took everything that we did and put it in a neat package, and our whole staff is all on board in selling that. I was just with Coach Washington yesterday with a recruit doing it. I know it's big for Coach Stud's group. You're talking to three coaches now where player development and player welfare is very critical. It's a huge opportunity for us to use, and Coach Day has implemented that a lot in presenting that to our team and our recruits."