Mental health has become an increasingly regular topic of conversation around the Ohio State athletic department in recent years, with football coach Ryan Day and men's basketball coach Chris Holtmann – among others – speaking up about the importance of mental wellness while several Buckeye student-athletes have also talked publicly about their own battles with mental health issues.
Last August, Ohio State made one of its biggest commitments yet to providing the best possible mental health care for its student-athletes.
Going into the 2019-20 academic year, Ohio State announced that it was expanding its sport psychology staff, hiring three new employees – sport psychologist Chelsi Day (no relation to Ryan) and athletic counselors Charron Sumler and Candice Williams – to join a department led by former Ohio State gymnast Jamey Houle, who has been on staff for four years and is now the athletic department's lead sport psychologist.
At the time, Ohio State athletic director Gene Smith said, there wasn't any other university committing the same level of mental health resources to its student-athletes that OSU could use as a model. But Smith and the athletic department are always looking for new ways to enhance the student-athlete experience at Ohio State, and as mental health became a bigger and bigger area of focus around college athletics, he decided OSU needed to be able to do more for that aspect of its athletes' lives.
It's a notable investment – combined, Ohio State pays more than $300,000 to its sport psychology staff, according to the most recent update to OSU's salary database – but one that Smith believes puts Ohio State in a class of its own in regards to the mental health care it provides for its sports teams.
"There's nobody that's doing it like we're doing," Smith told Eleven Warriors in an interview in September. "Our primary objective is make sure we have enough care. We got 1,000 athletes, and we want these counselors to kind of be embedded with our teams. We've been talking about this for a few years now, and last year, we really ramped up our conversations."
Now that Ohio State has four full-time staff members solely dedicated to addressing the mental health concerns of its student-athletes, they are able to provide more resources in more ways than ever before. Previously, Houle's time was mostly spent meeting individually with athletes inside his office. Now, he and his colleagues try to spend about half of their time outside the office, embedding with Ohio State's sports teams and spending time around student-athletes in their natural habitats in order to build stronger relationships with them.
As a result, more and more Ohio State student-athletes have come to them with their mental health concerns – Houle estimated that they now meet with about 20-25 percent of Buckeyes across all sports – while they're able to have a consistent presence around each team and ensure all OSU athletes are aware of the resources available to them.
"We were at many, many more practices this year," Houle said during a teleconference with reporters on Wednesday. "We were in team meetings. We were in meetings called athletic performance team meetings that would have coaches, athletic trainers, nutritionists, student-athlete support services. So it's really evolved for us to become highly integrated into the holistic treatment of the athlete. So we've been really happy with that as we've evolved throughout the year."
Each of Ohio State's sport psychologists and athletic counselors bring different backgrounds to the department, and that's what Smith and Houle wanted as they built their staff. Smith's preference was to hire a former OSU student-athlete to lead the department, which became a reality when Houle aced his interview. Day, who was on the diving team at Miami University, was previously the director of counseling and sport psychology at Indiana. Williams previously worked for the NFL Players' Association. Sumler, a former basketball player at St. Edward's University, was previously the coordinator of student emergency services at Texas.
One thing Smith says they all share in common is they are kind people who understand the issues student-athletes face and know how to build genuine relationships with them.
"Each of them, if they were sitting here, you'd feel comfortable talking to them," Smith said. "And that's what our athletes feel. They sense that. They know who's authentic and who's plastic. And so we needed people who are authentic, real, very humanistic, the right demeanor around our athletes, and all of them have that."
All four staff members spend time with athletes from all of Ohio State's sports teams, which Smith believes allows them to collaborate more effectively than if they were each assigned to work with specific teams.
"We might add more (sport psychologists) down the road, but I wouldn't want to designate a person for any particular sport," Smith said. "One, I want that person to have the flexibility to learn from other experiences with other sports. Professionally, all of them want to grow. So they want football on their portfolio, but they also want all the other sports on their portfolio. And the other piece is, when they're together, they can share and talk about best practices in dealing with something. But if you've only done football, the experiences are limited."
"There's nobody that's doing it like we're doing."– Gene Smith on Ohio State's sport psychology department
The sport psychology staff also collaborates with other staff members in the athletic department to provide the best possible care for student-athletes. They work closely with athletic trainers, who focus primarily on the physical health needs of student-athletes but also serve as intermediaries between the student-athletes and coaches and the athletic counselors.
Coaches like Day and Holtmann, meanwhile, have been openly supportive of their efforts, which they say has played a crucial role in breaking down stigmas that often surround mental health and enabling student-athletes to feel comfortable opening up about their concerns.
"I think it's a total game-changer," Chelsi Day said. "I think that when there's no fear that a coach is going to judge them, that a coach is going to think that they're weak or isn't going to lose trust in them, that they can open up about things that are going on in their life."
Both Ryan Day, who became a public advocate for mental health last year when he and his wife launched The Christina and Ryan Day Fund for Pediatric and Adolescent Mental Wellness at Nationwide Children's Hospital, and Holtmann, who adamantly defended his former player DJ Carton after Carton left the basketball team to address his mental health this past season, are proud that Ohio State is at the forefront of addressing mental health in college athletics. They believe the increased conversation around mental health has made their teams stronger.
"We have an unbelievable staff, and they're very visible. And I think that's the difference for us maybe than in previous years is there is a greater visibility and interaction with our athletes, certainly different for me, in a really positive way," Holtmann said. "They're comprehensive in their approach. And we have a number of athletes that I don't even know about that have been touched throughout the year by our mental health staff. So I think it's a tremendous asset to have for the whole person development for our athletes."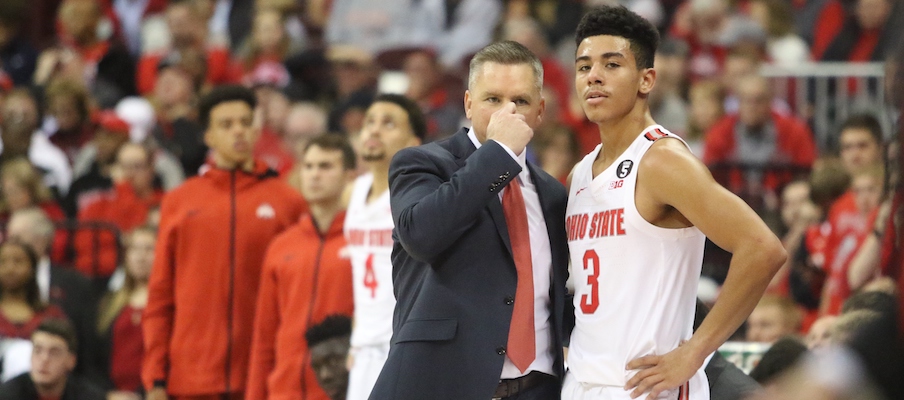 Some of the student-athletes the sport psychology staff works with were already seeing mental health professionals before they came to Ohio State, while in other cases, the adjustment to college life can lead to stress, anxiety and depression. The pressure to perform both athletically and academically at the collegiate level can lead to mental health challenges, as can the constant spotlight that student-athletes face at Ohio State, especially in high-profile sports like football and basketball.
Regardless of what each individual student-athlete might be facing, the goal of the sport psychologists and athletic counselors is to help them address those issues in a way that allows them to be at their best both on and away from the field of play.
"My style in general tends to be very led by the student-athlete. So it's kind of conversational in nature, and being able to highlight patterns that we see going on. And then I always want them to leave with something tangible that they can do to try to feel like they can address what's going on for them," Houle said. "So it's kind of a process of understanding as much as possible what's going on for them, and then have them leave with tools to be able to lead a better, fuller life."
Like everyone else, Ohio State's sport psychologists and athletic counselors have had to adapt to unusual circumstances over the past couple of months due to the COVID-19 pandemic. Instead of meeting with athletes in their offices and going to their practices, they've participated in digital meetings with teams and individuals. Between Zoom and FaceTime calls, social media and other digital resources, though, they've done what they can to maintain a visible presence and ensure student-athletes continue to have access to the mental health care they need.
"We want to also be accessible to them in the palm of their hand," Williams said. "Given that we are now secluded to our homes and maximizing our opportunity to use the Internet to the best of our ability, we are looking for ways to meet our student-athletes where they are right now. And so over the coming months, we are strategically looking at what that looks like for us and how to best capture what the student-athletes need that they can access at the click of a button, outside of them doing the virtual visits with us, via content through social media."
Given that most student-athletes are currently away from campus, separated from teammates and unable to participate in their sports, the mental health resources the sport psychology staff provides are as important as ever right now. But while it's been a tough time for many athletes, especially winter and spring sports athletes whose seasons were abruptly cut short, the counselors believe the Buckeyes have responded well to the challenge.
"It's been really cool to see how resilient these student-athletes are," Chelsi Day said. "To see them connect and build each other up, to engage with us in new and interesting ways. And so while of course they're not without issues or challenges or struggles, I think that this has really shone a light that they are resilient in so many more ways than we would have been able to talk about before."
---
Photos of Chelsi Day, Jamey Houle, Candice Williams and Charron Sumler courtesy of Ohio State Dept. of Athletics