Marysville (Ohio) High School linebacker Gabe Powers had long been expected to join the fold as a Buckeye commit, ever since he became the second in-state prospect to be offered by the program in November 2019.
After being patient and taking his time with his recruiting process, Powers committed to Ohio State today, joining Archbishop Alter's C.J. Hicks and Lakota West duo Jyaire Brown and Tegra Tshabola as the fourth in-state prospect to announce his intentions to stay home and join the class of 2022.
Let's take a look at what Powers brings to the Buckeyes on and off the field:
On the field
Powers is a 6-foot-4, 220-pound outside linebacker with the ability to play off the edge, potentially with his hand in the dirt on some snaps – or perhaps all of his snaps, as a move to defensive end is a real possibility. But though that move could happen, defensive end has not been Al Washington and the Buckeyes' plans for him. 
"If my body naturally takes me to 260, who knows?" Powers told Eleven Warriors. "But right now, that's not the plan. Hybrid linebacker but not like a bullet or a safety is the plan. C.J. Hicks is gonna be more of a bullet or a hybrid safety. He wants me as a linebacker but also rush the edge on a blitz, or come off the line and being able to drop back and cover tight ends or stop the run.
"I'll play wherever. It doesn't affect me at all. I'll compete wherever I go so it doesn't matter if I play tight end or lineman."
Versatility is a word that should be turned into some sort of drinking game with how often we use it to describe the type of players Ohio State likes to bring into the program. But versatility is one of the valuable attributes Powers possesses, as he has the capability and willingness to move down to the line if his body transitions that way.
"(Washington) said he's one of our top linebackers, period," Powers' father, Mike Powers, told Eleven Warriors previously. "To me, we don't care. Whatever program he decides, wherever he wants to play, he'll play there. But right now, they want him as a hybrid. Because the hybrid – from the coaches I've talked to – with his size and his skillset and with his athletic ability, it's rare.
"So they're all looking at him as the hybrid, which they said it's one of the hardest positions in the college football game to find – somebody that's gonna be able to come out here and guard a tight end but also walk up on the line and rush against an offensive tackle. To have the size, strength and speed, they're rare to find. And that's why he's being so sought after is because of his skillset."
Powers is long, athletic and flashes natural instincts (Mike was also a linebacker, and Powers has been playing the position for as long as he can remember). He has already done a great job tacking on muscle, and he has the frame to add more weight and do so without losing his athleticism. Mike says Gabe already eats about 6,000-8,000 calories a day just to maintain his size and strength, so getting into Mickey Marotti's system should not be too tough of a transition, relatively speaking.  
Even if Powers doesn't wind up translating into a true defensive end, he will still be used to rush off the edge. He is being recruited to play Sam linebacker for Washington and Co., who like to have a player in that spot that can play off the edge, blitz as a nine-technique and walk out and cover tight ends.
That's one of Powers' strengths, as he's able to create a mismatch for offensive tackles while also being athletic enough to stick with tight ends. Powers has worked extensively over the past year with former Ohio State track star Butch Reynolds – an Olympic gold medal-winning sprinter – and former Buckeye cornerback Donald Washington to polish up on his foot speed, lateral quickness and his pass coverage techniques and comfortability.
Got out to Marysville today to check out Ohio State 2022 linebacker target Gabe Powers (@GabePowers21)

Powers is an OLB who could play a hybrid spot in college. Today, he was working on his footwork with a few teammates, led by former Ohio State CB Donald Washington (@DWashIII) pic.twitter.com/haWKs3PpTn

— Zack Carpenter (@Zack_Carp) July 7, 2020
Powers is far from a polished product, as Washington has spent time breaking down his film and told Powers he needs "to work on staying low is what he tells me. Everything else will come – speed and stuff will come as you keep playing the game."
Washington has shown Powers film breakdowns of Ohio State's linebackers in the past, pointing out techniques of "how they shed blockers off and then showing in the game how practice relates to the game and how it translates to the game," Powers said. "For the shedding blocks, he showed me how they hit the pads and how they throw them one way or the other. And he was showing me bag drills for your footwork and specific stuff they do."
Off the field
Washington has told Eleven Warriors in the past that off the field, the character aspects he and the coaching staff look for in their linebackers are the success they contribute to the team overall, how hard they push everyone else, how well they are received by their teammates and if they come from a good family. 
Powers checks all of those boxes, as the word from those in Marysville is that he is intelligent on and off the field, holds himself accountable, is coachable, loyal and able to shrug off the attention thrown his way throughout a recruitment that has included offers from Stanford, Notre Dame, Michigan, Penn State and Wisconsin.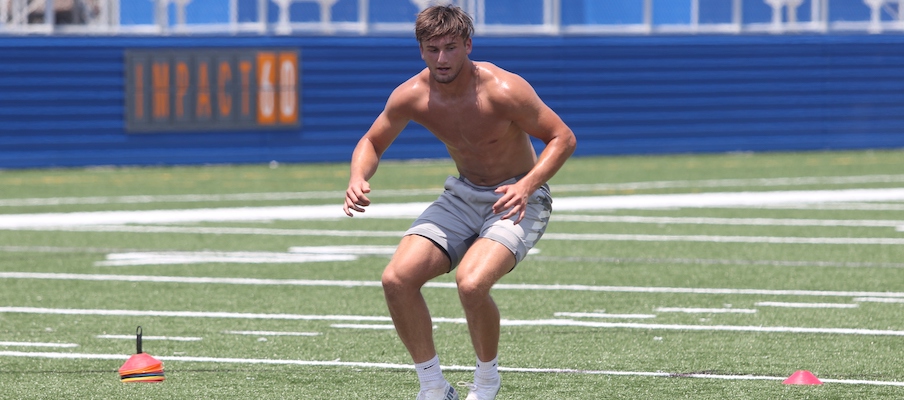 Those traits helped Powers build a "real strong" relationship with Washington, as the two have formed a similar bond to those Washington created with fellow commits Jaylen Johnson, Reid Carrico and Hicks.
"I love him as a coach, and I love him as a person," Powers said. "At (the) games (I visited), I met some of his family there. Great family, good atmosphere, and I really like him."
Mike Powers, who was an All-American linebacker at the University of Findlay, has also meshed well with Washington and has a ton of respect for the Buckeye coach.
"Coach Washington is a rising star," Mike said. "There aren't enough good things I can say about that man."
In the class
With Cody Simon in 2020 and Carrico in 2021, Ohio State has landed only one true linebacker in each of those classes. Mitchell Melton is listed at linebacker but could transition to defensive end (though, like Powers, the plan has always been to start him off at linebacker) and Kourt Williams is a safety/linebacker hybrid. In 2021, Johnson is likely to make the move to outside linebacker as well, but he is also more of a hybrid linebacker/safety so we don't classify him as a true linebacker.
Recent Prospects Ranked No. 45 Overall

| Year | Player | Pos | School |
| --- | --- | --- | --- |
| 2021 | LANDON TENGWALL | OT | PENN STATE |
| 2020 | GARY BRYANT JR. | WR | USC |
| 2019 | LEWIS CINE | S | USC |
| 2018 | JUSTYN ROSS | WR | CLEMSON |
| 2017 | ANDREW THOMAS | OT | GEORGIA |
| 2016 | NATE CRAIG-MYERS | WR | AUBURN |
| 2015 | DERRIUS GUICE | RB | LSU |
| 2014 | JOSEPH YEARBY | RB | MIAMI |
| 2013 | GREG BRYANT | RB | NOTRE DAME |
| 2012 | AMARI COOPER | WR | ALABAMA |
| 2011 | LAWRENCE THOMAS | WDE | MICHIGAN STATE |
| 2010 | ROD SMITH | RB | OHIO STATE |
The Buckeyes did not have a major need in either class to pursue linebackers unless it was a truly elite player, like they pursued with Barrett Carter in the 2021 cycle. They already have juniors Teradja Mitchell, K'Vaughan Pope and Dallas Gant waiting in the wings after Baron Browning, Pete Werner, Tuf Borland and Justin Hilliard use their final seasons of eligibility in 2020.
But with those three juniors gone after 2021, that could have left Craig Young, Tommy Eichenberg, Simon and Carrico as the only true rotational linebackers on the roster. That made linebacker one of Ohio State's biggest positions of need in the 2022 cycle, and the program has now filled two of those spots.
Hicks committed on May 1, and while he has the ability to play strong safety, he will be used as a versatile outside linebacker who can cover receivers and blitz off the edge. With Hicks and Powers, the Buckeyes now have two linebackers who bring diverse skillsets to the defense.
The stamp has not yet been put on this linebackers class, though, as we expect them to push for at least three in the class, if not four. Getting a Mike and/or Will linebacker will be the next task, and the Buckeyes already have a good line on a couple good ones.
Five-star prospect Shawn Murphy, the No. 24 overall player and No. 1 inside linebacker in the country, plays at Stonewall Jackson in Virginia, where Washington has great connections and has done a good job recruiting.
Texas' Justin Medlock, the No. 13-ranked inside linebacker in the country, is another top target who would be a good fit at Will with the ability to play Mike as well.
Kansas' top-ranked rising junior Dasan McCullough is also one of Ohio State's top targets at outside linebacker. McCullough is ranked No. 69 overall and is ranked No. 7 at athlete. There had been scuttle earlier this summer that McCullough was on the verge of a commitment, but it appears he will have to meet with the Ohio State staff in person before a decision becomes concrete in his recruitment.
Whether it's Medlock, McCullough or other players in the 2022 class, Powers is already planning on hitting the ground running to begin recruiting other players through texts and DMs now that he is committed.
"Now that I'm committed, I'm gonna help them out," Powers said. "We're building it up. It's gonna be nasty."