The Hurry-Up is your nightly dose of updates from the Ohio State football recruiting trail, keeping tabs on the latest from commits and targets from around the country.
Murphy building relationship with Hicks, Washington
Despite getting to know each other very well over social media and through playing Madden and Fortnite since May, Saturday's Elite Underclassmen Camp was the first time C.J. Hicks and Shawn Murphy have had the chance to meet in person. 
But it would've been hard to tell.
The two looked like they had been hitting camp circuits together for years. Throughout the day, that obvious bond included some light-hearted jabs at each other as they went through drills one after the other. 
After Murphy dropped a pass at the end of one drill, he walked over to Hicks and pointed at the pair of Ohio State gloves he was sporting – gloves that Hicks gave him prior to the showcase – and told Hicks, "this is the issue, C.J." while flashing a grin. 
But there was more encouragement than trash talk during those drills. Whenever one or the other would drop a pass or slip on the turf, the other was shouting some version of "you got this, come on now."
And following the Under Armour showcase, they were supposed to play in a 7-on-7 competition on Ohio State's campus but were unable to because Murphy's ride canceled on him. But that time in Obetz was enough to serve as the latest step of a key relationship building as the Buckeyes look to construct an elite linebacker class in the 2022 cycle.
"It helps a little bit. It's cool," Murphy told Eleven Warriors. "But I'm not really gonna lean to a school because of other players. I'm really just looking at the whole program as is."
And that's important to remember. Murphy and Hicks getting better acquainted with each other is important in order for Murphy to build some comfort knowing that he has a good friend in his class. But it's just one small part of the entirety of his recruitment. 
And that brings us to a more critical factor in Murphy's Ohio State recruitment – a relationship that's been growing between him and Al Washington, the Buckeyes' linebackers coach who doubles as their area recruiter in Virginia. 
Murphy says he and Washington talk on the phone every week, and he had some insightful things to say about the inner workings of that relationship. 
"We're not really on some football talk. But it's really like a bond – a spiritual bond, a mental bond," Murphy said. "Because that's what's most important for an athlete through a coach. Family matters more than anything. Because no one wants to play for somebody if they feel like they're getting used. It just messes up all the chemistry.
"It's really just the first impression and then you maintain your first impression throughout every time you talk. It's about just keeping it real and not sending you dreams, not sugarcoating everything. Not just gassing people. Not just getting into their head and getting what they wanted."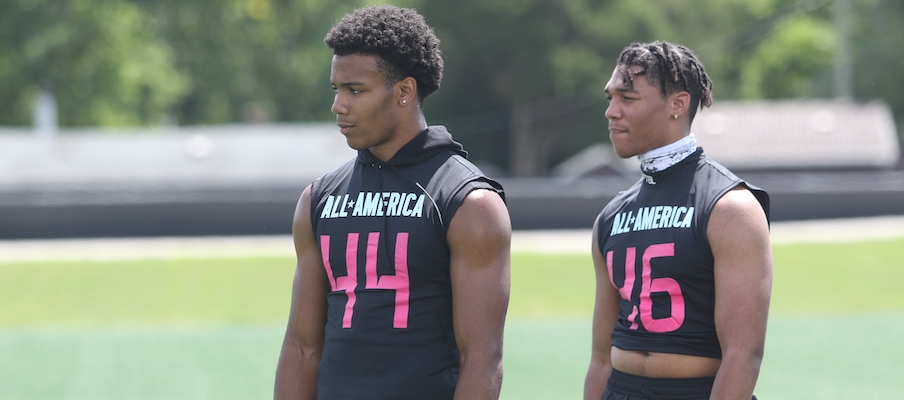 That's what Murphy wants in his college linebackers coach – someone who can hold him accountable and one who will be refreshingly honest with how he needs to evolve his game, and Murphy sees those coaching traits in Washington. 
"He don't really say how good of a player I am," Murphy said. "It's just sometimes – maybe once a month or every three weeks he'll remind me I'm a good player, but other than that he's not really going about how good I am. He's telling me what I can do and what he's gonna develop me on, what he wants to develop me on. Everything he wants to do to make me better as a player and as a person."
It's a relationship that will need to continue growing in order for the Buckeyes to land Murphy, who has been their top target at the Mike linebacker spot as they search for three or four linebackers in the class.
The Stonewall Jackson (Va.) standout, who is a potential five-star prospect when the composite rankings are eventually listed, has plenty of options for where he wants to go, with more than 40 offers from the nation's best programs on his plate. Murphy says "it's hard to tell right now" when he will make a decision, but he knows he wants to make a splash if given the opportunity.
"Just a guess, I would say junior year for top schools and then senior year definitely for a commitment because I wanna do it on TV," Murphy said. "I've been slow with everything. I haven't been able to do much other than on my own."
Decision timeline aside, Murphy was happy to be able to get back on the field in a competitive setting this weekend.
"It helps, but it's not as good as going out in camps or getting out with your team," Murphy said. "Just getting out here with everybody and getting the resources you need because it's hard to get resources out here when everybody is restricted."
Davis' top 7
As we have been reporting throughout the spring and summer, we've been expecting a top schools list to be coming out for Gateway (Pa.) four-star safety Derrick Davis Jr., Ohio State's top defensive back recruit remaining in the 2021 class. (Though Clemson cornerback commit Jordan Hancock may have an argument for that title.)
Davis, the country's second-ranked safety and 52nd-ranked overall player, finally released that list on Sunday, and the Buckeyes remain predictably in the mix against Penn State, Clemson, Georgia (probably in that order), LSU, Pitt and USC – the only program on the list that was a mild surprise, as Eleven Warriors had been expecting his final seven to be those first six programs and Alabama. 
First, I would like to thank all of the schools that have recruited me and have taken the time to reach out to me over the past 3 years. I am extremely blessed and humble to announce my top seven schools!!! pic.twitter.com/DmskaGtepC

— Derrick Davis (@D_Dav1s) July 12, 2020
In June, we reported that Davis' college commitment will not be coming until September or October at the earliest, with October my personal prediction, and there's been nothing that we have heard to suggest that timeline is any different as it stands today. 
So, as it is with all of Ohio State's top targets in the 2021 class, we remain in wait-and-see mode with the hopes that the recruiting dead period will be lifted in order to allow these guys to get on campus. Until that happens, we can expect there to be a #BOOM shortage for the Buckeyes.
Crownover top 5
One name we have been briefly touching on since Hudson Wolfe committed to Tennessee is Texas four-star tight end Dametrious Crownover, the No. 10 tight end in the 2021 cycle.
Crownover released his top five list on Sunday, with Ohio State remaining in the picture for the top-250 talent, pitted against Baylor, Nebraska, Texas and Texas A&M.
Top 5

Edit: @Hayesfawcett3 pic.twitter.com/iGHhhsqibx

— Dametrious Crownover (@Dametrious1) July 13, 2020
We don't believe Crownover has ever visited Ohio State, though he is hopeful to do that before making his decision. Without the lifting of the dead period and a subsequent visit, it will probably be hard for Crownover to end up as a Buckeye.
Spring football proposal
A group of anonymous Ohio high school football coaches has made a proposal to the Ohio High School Athletic Association for a plan to move football to the spring, ThisWeek News has reported:
In their proposal, the coaches outlined a possible schedule for spring football, with practices beginning Feb. 1, scrimmages starting Feb. 15 and a six-week regular season kicking off Feb. 26. A seven-week postseason would begin April 9 -- with every team in Ohio qualifying -- and end with the state finals May 20-22.
However, in an email to ThisWeek, an OHSAA administrator said that the coaches' proposal will not be presented to the OHSAA board of directors. 
The OHSAA is still planning on going forward with football in the fall with a start date of Aug. 1, though it acknowledged it a statement on Sunday that "plans can be modified or cancelled quickly."
On Friday, we spoke with three of Ohio State's highest-rated commits in the 2021 class – Jack Sawyer, TreVeyon Henderson and Reid Carrico – who are planning on enrolling early at Ohio State. If football is moved to the spring, Sawyer and Henderson said they will no doubt still be enrolling early in January, while Carrico said he is still on the fence as it stands in July.