The Hurry-Up is your nightly dose of updates from the Ohio State football recruiting trail, keeping tabs on the latest from commits and targets from around the country.
Hicks was Saturday's top performer
If you stopped by Eleven Warriors on Thursday, when we broke down the physical growth of C.J. Hicks, you knew heading into Saturday that the Ohio State hybrid linebacker/safety commit had pushed himself through a noteworthy transformation. 
But to see the 6-foot-4, 220-pounder alongside some of the best players in the Midwest – plus Shawn Murphy, the No. 3 overall player and No. 1 inside linebacker in the 2022 class, of Virginia's Stonewall Jackson High School – it was instantly clear that Hicks was the most impressive of the group at Saturday's Elite Underclassmen Camp in Obetz, Ohio.
"He looks like a man-child," one coach at the camp told Eleven Warriors. 
Ohio State 2022 commit C.J. Hicks (@imcjhicks) breezing through LB drills.

Spoke with Hicks earlier this week and he says hes up to 6-4, 220 lbs. Looks like one of the best, most athletic LBs out here today. pic.twitter.com/5rjJqhdLlE

— Zack Carpenter (@Zack_Carp) July 11, 2020
But it wasn't just Hicks' physique that impressed. It was the athleticism, footwork, fluidity and hips that he showcased during drills that made the physicality more meaningful. All day, he looked exactly like the prospect Al Washington, Kevin Wilson and crew recruited him to be – a player who could be a force as an outside linebacker and one with the lateral agility and burst to play as a defensive back who could drop to safety or cover tight ends.
"Coach Washington said he wants me to be like Pete Werner, who plays outside linebacker but is also a safety," Hicks told Eleven Warriors on Saturday. "But he said there are some formations where he wants me to play where Malik Harrison played like where he was on top of the nose and stuff like that and play some inside and out. I'm open to playing anywhere, as long as I'm on the field it don't matter that much."
As we said in that Thursday piece, when visiting with Hicks in October, it's not as if he was a toothpick by any stretch of the imagination. But he was certainly not there physically, and that's entirely understandable given the fact that he was only 15 years old. 
So that's an even more important item to remember – he's only 16 right now and won't turn 17 until December. He has more time to grow, as long as he doesn't grow too much. The Buckeyes aren't wanting him to tack on too much size at risk of him losing some of that quickness and speed. Hicks says he's hoping to add about five more pounds of muscle to get to 225 pounds. 
And as for his speed? Hicks ran a 4.62 in the 40 while adding a 32-inch vertical. Combined with his performance in drills, it was all more than enough for him to get an invitation to the Under Armour Future 50 and the Under Armour All-America Game, both of which he promptly accepted. If there was an MVP award for the one-day camp, Hicks would probably have been the favorite to win it, even though he admits his performance wasn't entirely tuned up.
"I felt good. There's some passes that I dropped, but that's football," Hicks said. "I gotta work on my hands. But other than that, I feel like I did a really good job. There's always some stuff I can improve on like my hands and stuff. It just felt good to come out here and compete."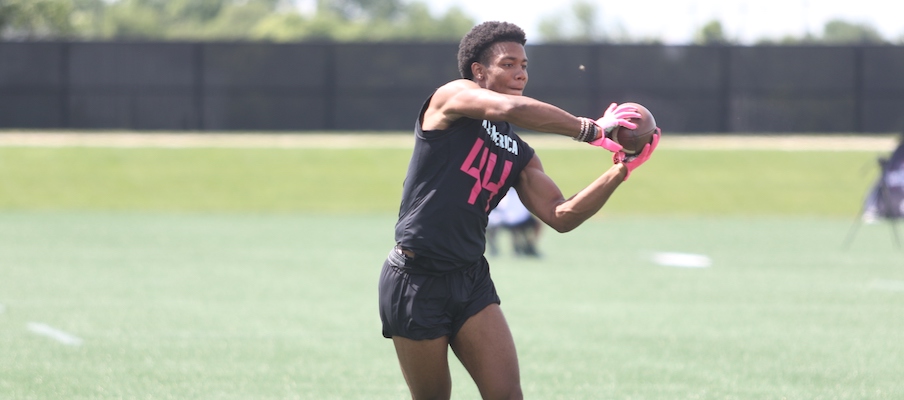 After the summer camp circuit in 2019, Hicks emerged as a very early five-star prospect, according to 247Sports' initial August rankings that only ranked a small number of 2022 players. But once the Top247 dropped in March, Hicks was downgraded to a four-star recruit ranked No. 162 overall, No. 15 as an athlete and No. 4 in Ohio. 
It would be shocking if he didn't make a substantial jump whenever the next rankings are released now that evaluators have been able to see how he's transformed up close and on film when the camp's tape is eventually dissected. (Every rep and every drill at the camp was filmed, and video and results will be sent to 64 out of 65 Power 5 schools and at least 42 Group of 5 programs, according to The Underclassmen Report's Twitter page.)
Hicks looked like a potential five-star prospect, so perhaps he could work his way back into that billing in his recruiting profile once again. 
Murphy struggles, but relationship with Hicks builds
Hicks has told us multiple times that he has a strong bond with Murphy, even though the two had never met in person. They finally got that chance on Saturday, and they were able to build upon what objectively appears to be a pretty strong friendship built over the last several months. 
From the looks and sounds of it, it really didn't appear like Hicks was trying to push the Buckeyes onto Murphy, and that's not Hicks' strategy as a peer recruiter anyway. 
"I'm not trying to force him to come to Ohio State, come to Ohio State, come to Ohio State," Hicks said. "I'm just keeping it open. I'm not gonna try to force it and tell you what school to come to, but if you wanna be great, like I'm telling everybody else, come be a part of BIA."
My son!!! pic.twitter.com/sUcPNi4oHO

— Shawn Murphy (@theicedupshawn) July 11, 2020
Those comments were in reference to Hicks recruiting Murphy from afar. Murphy told Eleven Warriors that Hicks is in his ear about Ohio State "damn near every day," but it's typically just consistent, subtle reminders about what the Buckeyes offer.
On the field Saturday, though, it was just two of the best linebackers in the 2022 class getting after it and competing and having fun in the first competitive camp setting any of the hundreds of players at the event have had in a long time.
Hicks and Murphy, in that order, competed back-to-back in every single drill throughout the day. It may not have been purposely set up for them to compete one after the other, but it provided for some good entertainment and a good gauge of each athlete. 
"It's a fun, competitive way," Murphy said. "We just play around, but we do our thing. We just work real hard, but we're just playing around and having fun with it because that's what you're supposed to do. It felt real good. It felt real natural."
Added Hicks: "We were just talking in line and just competing, saying 'I do the drill better than you' or 'you ain't gonna do the drill better than me.'"
Hicks up first, Murphy second. These two have been competing all day against each other, going one after the other in every drill. pic.twitter.com/Q8uMO9emeU

— Zack Carpenter (@Zack_Carp) July 11, 2020
Throughout the day, Murphy did not look like himself, as he was unable to get solid footing in the three-cone drill that tested lateral agility, not showing much burst in the 40 and dropping some passes thrown his way during drills.
It wouldn't be surprising to see his ranking drop a bit after the camp, but there's a reason Murphy has been offered by 43 programs, including Ohio State, Clemson, Alabama, Georgia, LSU, Oklahoma, Oregon, Penn State, Texas and USC. 
Murphy showcases his athleticism, agility and hard-hitting nature on film, and it's why he will remain the top linebacker target for the Buckeyes and many other programs despite an uneven one-day camp performance. That's also why he earned an invitation to the Future 50 and Under Armour All-America Game in addition to Hicks.
Heres Virginias Shawn Murphy (@theicedupshawn), the No. 3 overall player and No. 1 inside LB in the 2022 class.

Buckeyes are looking for three or possibly four LBs in the class, and the Youngstown native is their top target. pic.twitter.com/1BoAkAqMCa

— Zack Carpenter (@Zack_Carp) July 11, 2020
Brown "by far" the best defensive back at the camp
Another of the camp's top performers was another Ohio State commit in cornerback Jyaire Brown, the 6-foot, 165-pound corner from New Orleans who moved back to his hometown of Cincinnati just two weeks ago after his transfer to Lakota West High School.
There were some times when Brown seemed to go through the motions in finishing out drills and not going all out, and that's when one of the camp's coaches lit into him for it. About 15-20 minutes later, that same coach told Eleven Warriors that Brown was "by far" the best defensive back prospect there. 
Why?
Aside from the quick hips, an upper-body frame that could easily add plenty of muscle to it, the footwork – in which Brown seemed to glide at times – and the versatility that the coach raved about, it was the level-headedness that impressed him the most.
"He's so calm when he takes criticisms," the coach said.
When Brown was chastised, he was right back into the drill with good body language and no complaints. 
"Ohio State's gonna love that kid," the coach said. 
Ohio State 2022 cornerback commit Jyaire Brown (@jyairebrown13) running the 40. Spoke with him earlier and this was one of his main focuses coming into today. pic.twitter.com/mgqOx9PSCS

— Zack Carpenter (@Zack_Carp) July 11, 2020
2022 Ohio State cornerback commit Jyaire Brown running through a drill at the Elite Underclassmen Camp. One of the camp coaches said hes been the best defensive back here. pic.twitter.com/y8MHORslHK

— Dan Hope (@Dan_Hope) July 11, 2020
Don't be surprised if Brown winds up as a fan favorite in Columbus for his personality, either. He's definitely a happy-go-lucky type of guy who was all smiles throughout the day, even though he plays with that chip-on-his-shoulder attitude when on the field.
Brown told Eleven Warriors that one of his biggest goals during the day was "just getting in and out on my breaks real fast. Instead of being slow, just one-two real fast out of my breaks on every drill."
Brown was a bit shorter than I had expected him to be, and as of now it appears he is on a trajectory to be a nickel corner. He will have to grow a bit in order for him to become that physical presence the Buckeyes like to have on the outside, and he has two years to do so. 
But that versatility we mentioned is one of the key reasons Kerry Coombs and Co. accepted Brown's commitment so early in the process. Slot corner served a monumental importance for the Buckeyes' defense in 2019 when Shaun Wade became a star in the role, and perhaps Brown will go down that same path one day. 
Surprisingly, Brown says he did not receive an invitation to the Future 50 or the Under Armour All-America Game.
Tshabola looks huge … and fluid
When we spoke to him a few weeks ago, Brown's evaluation of his future Lakota West and Ohio State teammate, Tegra Tshabola, was pretty simple: "Sheer dominance. He's a big guy."
Pretty hard to refute that analysis after seeing Tshabola for the first time in person on Saturday. But the most impressive part came when he actually began moving laterally and vertically. The one video clip we snagged of Tshabola was indicative of how he looked throughout the day – incredibly athletic and agile for his massive size. 
Tegra Tshabola (@tshabola_tegra), the Buckeyes 6-6, 320-pound OT commit, is ranked in the top 70 overall and No. 2 in Ohio. pic.twitter.com/fao7T073e8

— Zack Carpenter (@Zack_Carp) July 11, 2020
We've been saying for a while that Tshabola could end up as a borderline five-star prospect down the road, and he certainly looked the part on Saturday.
Sawyer stops by
Even though Ohio State's five-star defensive end recruit Jack Sawyer is not an underclassman and did not participate in the camp, the Pickerington North star still stopped by to get in some extra work on the field, and Eleven Warriors caught up with him afterward.
Ohio Stars defensive end commit Jack Sawyer isnt an actual participant in the Elite Underclassmen Camp today, but hes still here putting in some work. pic.twitter.com/HmhEEVTjOo

— Dan Hope (@Dan_Hope) July 11, 2020
 Sawyer looked like he was heading down a path to becoming a day-one contributor for the Buckeyes the last time we saw him, and he looks even more the part now.
---
Eleven Warriors will have more this week on Sawyer, Brown, Tshabola, Hicks and his growth as a recruiter for the Buckeyes, Murphy and the increasing potential for him to wind up in Ohio State's class as his relationship with Washington broadens, and stories on the other key prospects at the event.