The Hurry-Up is your nightly dose of updates from the Ohio State football recruiting trail, keeping tabs on the latest from commits and targets from around the country.
Hicks working with Landers and former UM safety
The first time Eleven Warriors ventured over to Kettering's Archbishop Alter High School in October, we took a look at C.J. Hicks and spoke fairly extensively with the state's top 2022 riser, one who was initially ranked as a five-star prospect. 
Hicks looked solid, athletically built and fluid as he sprinted around the field during an Oct. 1 mid-week practice in preparation for a Week 6 game. But flash forward a little more than nine months later, and Hicks is truly looking the part of what he eventually became – an Ohio State commit.
July 9, 2020
During a 7-on-7 practice on Wednesday, the 6-foot-4 four-star prospect – now ranked No. 162 overall, No. 15 at athlete and No. 4 in Ohio – looks even more athletic, more comfortable at linebacker and in pass coverage, and he's gotten much bigger and stronger, as he's added about 10-15 pounds this offseason to get up to 220 pounds. (Pictures don't necessarily do it justice, but you can check out photos from our time spent with Hicks here.)
Even as we stand more than two years away from him being able to contribute on the field for the Buckeyes, Hicks has begun to grow his body to prepare for his time in Columbus, and it's showing. That's been the result of rigorous bodyweight exercises and at-home dumbbell workouts during quarantine before he was able to get back into weight rooms, in addition to cranking up his diet to include more protein. 
"It's kind of easy. It was a struggle at first, but then it got easier as it went on," Hicks told Eleven Warriors of adding muscle in the offseason. "For me, it hasn't really been that hard. It's just been see food, eat food. That's what I've been doing since I got to high school."
Aside from the physical gains that you can see just by standing and talking to him, Hicks has been making progressions in two other areas as he prepares for his role as a hybrid linebacker/defensive back, and he's had the help of two familiar faces to Ohio State fans – his cousin, Robert Landers, and former Michigan safety Tyree Kinnel.
"I've been trying to move quicker so I've been working with BB because he's been in town, and then the safety who played for the Team Up North, Tyree Kinnel, he graduated two years ago," Hicks said. "We all train at the same spot. I've been working with BB for the pass rush and flipping my hips and stuff, and then Tyree staying mobile and opening up in coverages. It helps because I'm playing the hybrid spot so I'm learning pass rush and coverages."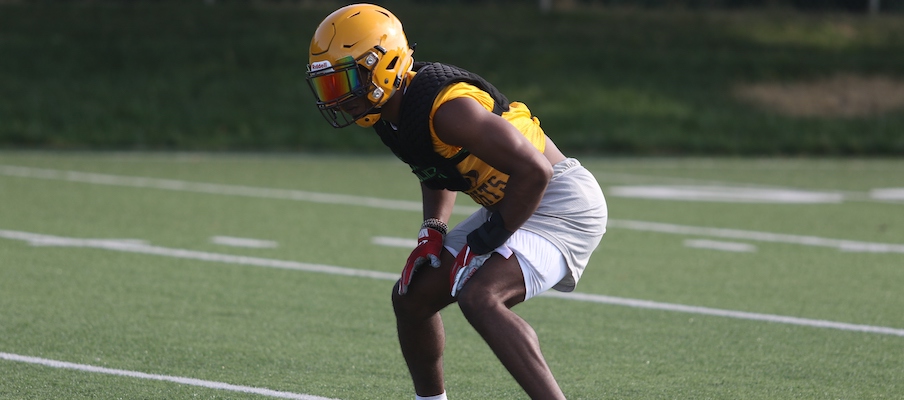 Different colleges wanted Hicks for different roles on their defense, but Al Washington and the Buckeyes have their plan of using him in that hybrid role similar to that of Pete Werner and the vision they have for Kourt Williams. So once Hicks committed to Ohio State in May, he had a better plan for how to shape his body and what areas of his game to sharpen up.
"BB is more like working on pass rush skills," Hicks said. "Coach Washington told me he's gonna have me blitz quite a bit, so when I'm working with BB, I'm working with the hand techniques and stuff. So if an O-lineman does this, then I do this and know how to counter it. And then Tyree, like I said, just working on my breaks and getting quicker out of those and learning different coverages and stuff like that."
There is, of course, a third figure that a couple Buckeye backers might remember, too, that Hicks has a bond with and works out with once a week.
"I work out with Braxon Miller on Thursdays so I'll work out with him (today)," Hicks said. "He's been a good role model to me. He said if I need anything while I'm up (at Ohio State) give him a call."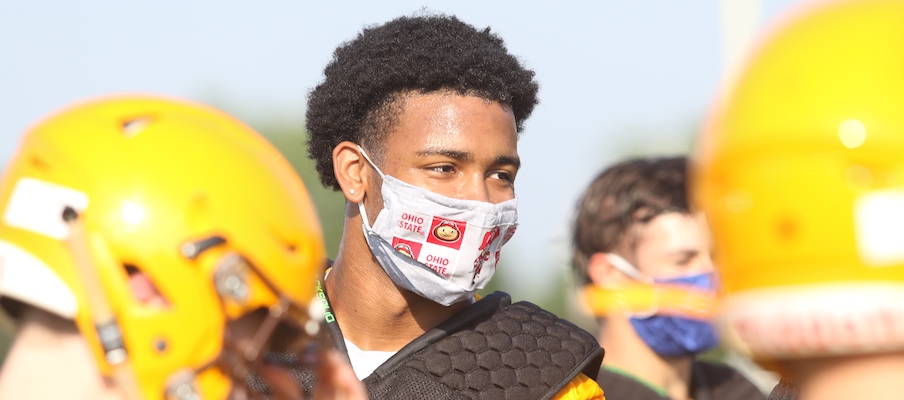 When we first met with Hicks in October, we spoke very briefly about his relationship with Miller toward the end of the interview. At the time, Hicks said he would see Miller a couple of times during the offseason and that he would help out at one of Miller's camps at his alma mater, Wayne High School. 
Seeing Miller working with the youth players reinforced the type of person Miller was in Hicks' mind.
"He plays with the kids and it's fun to watch because even though he did make it, he's still pursuing his dream and still cares for all the little kids," Hicks said. He's a good role model."
Hall picks All-American Bowl
*Insert monthly update on an Ohio State commit choosing to play in the All-American Bowl here*
That's what it feels like, doesn't it?
Last month, it was receiver Jayden Ballard accepting the honor. The month before that, it was Jakailin Johnson. In April, it was Evan Pryor and Reid Carrico. 
The beat drummed on for the Buckeyes on Wednesday night, as defensive tackle Mike Hall became the eighth commit in their 2021 class to announce he has accepted an invitation to play in the All-American Bowl. 
First off just wanted to say thank you to @demetricdwarren for the opportunity to become a UA All American. I felt it was the best decision to decommit from the UA All American Game. With that being said I will be committing to the Adidas All American Bowl @aabonnbc @recruit247 pic.twitter.com/RnyupyJRZc

— Why So Serious... (@MichaelHallJr_) July 9, 2020
Previously committed to the Under Armour All-America Game, the nation's 55th-ranked player and fifth-ranked defensive tackle chose to join his future Buckeye teammates to form Voltron down in San Antonio:
As we've hit on before in this space, the Buckeyes have a shot at eclipsing the program's total of nine commits to be in the last All-American Bowl, as they are just one shy of that total with Tunmise Adeleye, Marvin Harrison Jr. and Ben Christman a few candidates for selection – in addition to top-tier targets such as J.T. Tuimoloau, Emeka Egbuka, Raesjon Davis and Jager Burton already committed to play in the game. 
Jack Sawyer has also been invited to the game but is still deciding between playing in the All-American Bowl and the Under Armour All-America Game. 
Foreman, Sapp release top lists
Two defensive line commits released a top schools list, with Ohio State still in the picture for one and out of the mix for another.
First, the bad news for Buckeye fans: Any tiny, faint hopes of landing the top-three overall players in the 2021 class appears to be gone, as the nation's No. 1 overall player, California defensive end Korey Foreman, released a top seven list that excludes the Buckeyes.
I am a young black man that is happy and proud of my race. The Black Lives Matter movement is and forever will be powerful and definitely never forgotten. These are the schools I will now be focusing on the most. Set the standard and

.. be different pic.twitter.com/YDjHSndKuS

— Korey Foreman (@koreyforeman54) July 9, 2020
Foreman is down to Clemson (the program he decommitted from in April), USC (probably in the driver's seat), Georgia, Alabama, Oregon, LSU and Howard, an HBCU in Washington D.C.
On the other hand, in a weird bit of news because this is recruiting, St. Thomas Aquinas (Fla.) defensive end Tyreak Sapp has released a list of his top five, which includes the Buckeyes going up against Florida, Georgia Tech, Miami and Alabama. 
The type of time Im on and God is my witness #blessed #GodIsGood pic.twitter.com/UhrplCEtY1

— Tyreak Sapp (@SappTyreak) July 9, 2020
Why is this an odd releasing of a list of top schools? Because Sapp – a top-100 overall recruit and top-8 strongside defensive end – has been committed to Florida since Christmas Eve of 2018 and has not announced a decommitment.
Oh, well. Stranger things have happened. (See: Wilcoxson, Kamar)