Ryan Day has yet to meet his match on the trail.
March and April were expected to be busy months for Ryan Day and the Buckeyes. Visitors were set to flock to campus as Ohio State looked to add to its top-rated 2021 recruiting class.
Those visits won't be happening, but the Buckeyes haven't slowed down on the trail as Day and Co. have landed four commitments and strengthened their hold atop the national recruiting rankings. The unexpected dead period has brought good fortune to Columbus and even more good news is expected in the coming week. 
Ryan Day has been nearly flawless thus far in his tenure at Ohio State, and things haven't changed a bit in the world of Buckeye recruiting. The national draw is still very much there along with a solid mix of Ohio's top prospects. 
There have been several noteworthy recruiting battles for the 2021 class and plenty more are yet to unfold. With the Buckeyes looking to finish No. 1 in the team rankings for the first time in the modern recruiting era, we rank Ohio State's biggest rivals on the trail.
5. Michigan • Jim Harbaugh
The biggest rivalry in sports used to be the biggest rivalry on the recruiting trail as well, but those days have come and gone. Once Urban Meyer arrived in Columbus, Ohio State's recruiting approach underwent some serious changes, and the more national approach has continued under Ryan Day. 
It's interesting what Michigan recruiting has become. The program will occasionally pull off a major signing such as five-star safety Daxton Hill, but many seem to question just how tenacious the Wolverine staff is when it comes to securing top national talent. Nowadays, some outlets feel that it's story-worthy simply when Jim Harbaugh makes contact with a recruit. Maybe it's just me, but that sure seems fairly telling. 
For the Class of 2021, some familiar names include five-star tailback TreVeryon Henderson, Michigan products Donovan Edwards and Rocco Spindler, and New Jersey defensive tackle Tywone Malone. 
4. Notre Dame • Brian Kelly
The Fighting Irish used to be a major thorn in Ohio State's side, and that was especially true when it came to Cincinnati's Greater Catholic League. Urban Meyer and now Ryan Day have done a fine job of turning around the Buckeyes' success in the Queen City, but the Irish still have a knack for plucking some of the country's best tight ends and offensive linemen. 
This go-around, Brian Kelly has already landed a commitment from Pickerington's Lorenzo Styles Jr. The Buckeye legacy held an Ohio State offer, but I believe there were some questions as to whether he best fits at wideout or cornerback. Either way, Styles Jr. is a talented player and the state's No. 6 prospect. 
The Buckeyes landed Jakailin Johnson last week and the St. Louis corner was one of Notre Dame's top targets as well. For the 2020 class, Ohio State was a major issue for Kelly and the Irish. The Buckeye landed several top Notre Dame targets including Paris Johnson Jr., Gee Scott Jr., Lathan Ransom, and Cameron Martinez. 
3. Penn State • James Franklin
There hasn't been too much action on the trail thus far for 2021, but Ohio State and Penn State have become the Big Ten's top recruiting rivals. James Franklin nabbed a pair of big-time Buckeye tailback targets in 2019 when PSU signed Noah Cain and Devyn Ford. Ohio State fired back in 2020 by signing Pennsylvania's top prospect in five-star wideout Julian Fleming. The Buckeyes also flipped Michigan tackle Grant Toutant from the Nittany Lions. 
The Class of 2021 also has some names to watch as the two schools go at it. They include Virginia prospects Tony Grimes and Tristan Leigh, and four-star Pennsylvania safety Derrick Davis Jr. The battle for Davis is one that seems to be on track to come down to the Buckeyes and Nittany Lions.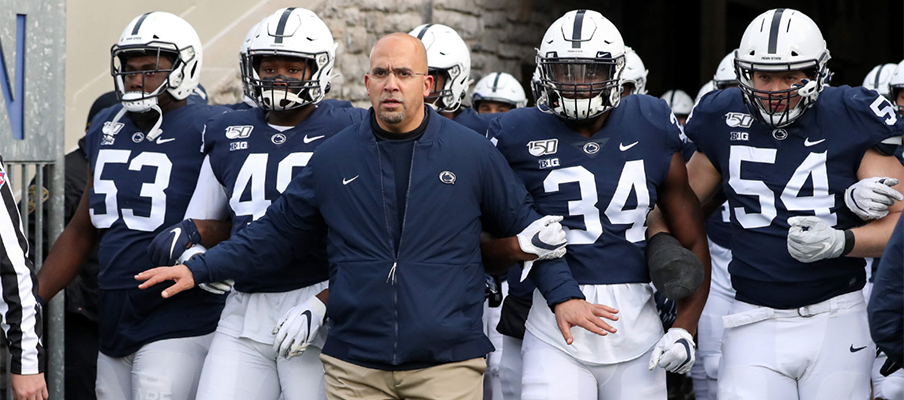 2. Georgia • Kirby Smart 
It's no secret that the Southeast part of the country is one of its more talent-rich regions, so it makes sense that Ohio State has become a major factor in SEC country. Kirby Smart and the Bulldogs are blessed with some extremely fertile recruiting ground, and that's led to a number of major battles with the Buckeyes. 
Georgia was in the mix for Julian Fleming, attempted to flip Paris Johnson Jr., and was a serious player for quarterback C.J. Stroud. Ohio State was victorious for each of the 2020 prospects, however. Kirby Smart signed several Buckeye targets as well, including tailback Kendall Milton, cornerback Kelee Ringo, and linebacker Mekhail Sherman. 
For the current cycle, some names to watch include Tony Grimes, Donovan Edwards, and linebacker Barrett Carter. Carter is the No. 6 player in Georgia and a major Buckeye targets. That's going to be a difficult pull for Ryan Day and the Ohio State staff, however. 
1. Clemson • Dabo Swinney
The Tigers are No. 2 in the national recruiting rankings for the Class of 2021, but there's no question that Dabo Swinney is one of maybe three or four coaches who will challenge Ohio State for the top spot. The two programs have seen plenty of one another on the field and on the trail, and there are no signs of that changing anytime soon. 
Brian Hartline struck gold with the signing of Julian Fleming, and that was a big win for the Buckeyes over the Tigers. Clemson signed the nation's top 2020 prospect in five-star defensive lineman Bryan Bresee, and the Maryland native was a top target of Larry Johnson's as well. This recruiting back and forth is one that goes back to Jackson Carman siding with Clemson in the class of 2018. 
The 2021 class has already seen its share of battles as well. Ohio State was able to keep four-star linebacker Reid Carrico in-state after he was seriously considering Clemson. Marvin Harrison Jr. and Jakailin Johnson were also very much on the Tigers' radar. Swinney has already landed three major Buckeye targets in Korey Foreman, Jordan Hancock, and Beaux Collins. 
Ohio State's top remaining wide receiver targets also just so happen to be Clemson's top guys as well. Five-star Washington wideout Emeka Egbuka and Fort Lauderdale's Troy Stellato are the two biggest names to watch moving forward as the Buckeye/Tiger battles wage on.