The Hurry-Up is your nightly dose of updates from the Ohio State football recruiting trail, keeping tabs on the latest from commits and targets from around the country.
Ohio State offers two more in 2021, another in 2022
Over the weekend, Ohio State dished out its 10th overall offer to a running back in the 2021 class. 
Brandon Campbell, a four-star RB out of Lamar Consolidated (Texas) High School, announced a Buckeyes offer, as he nears a total of 40 offers, including Alabama, LSU, Penn State and USC.
#AGTG WOW!!! I Am Extremely Blessed To Have EARNED An Scholarship Offer From!!!
THE OHIO STATE UNIVERSITY@CoachTonyAlford @OhioStateFB #GoBucks pic.twitter.com/zE074qNvcB

— Brandon (BC) Campbell 4 RB (@2021BC) January 27, 2020
Campbell is a 5-foot-10, 190-pound junior ranked as the No. 14 RB in the junior class, in addition to being the No. 244-ranked overall recruit and No. 40-ranked recruit in Texas in 2021.
Denzel Burke, a four-star recruit from Saguaro (Ariz.) High School who is listed as an athlete, also announced an Ohio State offer, as the Buckeyes are hoping to land the nation's 16th-ranked player at that position, No. 182-ranked overall junior and third-ranked prospect in Arizona's 2021 class.
Blessed to earn an offer from the University of Ohio State!!! pic.twitter.com/QiYJDdYZgF

— Denzel Burke (@King10Burke) January 27, 2020
The offer list continued on Monday, as Wilfredo Aybar, the nation's No. 1-ranked weakside defensive end in the 2022 class per 247Sports' metrics, announced an offer from Ohio State.
I am excited and thankful to have earned my 14th offer from THE OHIO STATE UNIVERSITY #GoBucks @Coach_Mehleisen @coachdykeman @BrianDohn247 pic.twitter.com/EMAUvy3muP

— Wilfredo Aybar (@WillAybar1) January 27, 2020
Aybar is ranked right now as the fourth-best overall player in 2022 and is ranked as Massachusetts' top-ranked player.
Foreman commits, gives Clemson No. 1 class
Won't spend too much time here after getting into it a bit more in Sunday's Hurry-Up. 
But Clemson kept the train rolling Sunday night, as the nation's No. 1-ranked overall player in the 2021 class, five-star defensive end Korey Foreman, became the fourth player to commit to the Tigers over the weekend.
Clemson has now taken the lead for the No. 1-ranked class in the 2021 cycle, just a few decimal points ahead of Ohio State.
Mailbag's back
After a long hiatus, we're back to give you another mailbag article.
Let's get to it:
 Rankings reactions



These are all in regards to several Ohio State signees having dropped in the final Rivals rankings of the 2020 cycle, including five-star receiver Julian Fleming and CJ Stroud. 
The most perplexing drop was Stroud, going from No. 41 to No. 51.
In answering the top question, these rankings reflect what scouts saw at the Under Armour All-American game and the All-American Bowl and mostly what they saw during the week of practice leading up to those games in one-on-one sessions and other drills. 
Out of all of the Buckeyes who dropped, the only one I can't understand is Stroud's drop. During that week, and during the game itself, the quarterback showed why he is the real deal, and after that week it seemed like Stroud's potential for becoming a five-star signee would only increase. 
Rivals scouts didn't see it that way, but the way he played was reflected in 247Sports' Composite rankings. Stroud bounced up from being ranked No. 83 overall to the No. 66 slot for the 2020 class and the No. 2-ranked pro-style quarterback. The only pro-style QB ranked above Stroud is DJ Uiagalelei, a Clemson signee who is the No. 2-ranked overall player in the class.
Ohio State has some incredibly talented players in its 2020 haul, but so does Clemson (the Tigers have six five-stars compared to the Buckeyes' three). For those wondering how Ohio State is supposed to keep up with Clemson in the future, it starts with Stroud. 
Obviously, we can't forget about Jack Miller and Kyle McCord, but it's fascinating to think about if the Uiagalelei vs. Stroud comparisons will be made down the road in a similar fashion to the Trevor Lawrence vs. Justin Fields comparisons. Certainly looks to be set up that way.
Lawrence and Fields were ranked No. 1 and No. 2, respectively, in the 2018 class, so their rankings are higher than what Uiagalelei and Stroud's will be. But in the same way that Lawrence and Fields each came from Georgia high schools (which were 30 minutes apart) and knew each other very well through the recruiting process and camp circuits, it's the same thing with Uiagalelei (St. John Bosco) and Stroud (Rancho Cucamonga) hailing from Southern California high schools just 45 miles apart. 
Coombs returning to roots

I don't have anything else to add to this, but ... *checks notes* ... CowCat's thought this is the exact same one I had when C.J. Cavazos discussed Kerry Coombs' return to Ohio State.
Despite the NFL being a higher coaching step than college, it seems like Coombs wanted to return to his roots of teaching the game to young players and developing them. Always got the sense that Coombs was a college coach in an NFL coach's body for the last two years, and it seems like his return to Columbus will be a more comfortable one for him.
Adeleye to IMG

Five-star 2021 defensive end Tunmise Adeleye announced that he will be transferring to IMG Academy in Bradenton, Fla., leaving Katy, Texas and Tompkins High School. 
Adeleye will now test himself day-in and day-out against some of the best high school players in the nation, including four-star and high-priority OL target JC Latham, and Adeleye will get a taste of what it's like to be in college while at the prep school. 
And, yes, moments after Adeleye announced his transfer, 247Sports' rankings system shifted him to Florida, where he became the state's No. 3-ranked overall player in the junior class behind safety James Williams and receiver Agiye Hall, a five-star player and soon-to-be teammate of Adeleye's. 
Grimes back in the fold

Over the past couple weeks, the No. 1-ranked cornerback in the 2021 class, Tony Grimes, seemed to have slipped away as an option for Ohio State. In multiple articles, Grimes had mentioned Clemson, Texas A&M, Penn State and a few others as the top schools he was keeping his eyes on. 
The Buckeyes had not been mentioned by the No. 10-ranked overall player in the junior class and top-ranked player in the state of Virginia. 
The reason for that is an easy, obvious answer. After talking with Grimes' father and high school assistant coach, Deon Glover, the No. 1 reason the Buckeyes had seemed to fall off the grid is because of the lack of a position coach. Grimes has a great relationship with linebackers coach Al Washington and Terajda Mitchell, an Ohio State linebacker who is also from Virginia Beach, but he also had a good relationship with Jeff Hafley.
When Hafley left for Boston College, it provided some uncertainty for Grimes, Glover and their family, and they wanted to be patient to see who would replace Hafley. Ryan Day had ensured Glover that he was going to land a big-time hire, but they understandably wanted to wait and see, even though Glover says he had full faith in Day. 
That trust paid off with the hire of Coombs, and that hire has thrust Ohio State right back into the conversation as one of Grimes' top options, Glover told Eleven Warriors on Monday, right up there with Clemson, Texas A&M, Penn State, North Carolina and some others. 
Glover says he and Grimes each spoke with Coombs over the phone recently, and they are excited about the hire. On Monday, Coombs visited St. Louis for a visit with the nation's No. 5-ranked cornerback in the 2021 class, Jakailin Johnson, and on Tuesday, Coombs will be traveling to Virginia Beach to meet with Glover and James Yeager, Grimes' head coach at Princess Anne High School.
Glover says the building of that relationship with Coombs will be critical in Grimes' recruitment at Ohio State moving forward.
Eleven Warriors will have more from its interview with Glover later this week.
Carter/Hancock package deal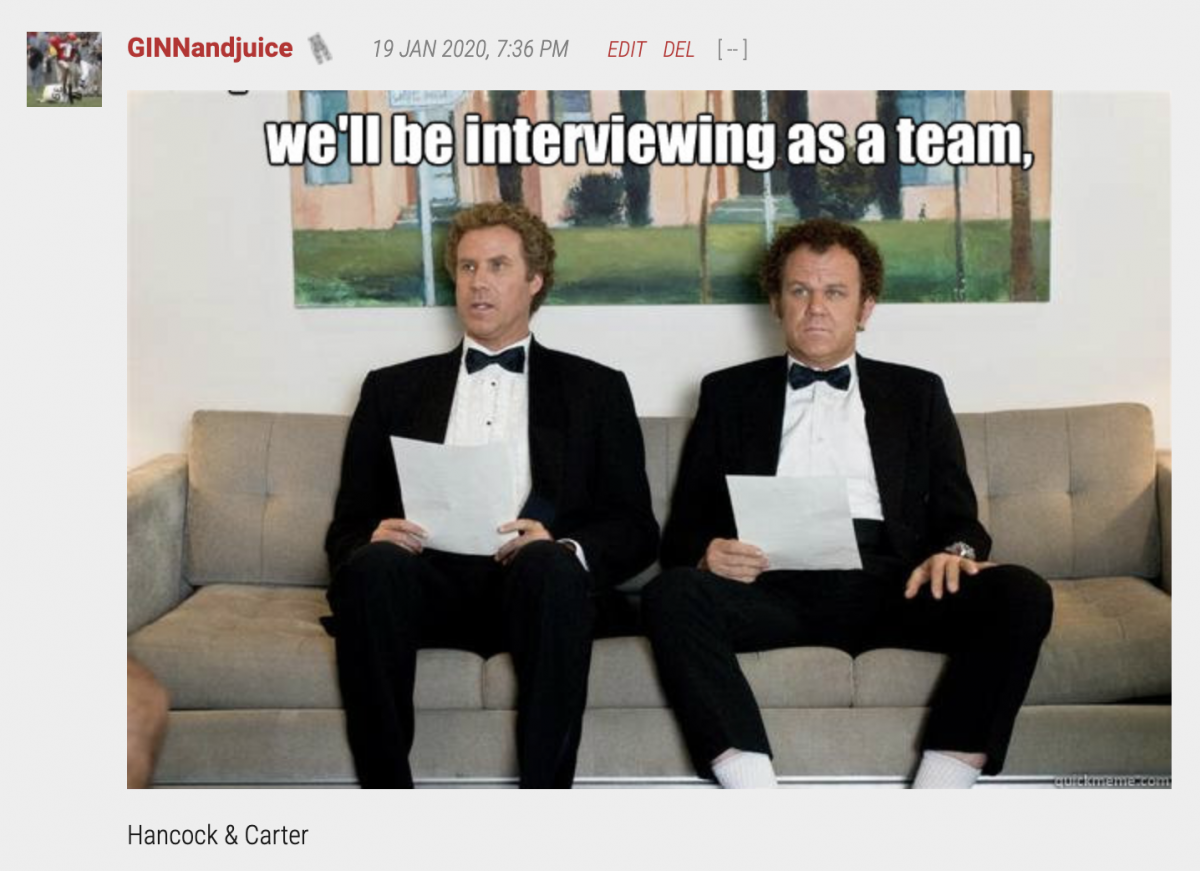 This is in regards to last Sunday's Hurry-Up that detailed the plans of North Gwinnett High School teammates Barrett Carter (four-star linebacker) and Jordan Hancock (four-star cornerback) to team up at the same college program. 
That's absolutely right. These "package deals" almost never end up coming to fruition. But you never know.
But, really, the reason I highlighted this here is because A) GINNandjuice is a great user name and B) if I was allowed to swear, that's the only way I could accurately describe what I said when I laughed at that meme.