The Hurry-Up is your nightly dose of updates from the Ohio State football recruiting trail, keeping tabs on the latest from commits and targets from around the country.
Buckeyes offer Ritzie
"Offer season" is in full swing as recruits across the country get the recognition they deserve from coaches of the nation's best programs.
Ohio State dished out offers to five different players between Tuesday morning and the publication of Thursday night's Hurry-Up (or at least that's when those five announced their offers). 
In addition to DE Colin Mobley, RB Nicholas Singleton, TE Michael Trigg, CB Ja'Den McBurrows and OL Kam Dewberry, the Buckeyes on Thursday night offered four-star target Jahvaree Ritzie.
Ritzie is the No. 10-ranked strongside defensive end in the country, and he hails from Glenn High School in North Carolina, where he is currently the No. 10-ranked player in the state's 2021 class.
GOD IS GREAT!!! Im truly blessed with this day and Im truly blessed to receive an Scholarship Offer from the Ohio state university #GoBucks #BuckeyeNation #Buckeyes pic.twitter.com/1sZ215mrl9

— Jahvaree Ritzie #5 (@jahvaree) January 23, 2020
The 6-foot-3.5, 265-pound Ritzie is ranked as the 164th-best overall player in the junior class, which has helped him earn offers from Auburn, Florida, Florida State, Georgia, Michigan, NC State, North Carolina, Ole Miss, Penn State, South Carolina, Tennessee and Virginia. 
Ritzie tallied a 40-yard dash time of 5.13 seconds, a shuttle time of 4.94 seconds and a vertical of 31.5 inches at The Opening Regional in April 2019. 
North Carolina's No. 1-ranked defensive end, Ritzie is set to release his list of top 12 schools sometime in January, according to 247Sports' Don Callahan. Even with the Buckeyes offering just recently, don't be surprised if Larry Johnson and Ohio State make that list, which Ritzie told Callahan will most likely include Florida, Georgia, Michigan, UNC, Ohio State, Penn State and South Carolina.
Michigan offers flow
While Ohio State offered prospects such as Troy Stellato, Tegra Tshabola, Jakailin Johnson, and even two-star receiver Kyle McNamara early in the process, Michigan often finds itself playing catch-up in terms of offers. 
It happened back in November following the Wolverines' loss to the Buckeyes, and it happened again this past week with those four recruits.
Note 2020 Ohio State receiver signee Mookie Cooper's message to Johnson, a fellow St. Louisan, below:
Truly honored and blessed on earning another offer from The University of Michigan #GoBlue @SWiltfong247 @rivalsmike @Redskins32 @SleeperAth1etes pic.twitter.com/Hc5Bg5cVCf

— Troy Stellato (@troystellato) January 23, 2020
you not loser worthy bro... yk where to be https://t.co/11qMGaqxus

— MC (@uheardof5) January 23, 2020
Im extremely excited to announce that Ive received an offer from The University of Michigan. I would like to thank @CoachTomBolden @CoachJim4UM @LWHSRedSea @WestLakota @UMichFootball #Michigan #Wolverine #GoBlue. Couldnt ask for a better birthday present! pic.twitter.com/CyZHaBr20q

— Tegra Tshabola (@tshabola_tegra) January 24, 2020
After a great talk with Coach Harbaugh, Im Super excited to announce I have received an offer to play football for the University of Michigan! #GOBLUE pic.twitter.com/GLD7BXmxwe

— Kyle McNamara (@KyleMcNamaraWR) January 24, 2020
Cap proposal
According to USA Today's Dan Wolken, who attended the NCAA Convention in Anaheim, California, three proposals have been made regarding the number of football players who can be signed in a class. One proposal would put an end to the cap of 25 players per class and would allow a maximum of 50 players to be signed over a two-year period, with a cap of 30 players per class.
Another proposal would allow for some replacement for early pro departures and medical retirements

— Dan Wolken (@DanWolken) January 23, 2020
Also:
Ohio State president Michael Drakes championship ring is very prominent on the big screen pic.twitter.com/3PAS4QVeJx

— Dan Wolken (@DanWolken) January 24, 2020
Huge weekend for Clemson
On Saturday, I detailed the top five (really, top six, but "top five" looks more aesthetically pleasing than "top six" if we're being honest) recruits in the 2021 class whom Ohio State needs to focus on most going forward.
One of the nuggets from that article is what has become a well-known reality for Ohio State over the past few years. Though the Buckeyes are always comparing their recruiting board to Michigan's as a barometer, they are not competing against the Wolverines. They're well-ahead there and have been for some time.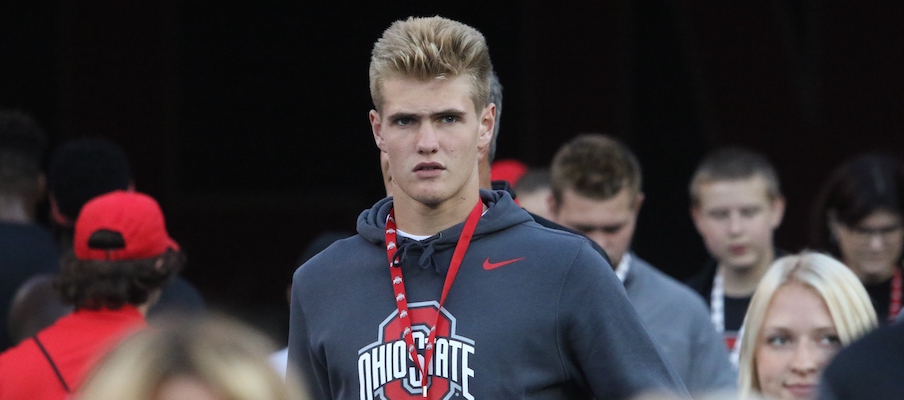 Ohio State's biggest rivals on the recruiting trail are Clemson and Alabama, in that order. 
Well, this weekend, Clemson put its 2021 recruiting into high gear once again and are making a run at the Buckeyes' top spot in the national recruiting rankings, having landed a group of players Ohio State was recruiting, including one whom the Buckeyes had high hopes of landing. 
The Tigers headed into Saturday ranked No. 9 in the 2021 class with five committed players. But in less than 24 hours, Clemson landed commitments from the nation's No. 3-ranked receiver (Beaux Collins, No. 34 overall), No. 7-ranked strongside defensive end (Cade Denhoff, No. 91 overall) and No. 2-ranked tight end Jake Briningstool (No. 112 overall), vaulting the program into the No. 2 slot in the class, right behind the Buckeyes. 
Im ALL IN!!!!! #WRU pic.twitter.com/M8pL8AWStd

— Beaux (@beaux_collins) January 26, 2020
Committed!!! Recruitment is over!!! #ALLIN #WETOODEEP21 #GoTigers #RecruitPolk @coachd_dub @joneal39 @OBallcoach @DaRealMarc @H2_Recruiting @CoachVenables @coachski_ @MiguelChavis65 @ClemsonFB @LCSFootball pic.twitter.com/XQ1v08SJfP

— Cade Denhoff (@cade_denhoff) January 26, 2020
Joshua 1:9 #ALLIN #WE2DEEP21 @ClemsonFB pic.twitter.com/phodl6Hfjr

— Jake Briningstool (@Jbriningstool) January 26, 2020
Collins told Eleven Warriors how much he loved Ohio State after his visit for the Michigan State game (his third visit to Columbus in 2019), but he followed that visit with a trip to Clemson the following weekend that left a strong impression on him. I've been expecting him to land with Clemson since early October, and here's a quick rehashing of why:
1) Collins is teammates at St. John Bosco with Clemson's quarterback of the future, five-star dynamo DJ Uiagalelei. No doubt that's going to be a major selling point Clemson will be making throughout this process. 

2) Clemson had its off week last week, and that gave Tigers quarterback coach Brandon Streeter time to fly to California to see Collins and Uiagaleli play in person. That made a big impact on Collins. No word yet on whether or not any Ohio State coaches will be headed to see Collins this Friday for his game against JSerra Catholic. Hartline might be headed somewhere; just not sure where.

3) Clemson's wide receivers room by the time Collins would hit campus is not as deep as Ohio State's (at least as we speak). Assuming Chris Olave continues his ascendence and declares for the NFL Draft after next season, that still leaves Garrett Wilson, Fleming, Scott, Smith-Njigba, Mookie Cooper, Ballard, and potentially Harrison Jr., Egbuka and Troy Stellato to compete against, in addition to maybe even a couple others. The Tigers, meanwhile, have just two receivers committed in 2020 (four-star E.J. Williams; three-star Ajou Ajou), one committed in 2021 (four-star Dacari Collins) and have just two offers handed out to juniors (five-star Agiye Hall; Stellato) as they continue to utilize their slow-play method in recruiting. 
Despite being a Clemson lean, there was hope that Collins would make it back to Columbus for an official visit before he made his decision. Ohio State will not get the chance for a rebuttal. 
Referring back to Saturday's story again, there are two reasons I put Egbuka above Collins as more important for the Buckeyes:
Collins is terrific. Emeka Egbuka is better. Collins is going to be a stud for Clemson, and that chemistry with Uiagalelei, the No. 10-ranked overall player in the 2020 class, will be on display for at least two years. Egbuka is shaping up to be even more dynamic and versatile. Ohio State, Clemson and Washington will end up being in the final sprint to land his commitment. Though the Buckeyes already have 2021 receiver commits Marvin Harrison Jr. and Jayden Ballard, with the Tigers landing Collins, it adds more importance for Ohio State to land Egbuka. Clemson might not be as deep as Ohio State at receiver in the 2020 and 2021 classes right now, but Egbuka and Troy Stellato would instantly change that, with the Buckeyes and Tigers battling for each of those talented recruits.
There was already a sense that Collins was a Clemson lean. Even before this weekend, it was already a smarter move for the Buckeyes to put more eggs into the Egbuka basket. 
Denhoff was another Clemson lean for a while, despite the fact that he had Ohio State in top seven list of final schools revealed on Nov. 22, which included the Tigers, Buckeyes, Alabama, LSU, Nebraska, Penn State and Virginia. Denhoff's family ties to Brent Venables aided in sealing the deal for Clemson.
Briningstool, the highest-ranked tight end commit that Dabo Swinney has landed, visited Columbus for the Buckeyes' game against Michigan State as well, but talks of his recruitment to Ohio State had been quiet.
It sounds like the Tigers are not done, either. Steve Wiltfong, 247Sports' director of recruiting, says that sources have told him and two other recruiting writers that Clemson is "in the driver's seat" for five-star defensive end Korey Foreman, the No. 1-ranked player in the 2021 class who took an official visit to Clemson this weekend for the Tigers' Elite Junior Day.
This weekend, the Tigers also hosted and offered four-star offensive tackle Tristan Leigh, a player who will soon fly up the recruiting rankings and is one of the Buckeyes' top targets along the offensive line, having held an offer from Ohio State since Sept. 23. 
Frankly, it was only a matter of time before this sort of heat happened for Clemson. The Tigers are a machine, and coming off this massive two-day stretch, they have momentum that doesn't look like it will be stopped.
Of course, Ohio State is one of the programs that can at least slow them down, and that challenge just started in earnest this weekend. The Buckeyes' plan will remain the same, slow-playing the process with every recruit they're in touch with to build genuine relationships. The non-pitch sales pitch is how they have approached recruiting thus far in the Ryan Day Era, and it's how they will continue to approach it. We'll see if that pays off down the road and if it's a plan that will help the program keep pace with Clemson.