The Hurry Up is your nightly dose of updates from the Ohio State football recruiting trail, keeping tabs on the latest from commits and targets from around the country.
The finishing touches had been put on the West All-Stars' 33-20 defeat of the East in Saturday's All-American Bowl, and Jahmyr Gibbs walked through the postgame handshake line, stood near midfield and kept an eye out for familiar opponents he could catch up with. 
That's when West quarterback CJ Stroud suddenly approached from Gibbs' left side, startling the East running back a little bit. Gibbs flashed Stroud a sly smirk as the Buckeyes' 2020 signee gave Gibbs the briefest of recruiting pitches. 
"Go Bucks, baby!" Stroud said to Gibbs. "Go to Ohio State. I guarantee you, it's on."
And that was it. Stroud dipped away to talk to the many fellow high school stars he's grown tight with, leaving the four-star running back to answer some questions about his own recruitment. 
Just six months earlier, it was Stroud who received the same type of Ohio State pitches from Buckeye signees like Gee Scott Jr. and Jaxon Smith-Njigba. 
Stroud's star turn at The Opening Finals in Frisco, Texas, helped pave the way for him to play in San Antonio's Alamodome this past weekend, and it was his turn to give his own pitch to a guy who has been right alongside him as a prospect whose recruiting profile blew up over the last few months. 
"I talked to him like a month or two ago, and we've just been kicking it ever since," Gibbs told Eleven Warriors of his relationship with Stroud. 
The Dalton (Georgia) High School star wasn't asked whether or not the two talked about how each other's recruitment gained high-profile notoriety since the summer. But the two are still linked a bit in that way, as Stroud rose from a three-star prospect to the nation's No. 2-ranked pro-style quarterback with outside potential to become a five-star guy, and Gibbs has risen from a ranking near the 300's up to No. 170 as the country's 16th-ranked running back (he was recently moved from all-purpose back to running back).
"It's just been a blessing with all these coaches wanting me," Gibbs said.
You're not going to get too many extensive thoughts from the quiet, laid-back Gibbs about his recruitment, and it's hard to blame him. The Georgia Tech commit wants to find the right fit for his elusive, shifty and explosive skill set, but that process has been a grind as he goes through daily talks with coaches and dealing with media (yes, including Eleven Warriors) who badger him with questions about his future plans.
He did briefly open up about being from the South and Dalton, a city of about 30,000 people.
"Being from a small town like Dalton, people don't really expect that much from me," Gibbs said. "There's really nothing to do there, but my family and friends all grew up there, so I made something out of that. I don't really need anything else."
Gibbs does love living in the South, saying "That's my home. That's where I grew up. It's what I'm used to," but Gibbs says that's not going to stop him from venturing out to a different state if he finds it's the best plan for him and his future.
"(I'm) just gonna go wherever best fits me," Gibbs said. "It's not (just) the South. It's wherever fits me."
When asked what his thoughts would be if Georgia came calling with an offer, he said "I ain't going there."
That's where Gibbs' thoughts lie as of right now. Perhaps that could change in the next few weeks before he signs with a program on Feb. 5, but he was pretty adamant and convincing the Bulldogs will not be on his radar at all. 
He is planning on taking official visits to LSU, Florida and Georgia Tech between now and then, but next up is a critical official visit to Ohio State on Jan. 17, the first day of the recruiting contact period that runs from Jan. 17-Feb. 1.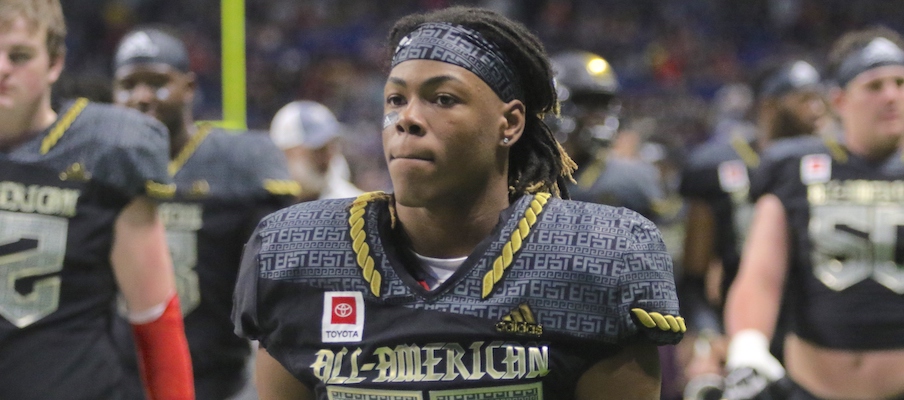 That could be the Buckeyes' most important official visit since Stroud's in mid-December that sealed the deal on his Ohio State recruitment. Gibbs says he won't be looking for anything specifically during his trip to Columbus, that he just needs to "get a feel for" the program and environment. 
Gibbs says his relationships with Ohio State's coaches "are good. I talked to some of them probably like four times a week. I met the players in this class. I know them really well. We get along."
His relationships with the Georgia Tech coaching staff also remain strong, a relationship with first-year running backs coach/former Georgia Tech star running back Tashard Choice chief among the reasons the Yellow Jackets' program feels like home at this point. 
His decision is certainly up in the air, but it won't be surprising if he stays with his original May commitment and makes the 80-minute drive down to Atlanta for college. Wherever he goes, what will Gibbs be happiest about when his recruitment comes to a close?
"That it's over. That I can rest."
Buckeyes happy to have "angry" runner Williams
The All-American Bowl offered my first opportunity to see Gibbs play in person, and it was pretty instantly obvious why he's gained such interest from the programs he has. He could be special.
If the Buckeyes somehow squeak out a Gibbs signing in the final hour, it would give them a one-two punch of contrasting running styles that would seemingly well together, as they already have one player at the position locked down.
After months of questions marks and some uneasiness about who – if anyone – would be the Buckeyes' 2020 running back, Ryan Day and Tony Alford finally landed Miyan Williams. 
The 5-foot-10, 210-pound wrecking ball from Cincinnati's Winton Woods High School is a guy Day and Alford believe in, and they think his violent running style will help lead to a successful Ohio State career.
"He's a big, strong, physical back. He's very, very productive," Day said. "Everybody in that area just talked about how strong of a runner he was, how productive he was, and so after we kept going through it over and over again, we looked at a lot of people throughout the country, we're like wait a minute, we've got one right here in Ohio. And that meant a lot to us. 
"I just think he's going to have a great career. He runs with an edge. He runs tough, he runs hard. It's like he's angry when he runs. We like that. And he's big and strong. We just think he's a great fit."
But is Williams going to end up the lone back in this class or will the three-star signee have company? The next few weeks, and what Gibbs decides, will determine that. 
Jackson to announce in afternoon
On Sunday, I previewed Wednesday's commitment announcement for the 57th-ranked player in the 2021 class, No. 11-ranked offensive tackle Donovan Jackson.
I will be committing Wednesday at Episcopal High School at 4:00pm. All media are invited.

— Donovan Jackson (@D_jack78) January 6, 2020
Jackson will be making his announcement from Houston's Episcopal High School, where the four-star talent has carved out a reputation as one of the nation's nastiest offensive line prospects. 
Here's a link to the live feed of the announcement.
The decision will come at 5 p.m. EST, and if it's the Buckeyes, they will be landing a huge get that would continue to build an already strong 2021 class.