The Hurry Up is your nightly dose of updates from the Ohio State football recruiting trail, keeping tabs on the latest from commits and targets from around the country.
Ohio State offers in-state LB
Ohio State got a head start on the 2022 class, as in-state sophomore outside linebacker Gabe Powers announced on Thursday night that he now has an offer from Al Washington and the Buckeyes.
Powers, a 6-foot-4, 220-pound talent from Marysville High School that lies just a half-hour drive from Ohio State's campus, becomes just the second Ohio recruit offered by the Buckeyes in the 2022 class. This comes almost exactly two weeks after Washington offered Lakota West (Ohio) High School offensive lineman Tegra Tshabola. Powers is the 19th overall recruit to hold an offer in the sophomore class.
"Getting these offers at such a young age is very humbling and a blessing," Powers told Eleven Warriors. "(Ohio State) started to notice me after Michigan offered me and after coach Washington watched me play."
Blessed to receive an offer from The Ohio State University. Thanks to Coach Washington and the Ohio State staff. #GoBucks pic.twitter.com/1MoEFw0umV

— Gabe_powers21 (@GabePowers21) November 15, 2019
Washington made the quick trip over to Marysville two weeks ago to see Powers help lead his team to a 35-0 win over Central Crossing High School in the regular season finale. After seeing Powers, who made a recent visit to the Shoe for the Michigan State game, showcase athleticism and toughness to pair with the size he already possesses at this age, Washington elected to make Powers the latest gritty linebacker with an offer to his program.
"I have a lot of respect for coach Washington and all the Ohio State staff," Powers said. "They have treated me very good. He seems to be very respectful and a players' coach that everyone likes."
Buckeyes in OL's top 10
Junior offensive lineman JC Latham out of IMG Academy in Florida announced on Friday that Ohio State is in his narrowed list of top 10 schools.
#TopTen pic.twitter.com/QDUKHSrVUw

— JC Latham (@_JClatham_) November 15, 2019
Latham is an IMG teammate of Buckeyes 2020 cornerback commit Lejond Cavazos, in addition to IMG players with Ohio State offers in 2021 offensive lineman Greg Crippen (a Notre Dame commit) and 2022 running back Kaytron Allen.
The news doesn't come as a surprise that Latham has Ohio State on his final list of schools, and the Buckeyes have a solid shot at landing the 6-foot-5, 285-pound talent ranked as the No. 13 offensive tackle in the country.
Latham is set to visit Columbus next weekend for the Penn State game to try and continue building his relationships with Greg Studrawa and the rest of the Buckeye coaching staff.
Friday Mailbag
It's a light edition of this week's Friday Mailbag, as we hit the road to New Jersey for Ohio State's impending blowout of Rutgers.
Once again, a big thank you for the questions and an even bigger thank you for not calling me out on labeling this a "Mailbag" when no one's truly sending me anything.
Baron coming to Columbus?

Ever since Tyler Baron visited for the Michigan State game – a visit he glowed about – it's been almost all quiet on the recruitment front from the four-star defensive end, who said on Twitter on Sunday that he thinks he's made a decision (which was, we all presume, a decision on his college commitment). 
He's still not expected to announce a commitment until he signs in December, but I don't expect the decision to make Ohio State fans happy.
Baron's father, Patrick Abernathy, is on the Tennessee coaching staff, and a month ago, it looked like Abernathy's job status, and the rest of the Volunteer coaches' job statuses (status? stati? I actually looked this up), were higher up in the air than a cloud of smoke at Snoop Dogg's house.
But now, with Tennessee rattling off three straight wins and victories in four of their last five, it looks like Abernathy, Jeremy Pruitt and company are safe as the program heads toward a potential bowl game. That's a huge accomplishment compared to where this program was after a 1-4 start.
I just think it would be incredibly difficult for the Buckeyes to land Baron because of two things:
1) With Abernathy's job status looking safe, it just doesn't seem optimistic to think a kid spurns his father and his father's SEC program, even if that would be in favor of a program such as Ohio State.
2) And this one might be just as important: Baron has said in the past that one of his biggest factors in a college decision is an opportunity to make an impact very early. At Ohio State, I don't think he would have as big of an impact, or as big of an opportunity, early in his career as he would at Tennessee. If that's a deciding factor for Baron, I believe that's another one that would help him choose the Vols over the Buckeyes, as he would most likely be more of a developmental prospect who sees playing time sparingly as a freshman in Columbus.
Martinez clarification

Cameron Martinez, Ohio State's three-star 2020 athlete commit who I discussed last Friday, has the talent to be a receiver, and he's filled in at the slot position at Muskegon (Mich.) High School. 
But with how loaded the Buckeyes already are at receiver in 2020, combined with how thin they are at running back, means Martinez most likely won't have as good of a shot at making a big impact in the receivers room as he would in the running backs room if he plays offense in college.
Official/Unofficial visits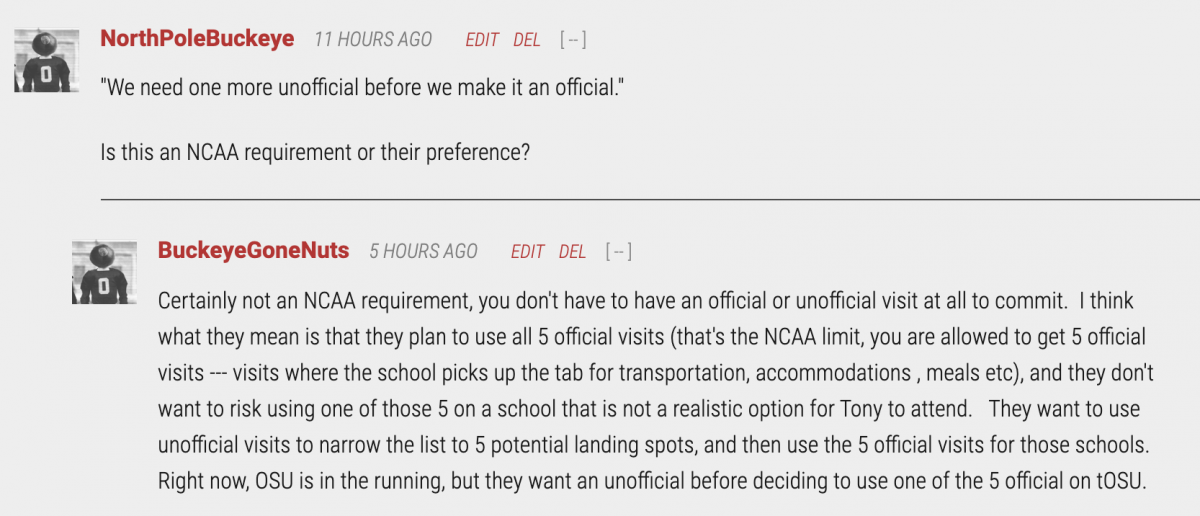 (Re: The recruitment of five-star 2021 cornerback Tony Grimes.)
Was going to give my own response, but that's spot on. "BuckeyeGoneNuts" coming for my job.
Like I said Tuesday, Grimes would be a fantastic get for Jeff Hafley and company, and I expected him to get to campus sometime in the fairly near future. Sometimes, it's just understandably difficult to make travel arrangements for visits, especially in-season.
Grimes is the No. 1-ranked corner in his class and is the No. 10 overall junior prospect, right alongside No. 9-ranked overall recruit Emeka Egbuka. 
Jack Sawyer, Grimes and Egbuka would be a hell of a five-star start, and that's certainly within the realistic realm of possibility. 
Ballard overlooked?

(I wrote about four-star 2021 receiver commit Jayden Ballard on Monday and again on Tuesday.)
I'm the one saying he's been overlooked...he's been overlooked by me (insert sweating face emoji), and he shouldn't be. He looks like he has a bright future.