The Hurry Up is your nightly dose of updates from the Ohio State football recruiting trail, keeping tabs on the latest from commits and targets from around the country.
Underrated Ballard continues growth, especially as run blocker
Jayden Ballard doesn't believe he's being overlooked.
But that doesn't stop us from saying it, or me from admitting it. In my own Hurry Up articles and analysis pieces, I have talked – perhaps at times nauseatingly – about how stacked Ohio State's 2020 receivers class is with the four guys coming in and how each of them will impact the Buckeyes.
And when evaluating the 2021 class of wide receivers, I have continued emphasizing guys the program has yet to land a commitment from – Emeka Egbuka, Troy Stellato, Beaux Collins and (at the time) Marvin Harrison Jr.
Ballard, though, has typically been an afterthought of mine. Maybe that's because he's young and already an OSU commit, or because he resides in Ohio and isn't an uncommitted national name grabbing my attention. 
But what about Ballard? Does he feel like he's the forgotten receiver in the Buckeyes' junior class? Or perhaps a bit disrespected?
"Not at all," the 2021 Ohio State receiver commit told Eleven Warriors.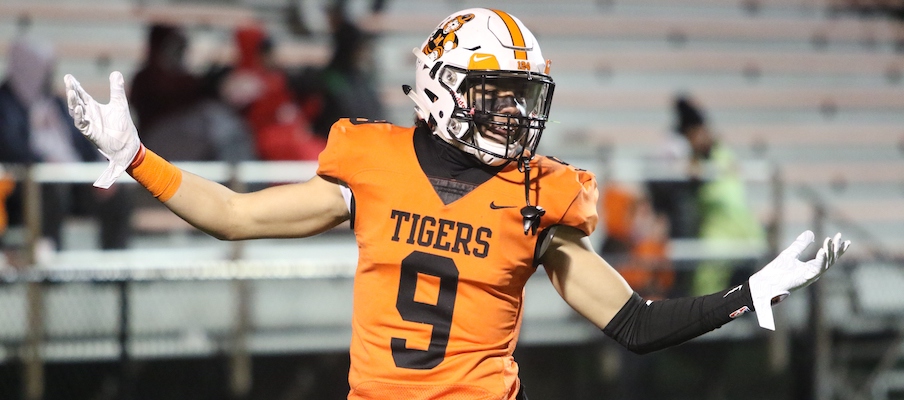 That's why I traveled to Massillon Washington High School on Friday night to see him in person. I wanted to check out for myself why Ballard is ranked the No. 3 junior in Ohio, the No. 12-rated receiver in his class and No. 74 overall recruit nationally.
I also wanted to catch Ballard's thoughts and his head coach Nate Moore's opinions on a number of things – one of them being whether he's underrated or not getting enough respect.
So does Moore feel like Ballard is the forgotten receiver in the Buckeyes' junior class?
"Probably," Moore said. "When the national guys talk about the upcoming guys, you don't hear (his name often). In fact, I remember one specific one that mentioned five or six guys, and they didn't mention Jayden's name." 
(Hand up, that might've been one of my own articles.)
"That's OK," Moore continued. "He's the in-state guy. Maybe he's not as glamorous as some of the other guys who, for whatever reason, have higher ratings and what not. But he's gonna be a really good receiver for Ohio State. If it wasn't a good fit, that's a conversation we would have, but I think it's a great fit."
Ballard fits into Brian Hartline and the Buckeyes' focus of recruiting big-bodied outside receivers, one who can take the top off the defense, has a great set of ball skills and can track in-flight passes at the same level or better than some of the nation's best high school receivers.
But there's no hiding the fact that Ballard will be one of many coming into a situation with a loaded receivers room, as Julian Fleming, Gee Scott Jr., Jaxon Smith-Njigba and Mookie Cooper will already have one season's head start on him, Harrison Jr. and any others the Buckeyes land in this next recruiting cycle.
As I've said before, each receiver has a valuable skill set he brings to the table, but with all the talent in that group, it's possible that run blocking could be a key tiebreaker in terms of who sees playing time. If that's the case, Moore is going to love his Massillon star's chances of excelling early in his college career. 
That's the area of Ballard's game that has grown the most, he says, and that was never more evident than on Friday night, when Ballard's one-on-one block in the open field sprung running back teammate Terrance Keyes Jr. for a long touchdown run for an early 7-0 lead en route to a 55-0 blowout victory over Warren G. Harding High School in the first round of the Division II Region 5 playoffs.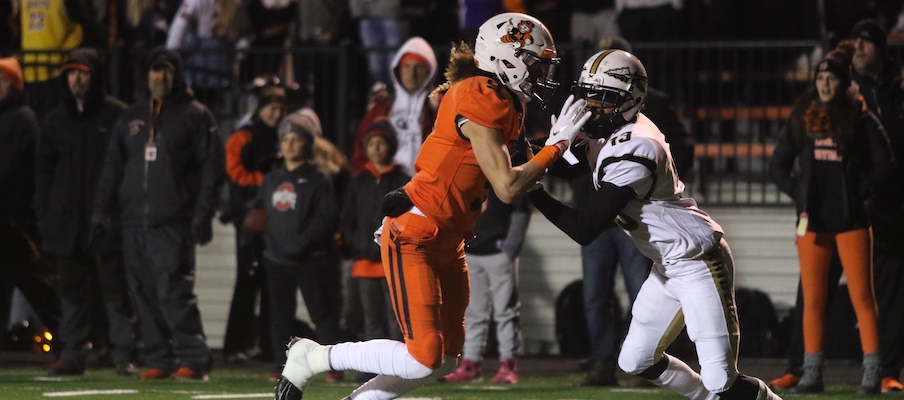 "I can think of our first rushing touchdown in the first quarter out there," Moore said. "He had a great block. Textbook block. Locked the guy up and drove him into the end zone, and our back cut right off of him. That's the next level. 
"He's plenty fast and the ball skills are great. His ball skills are elite, really. But being physical as a blocker, those are the types of things (that will take his game to the next level) – being able to do the dirty work a receiver has to do sometimes. Especially over the last couple weeks, he's really improved."
As far as the heavy competition he'll face in the future at his position once he's in Columbus, Ballard says he and his fellow future Buckeye receivers are all pretty tight already. Although they only see each other when they visit the Shoe for Ohio State games, each time they talk with one another, it's become a bonding experience that has made them more tight-knit. 
There hasn't been any trash talk – not even of the lighthearted variety – about who's going to see the most playing time as a Buckeye, or discussions about how difficult it will be to see the field once they arrive. They just have fun hanging out on the sidelines and in the stands.
As for Ballard, he's focused on himself and what he needs to do to grow before his college career eventually comes.
"I think I've come a long way from where I was," Ballard said. "I know what I've gotta do. I've just gotta put in all the work."
Wilson-Lamp another potential college standout
Ballard isn't the only Division I talent lining up outside the numbers for Massillon.
Andrew Wilson-Lamp, a 6-foot-2, 165-pound junior, is the second of the Tigers' dynamic receiver duo. He's been on the rise, as the 20th-ranked in-state prospect by 247Sports' individual ratings system has six offers, including Pittsburgh, West Virginia and Iowa State among them.
Wilson-Lamp's presence alongside Ballard's makes plays easier to call for Moore and the Tigers.
"Does Terrance Keyes have eight carries for 168 or 178 yards in the first quarter if we don't have Andrew Wilson-Lamp and Jayden Ballard on the outside thinning the box?" Moore asked rhetorically. "Those guys create lanes for our running game just by being on the field and having the film they have out there."
Don't be surprised if Wilson-Lamp continues to rack up offers over the next year and enhances his status as one of the best recruits in the state by the time he graduates in 2021.
"Jayden played last year so obviously he's a little more polished and a little more experienced," Moore said. "Andrew being a first-year starter, he's really grown by leaps and bounds. He picked up a couple Power 5 offers during the summer at camps, and he's added a couple more now during the season. He deserves all of it. He's a very good player as well."
LSU players clamoring for Bama recruits to come to Baton Rouge
Following LSU's win over Alabama on Saturday, the Tigers ran over to where the Alabama recruiting section sits and gave their own pitch as to why they should play for LSU instead of the Crimson Tide.
The moment when @Thaddeusmoss @realgrantdelpit @MarcelBrooks_5 and his @LSUfootball teammates come over to the @AlabamaFTBL recruitment section to suggest they consider an alternative option in Baton Rouge ! Gotta @SEC @Geaux247 @TomVH @JibrilleFewell pic.twitter.com/vvz5QDsRC7

— Universal Sports (@ByronRuff) November 10, 2019
We've talked about Ohio State commits doing their part in recruiting other Buckeye targets. Current LSU players are apparently doing the same.