The Hurry Up is your nightly dose of updates from the Ohio State football recruiting trail, keeping tabs on the latest from commits and targets from around the country.
We've got a loaded Friday Mailbag for you this week, as Ohio State's bye week gave me some extra time to dive into your questions and pluck some of your comments from throughout the week. 
Once again, thank you guys for contributing to the site and giving some thought-provoking topics to talk about.
No pity offers

Ohio State isn't a program that dishes out pity offers of the full-ride variety. A program that's one of just a handful that legitimately competes for a national championship every year can't afford to do that. Over time, keeping up with the Joneses of Clemson and Alabama would become increasingly even more difficult if it did.
The Buckeyes only offer a player a full-ride if they believe he can truly help the program in some way, even if he's a lower-ranked project that won't be able to stack up against Big Ten competition until two or three years down the road. Davon Hamilton might be the best current example of a three-star guy who worked his tail off to eventually make an impact on one of the country's best teams.
The Buckeyes do, however, dish out non-committable offers to some lower-ranked prospects, which is different than offering a player just to get him some notoriety. They have to give offers to out-of-state players earlier than they do Ohio recruits to try and combat the disadvantage they have in terms of proximity.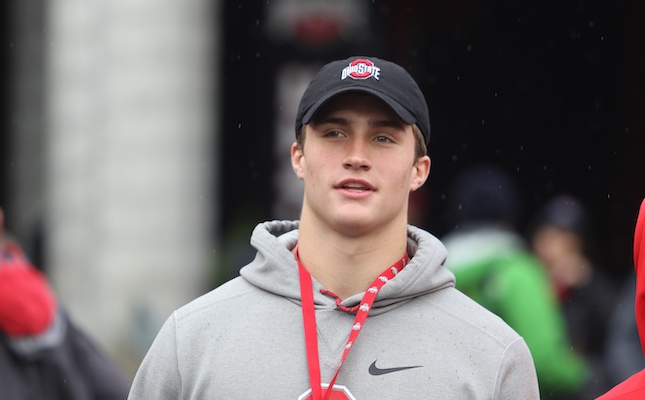 So they'll give non-committable offers to younger, more unproven high school talents so that the offer is at least on the table and a communication line is open to get the recruiting process rolling. But the coaches will be honest with the player, telling him what improvements he needs to make and what they need to see from him in order to earn a committable offer.
That last part is similar to what they do with in-state guys, but that comes before an offer is handed out. The program doesn't like dishing out offers to in-state players unless they are truly keen on taking them.
There are occasions when the Buckeyes silently back off an in-state guy they have already offered, but it doesn't happen often. They can't afford to make a habit out of it, otherwise word spreads among Ohio recruits of disloyalty and wishy-washiness, and the Buckeyes would run the risk of slowly losing credibility (especially in the Cincinnati area, where I've found over the past few weeks the high-school players are pretty tight-knit over there).
Side note: I'm starting to realize the in-state guys being recruited by Ohio State is a fraternity in terms of their brotherhood. That makes sense. They're in an exclusive club of Ohio kids with the best football program in the state going after them, so it stands to reason they would get closer because of it. If Ohio State offered me a scholarship, I would want to talk to people my age who were also offered an Ohio State scholarship as much as I could.
No Payne, still gain?

You don't have to read too much into four-star 2021 defensive tackle Damon Payne not showing up for the Wisconsin game. Sometimes things come up last minute and a kid can't make the visit. He is still very much in play to become an Ohio State commit.
In fact, it's my feeling that Troy Stellato and Payne will be the next two junior Buckeye targets to announce a commitment, as I'm hearing they're each moving closer to a decision.
Hartline, Hafley long for the job?

("Him" refers to Marvin Harrison Jr.)
First of all, I'm thinking "H&H Block" would be a great nickname for Hartline and Hafley. After all, they are technically blocking recruit after recruit from going to another school by killing it on the recruiting trail. Feel free to workshop that one, you guys.
Anyway, as far as the two-year commitment goes, Day addressed that in a press conference on Oct. 1
"We talk about it when people bring their families here that we'd like them to be here for a long time, and I'd rather not have them come here for one year and leave, but guys have opportunities, and I don't want to get in the way of that," Day said. "But at the same time, when you're building relationships and you're recruiting, we expect at least two years, sometimes more."
Translation: Yes, I ask my assistants to stay here for two years, because if they don't, recruiting stability becomes harder to maintain, and those recruits might follow them to their new school. But it's not in their contracts and I can't control if they want to leave.
"The good news is our coaching staff is really entrenched in this community now, which is great. We love it here, and they're happy. I don't expect anybody to leave anytime soon."– Ohio State head coach Ryan Day on Oct. 1
Day acknowledged, almost in that same breath, that he's had to do a lot of moving around in his career so he's understanding of guys taking opportunities better for themselves and their families. Day also hated the instability he experienced. He said uprooting his family over and over was one of the toughest things he's had to do, and later said some of the hardest days he's had were telling his wife and kids they were moving to another city/state for a new job.
That's why he's so happy where he is now (and once he gets paid, I don't think he has any interest in making the NFL jump for at least another five years or longer as he builds his legacy in Columbus), and he thinks his assistants feel the same way.
"The good news is our coaching staff is really entrenched in this community now, which is great," Day said on Oct. 1. "We love it here, and they're happy. I don't expect anybody to leave anytime soon.
"I've had to move around as things went through my career, and sure, certainly don't want that, but things like that happen. But again, I just don't see that with our staff right now. I think guys for the most part have just got here, other than a few of us on offense, but I expect those guys to be here for a while."
In Hafley's case, he could very well become a head coach sooner than later, but if that happens, I don't think that comes until after the 2021 class is already wrapped up at the earliest. He's genuinely happy and thriving here, so there isn't much incentive to leave.
He's on top of his own world, building one of the nation's best defenses backed by one of the nation's best defensive backfields, and it's looking like he's only going to reload with a great 2020 class and a 2021 class that may have just as much potential. Hafley will be giddy to show his mettle by working with those guys and building back his secondary from scratch into a well-oiled unit.
For Hartline, he's already a living legend in Columbus with his popularity rising even further by the day, and he seems just as happy as Day, Hafley or any other Buckeyes coach. Not just happy (because obviously winning at an elite level will have that effect on anyone) but also content. He could be due for a pay raise and perhaps a bump up to co-offensive coordinator as extra incentive to recognize the tremendous job he's doing.
And similar to Hafley's case, there's such a ridiculous influx of talent en route to the Buckeyes' receivers room that Hartline has to be salivating at the opportunity to coach them up. He'll have to decide who plays and doesn't, but that's a hell of a good problem to have.
I think Hartline and Hafley are at least another two years, plus the remainder of this season, from moving on. Coaching moves are always fluid, but that's my feeling on where it stands right now.
Rich get richer

This comment came before Marvin Harrison Jr. announced his commitment to the Buckeyes on Thursday, giving Ohio State another set of reliable hands and another long, big-bodied receiver who can win one-on-one battles.
But I absolutely agree. I'm not actively rooting for Egbuka or Will Shipley to commit to Ohio State, but I will admit it's more fun to be able to analyze guys of their talents if they do come to Columbus.
It's hard not to think about Fleming and Garrett Wilson lining up opposite each other with Egbuka in one slot and Shipley next to him or in the opposite slot position with Jack Miller humming dimes to them up the sidelines or down the seams (I'm still of the opinion Miller and CJ Stroud are both awesome but that Miller is the better of the two and will be an absolute stud.)
Add in all of the other 2020 and 2021 receivers rotating in and out, and this could be one of the nation's most dangerous passing attacks for the next few years.
Blocking skills for receivers

I've actually been thinking this for a while, ever since seeing Stellato's tape of him blocking and finishing out plays. If multiple receivers are seen as being on par with each other, their willingness and ability to block could be the tiebreaker in seeing playing time, especially with how Day has built his offense on a run/pass balance.
Harrison comp

(This is in reference to Harrison Jr.)
Yes, I love that comparison, and so do the Ohio State coaches, as even Harrison has said they compared him to Binjimen Victor.
Here are some comparisons from their 247Sports recruiting profiles so you can see the similarities and the differences:
Victor: 6-foot-4, 180 lbs; 4.60 in the 40; ranked No. 97 nationally, No. 12 WR, No. 16 in Florida
Scout eval: "Tall wide receiver and he knows how to use his size to his advantage. Long arms, big hands, and he is very consistent with his hands. Big target to throw to and is only going to get better as he gets stronger. Fluid with sneaky speed down the field. A real go-to guy inside the red zone with his size and ability to out-jump defensive backs. Can catch the ball in traffic. Still raw as a route runner and can improve his burst out of breaks."
Harrison: 6-foot-4, 184 lbs; 4.64 in the 40; ranked No. 54 nationally, No. 8 WR, No. 4 in Pennsylvania
Scout eval: "Great frame with length but needs to add strength. Can eventually get to 220 pounds. Son of NFL Hall of Famer Marvin Harrison. Great route tactician. Gets out of breaks quickly and is precise in his route depths. Good release and technical at top of routes. Has separation skills. Uses size and length well to shield defenders. Red-zone threat. Catches every routine ball and tracks it well. So smooth he makes it look effortless. Needs to add strength to handle jams and before more effective blocker. High-level player for Top 15 college program. Should develop into a second- or third-round NFL draft pick."
Robbing Texas?

A 2020 running back question? A 2020 running back question.
The chances are slim. Robinson's family wouldn't sign off on the Arizona talent leaving that far from home all the way to Columbus, and there's no reason to think they've changed their minds. 
Day's having a year

Not much further comment needed from me here. Day just seems like the professional, steady presence that players around the country take dead seriously each time he's in front of them. One of the main concerns about him as a head coach was whether or not he could recruit, and with help from an All-Star team of assistants he has put that concern to rest.
We'll see how the guys he's recruited develop over the next few years, but development hasn't really been an issue under these assistants so far. And there aren't really any warning signs that it will become an issue in the future.