Recruiting pitches are hardly ever exclusive to head coaches and assistants.
A program's prospective players — committed or not — often entrench themselves on the front lines, doing their car salesman imitations to convince others they who want to play with to join up with them. 
That's no different in Columbus, where the quartet of in-state 2021 commits has thrust a burden on their shoulders to give Ryan Day and staff a little helping hand. 
And Ohio State fans will be happy to hear gem Jack Sawyer — the homegrown talent whose legend is already beginning to grow as the days of his first step on campus as an official Buckeye draw closer — is running point on the whole operation. 
This spring, around May, Sawyer started a Twitter group chat featuring the four Ohio recruits — Sawyer, Reid Carrico, Ben Christman and Jayden Ballard — and Philadelphia's Kyle McCord, the team's 2021 quarterback commit. Then Lorenzo Styles Jr. and Marvin Harrison Jr. – a pair of uncommitted prospects – were each thrown into the mix. 
Eventually, Ryan Linthicum — who Monday afternoon committed to Clemson — Donovan Jackson, Emeka Egbuka and J.C. Latham were all added to the chat as the Buckeyes' committed high school juniors look toward the future and take pride in becoming part-time salesmen. 
"We're the people they're gonna play with," Carrico told Eleven Warriors following an Ironton football practice on Monday. "That's what I thought about. I thought about players who are committed and wanted me to play with them. I felt that those are the guys who are gonna care about me the most, and those are the guys that I'm gonna care about the most."
Makes complete sense. The Buckeyes staff is impressive to all the recruits I've talked to and read about thus far, and each mentions how genuine, real and caring the coaches are. 
But there's something different when a program is sold by a guy your age in a similar position. It doesn't feel like a sales pitch when it comes from your peers as it might when it comes from coaches, so for these guys to commit but not lay back, sit on their thumbs and wait for things to play out behind the scenes is impressive. 
"Whoever we see who loves [Ohio State] like we did, and they're a good player and we know it, we're gonna work on him," Carrico said. "We have a lot of the No. 1 position guys in the country [in the chat]."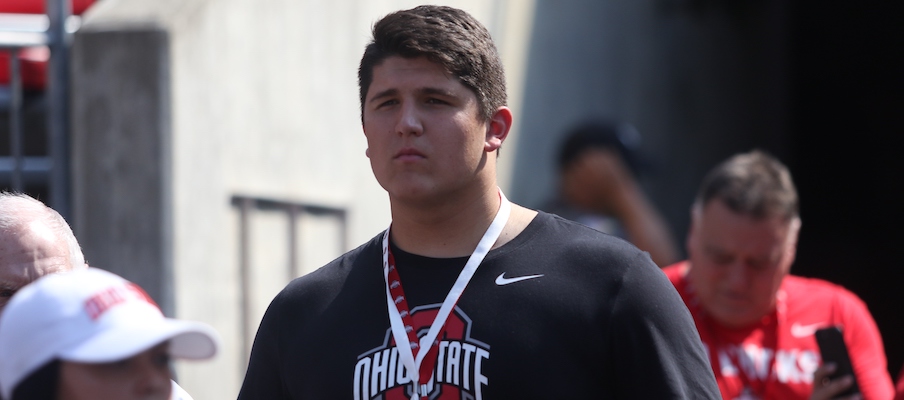 Day has made it a goal to lock down the state of Ohio, especially with the amount of home-bred talent engulfing the state in 2021, and these guys are trying to give their head coach an extra resource in accomplishing that mission. 
They aren't interested in simply using the Woody Hayes Athletic Center as a factory to transform themselves from 18-year-old prospects into chiseled pros and get to the next level. That might be a goal, but it's not the only goal. 
They want to build a legacy. That includes winning multiple championships, of the Big Ten and national variety, and leaving their mark when they come back to campus decades from now. 
"We're just kind of jumping at the opportunity to go up there and win some nattys," Carrico said. 
So this group of 2021 commits will keep marching on, looking to sway guys, even if they aren't from Ohio.
"We just put it on ourselves," Christman said. "We're trying to have the No. 1 class and be a great team in the future so we've gotta recruit other guys across the country."
Added Carrico: "We definitely have the potential to be a successful class, but we've gotta go get some more guys. It can't stop with just four or five guys that are committed. We might even have to go around the country now."
That includes targeting Egbuka and Harrison, the latter of whom is teammates with McCord at St. Joseph's Prep School. 
"If (Harrison) doesn't come to Ohio State, I'm gonna be mad at Kyle," Carrico said with a laugh.
One guy they won't be getting is Linthicum. When Carrico was informed the nation's No. 1 junior center had committed to Clemson just hours prior, Carrico was taken aback but not surprised. 
"No kidding?" Carrico said when told of Linthicum's commitment. "I have not even looked at my phone. Well, congratulations to him. That's not really a surprise. He's teammates with the No. 1 defensive tackle [2020's Bryan Bresee], so I 100 percent get that. Wish it would've been the Buckeyes, but I wish him the best."
So the future Buckeyes will now focus their pitches elsewhere. Ohio's fourth-ranked junior prospect Styles is at the front of the line. 
"He's really the next big one that we want," Carrico said. "If you see Lorenzo, tell him Jack and I said, 'What's up? Go Bucks.'"