The Hurry Up is your nightly dose of updates from the Ohio State football recruiting trail, keeping tabs on the latest from commits and targets from around the country.
Jackson making big trip for Penn State game
Ohio State is looking to tack onto its offensive line of the future, and there is some big news on that front as 2021 offensive tackle Donovan Jackson will be making an unofficial visit for the Buckeyes' game against Penn State, his father Todd Jackson confirmed to Eleven Warriors.
Donovan Jackson also visited for the Buckeyes' spring game in April.
Jackson's father says the family will be coming up to visit family in Cincinnati for Thanksgiving, so the timing is perfect for him to catch the atmosphere at Ohio Stadium – and it's just about the perfect game to experience as well.
The local connection could help the Buckeyes land the extremely talented blocker, as Jackson's father is from the Cleveland area and his mother is from Cincinnati. 
"While Donovan was born in Texas, he knows the upcoming decision and next steps are not restricted by state lines," Todd Jackson told Eleven Warriors.
Buckeyes offensive line coach Greg Studrawa visited the younger Jackson for a practice during Ohio State's open week, and that move was much appreciated by Donovan. 
Jackson is a four-star prospect ranked as the No. 46 overall junior recruit nationally, the No. 8 offensive tackle in the country and the No. 7 junior in Texas.
Jackson is one of several junior Buckeye targets who are being actively recruited by current 2021 Ohio State commits such as Jack Sawyer and Reid Carrico. 
Ben Christman, the Buckeyes' top-notch in-state 2021 offensive tackle commit, is another active recruiter of Jackson, and the two could team up to be a nasty pair on the line for Studrawa and company.
Clemons adds name to visitor list
Another name, one that's lesser known, coming to Columbus the weekend of Nov. 22 is Darrius Clemons. 
Get to know him now, though, because he has the potential to end up on a lot of national rankings lists by the time they roll around heading into his junior season. 
Clemons, whom Eleven Warriors introduced to readers in July, is a 6-foot-3, 180-pound receiver in the 2022 class out of Portland, Oregon. 
Several teams on the West Coast are pursuing him, as he holds early offers from Oregon, Michigan State, Oregon State, BYU, Nevada and Central Michigan, while Washington, Washington State, Boise State and UCLA have all shown interest. 
Clemons, who was born in Michigan and moved to Oregon when he was 10, says he is interested in playing in the Big Ten and his familiarity with Brian Hartline is continuing to grow. Fostering that relationship is chief among the reasons for his visit later this month.
"I'd say the most important thing for me (on the visit) is trying to build a better relationship with Coach Hartline and see what the atmosphere in the Shoe is like," Clemons told Eleven Warriors. 
Clemons says he has visited Oregon, Oregon State, Washington, Michigan State and UCLA, and he says he's "not sure which has been my favorite, but there's definitely certain things I liked about all the schools."
Despite the loaded 2020 receivers class and a potentially big haul at the position in 2021, Clemons says that won't be a factor in deciding if Ohio State is the right place for him.
"It does not have an impact on me," Clemons said. "I'll attend the school that can help me get the best education possible and somewhere I feel the most comfortable. Football comes after my relationship with the coaches and my education."
As far as the rest of the recruiting process, Clemons has been enjoying himself thus far.
"It's going really well," Clemons said. "I'm blessed to be in the position I am as far as recruiting goes, but I plan to work as hard as I did before I had any offers."
Toutant not involved in hazing incident
It was reported on Thursday that Warren De La Salle High School in Michigan – the program home to Ohio State 2020 offensive lineman commit Grant Toutant – had forfeited its season on the eve of its first-round playoff game due to a hazing incident.
BREAKING NEWS: Warren De La Salle cancels football season after hazing among varsity football team in locker room. They were scheduled to play Birmingham Groves tomorrow in the 1st round of the Division 2 playoffs. Story to come later.

— STATE CHAMPS! (@statechampsnet) October 31, 2019
On Friday, the Detroit Free Press reported more on the story, revealing that the situation "involves claims that sticks were used in a sexual manner to taunt players — allegations that police said they were never privy to."
Toutant, however, told Eleven Warriors he was not involved. In fact, he wasn't even present when the incident occurred. He was gone for shoulder surgery, for the torn labrum that ended his season early, at the time of the incident. 
In more good news for Buckeyes fans, Toutant's Latarjet surgery procedure was successful, and he expects be a full-go when he gets to campus next summer.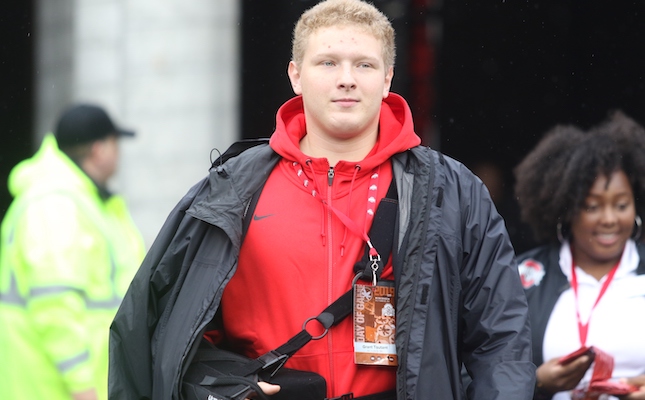 "Surgery went great; recovery I'm ahead of schedule," Toutant said. "I'm feeling really good. … (The doctors) said it's a common (injury). The procedure I had done prevents it from happening again."
Toutant is already beginning to regain extended range of motion in his arms and shoulders just two weeks after surgery. He said Ohio State's coaches were shocked at how quickly he's progressed when he showed them.
"Doc said six months 'til full contact, so I'll be ready to go unrestricted in June," Toutant said. "I'll be back for a check next week."
Buckeyes offer in-state 2022 OL
I've said plenty of times how Ohio State typically waits a while to offer in-state players and detailed the program's reasons for doing so.
So that should tell you plenty about what the Buckeyes think of Tegra Tshabola. Tshabola is only a sophomore offensive lineman at Lakota West High School in West Chester, Ohio, but they're already all in on him early, as he announced an offer on Saturday.
I am excited to announce that I have received my first offer from THE Ohio State University! I would like to thank these people @OhioStateFB @CoachTomBolden @WestLakota @CoachCookOL @CoachWash56 @ryandaytime @tshabola_mike @hE_man98 @CoachDanBolden @kingsboro02 #GoBucks pic.twitter.com/boKv5Et7MN

— Tegra Tshabola (@tshabola_tegra) November 2, 2019
Tshabola told Eleven Warriors that Buckeyes linebackers coach Al Washington came to the school on Friday. After school administrators called Tshabola out of his biology class, Washington shocked the youngster by giving the 2022 standout his first scholarship offer from any school.
"It's one of the craziest things that has ever happened in my life," Tshabola said. "(Ohio State has been recruiting me) since the end of my freshman year during summer workouts." 
Keep an eye on Tshabola, a 6-foot-6, 300-pound offensive tackle, as his recruitment is going to start picking up steam quickly and aggressively in the next year. He's got the potential to be a nationally coveted recruit.
All-American honors for Buckeye recruits
Five-star Buckeyes offensive tackle commit Paris Johnson Jr. was presented with his All-American Bowl jersey on Friday afternoon, and his speech got some laughs.
Since I was a freshman, I told myself I was going to be a 5 star, and an All-American. I just thought I was going to be a wide receiver. @ParisJohnsonJr got a good laugh from the crowd with that one. @Local12 pic.twitter.com/fr7FOtKzyK

— Adam Clements (@AClementsWKRC) November 1, 2019
Ohio State 2020 safety commit Lathan Ransom was honored with his All-American Bowl jersey on Thursday.
Ohio State Commit Lathan Ransom Honored as a 2020 All-American https://t.co/6DgyCfrzFX

— All-American Bowl (@AABonNBC) October 31, 2019
Here's the full list of Buckeye senior commits on the All-American Bowl roster who will either be teammates or square off against each other in San Antonio on Jan. 4: 
Notable Buckeye targets on the roster include Jalen Berger (who will commit on the day of the game), Jahmyr Gibbs and CJ Stroud.
Meanwhile, Julian Fleming and Jacolbe Cowan are the two Ohio State commits slated to play in the Under Armour All-American Game on Jan. 2 in Orlando. EJ Smith is the lone uncommitted Buckeyes target on the roster whom Ohio State has a true shot at landing.
Smith-Njigba balls out
I'm starting to think Smith-Njigba might be good at football. Check out what he did in his latest game on Friday night, as he continues putting up numbers and adding hype before he hits campus.
The one-handed catch was incredible and flashy, but really the most impressive play was the balance on the catch-and-run up the sideline. 
I hype up Fleming and Scott Jr., and they each deserve it, but sometimes JSN gets left out of the fold. It's so interesting because those three and Mookie Cooper each bring something different to the table in their skill sets, so it's possible all four could carve out playing time in their first season. 
In 2021, a haul of commits Jayden Ballard and Marvin Harrison Jr. and targets Emeka Egbuka and Troy Stellato seems like it would bring the same type of scenario. 
A guy who can do it all (Fleming/Egbuka), a big-bodied wideout with great hands (Scott/Harrison), a lethal slot receiver (Cooper/Stellato) and a deep-ball threat with a high floor who can take the top off the defense (Smith-Njigba/Ballard).