The Hurry Up is your nightly dose of updates from the Ohio State football recruiting trail, keeping tabs on the latest from commits and targets from around the country.
Day calls New Jersey native Hafley an "All-Star"
The biggest storyline in an otherwise "meh" upcoming weekend in an impending blowout win over Rutgers in Piscataway – other than Chase Young being ruled out for a second straight game before he comes back – will be the return of Buckeyes backup quarterback Chris Chugunov to his New Jersey roots.
Despite being in Rutgers' backyard and having a reputation as one of the state's best passers, the Skillman, N.J. native was not offered by the program, and he'll now have the opportunity to prove the Scarlet Knights fools when he sees the bulk of second-half snaps for the second consecutive week.
The other key storyline from this week is another New Jersey native, Jeff Hafley, making a return trip to the Garden State. 
Ranked the No. 4 overall recruiter in the 2020 class, per 247Sports, Hafley has made an instant impact that has reverberated throughout the entire program. He hasn't shown any signs of stopping, despite having been an NFL coach from 2012-2018 and not having been a college coach or recruiter since 2011 when he was at Rutgers under Greg Schiano.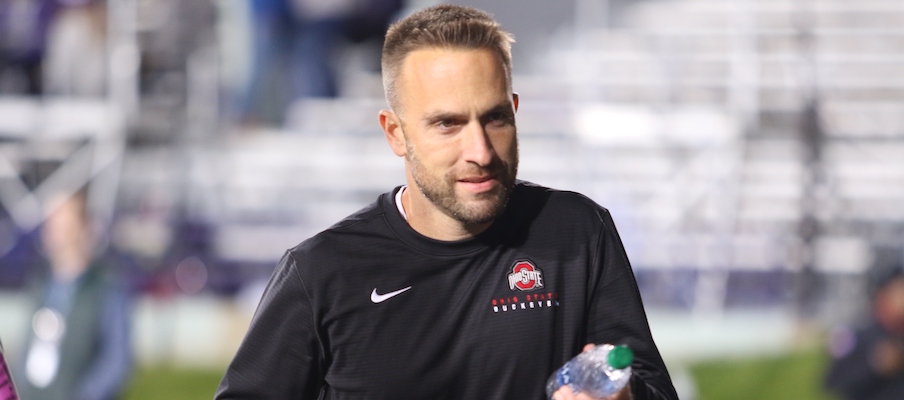 It's almost like he's back in his natural habitat, showcasing fluid skills that Ryan Day has seen from him for years, even when the two were coaching with the San Francisco 49ers together in 2016.
"So I remember when we were with the 49ers, I told Jeff, 'You have an unbelievable combination of recruiting,' because he was a great recruiter when he was in college (and has) ability to relate to players," Day said Tuesday. "Then his understanding of defensive football. I think that's what makes a great college football coach, those three things: relate to players, know what you're doing, you're a good recruiter."
Those skills from Hafley are what has helped the Buckeyes' co-defensive coordinator/secondary coach continue to keep a foothold in New Jersey, as commitments from seniors Luke Wypler and Cody Simon make it three straight years Ohio State has landed at least one player from the state, and in 2021, Hafley has eyes on at least four recruits (Aaron Armitage and George Rooks have offers, while Duce Chestnut and Alijah Clark are also priority targets but do not yet have Buckeye offers).
"(Hafley) can be an All-Star. I think Jeff is an All-Star," Day said. "I thought that when he was at Rutgers and at Pitt. I felt like that when I worked with him in the NFL. I feel like that now. His work in Jersey is and is going to pay us dividends in the end."
Young's return excites future Buckeyes
It's been quite incredible, really, that almost every Ohio State defensive line recruit whom Eleven Warriors has spoken with – committed or uncommitted – references Chase Young as a mentor, leader and someone who has given them loads of advice on their college recruitment, how to improve at their position and what things are like at Ohio State. 
Five-star 2021 defensive end Jack Sawyer, who told Eleven Warriors he had successful surgery Wednesday on his torn MCL, said it's "awesome" that Young is back in the fold and will only ended up having missed two games. 
"It's definitely a blessing, and I know when he returns to the field he'll be better than ever."– Jacolbe Cowan on Chase Young's reinstatement
Back in late September, Sawyer told us that Young has been at the forefront of helping him grow as a player and the two are close.
"Every time I go down there, Chase is kind of like my role model for the D-line," Sawyer said at the time. "He always talks to me. I feel like he's kind of my mentor. We talk almost every single time I'm down there. He'll come over to me at practices and dap me up, and it's the same thing during pregames."
Four-star 2020 defensive end Jacolbe Cowan also has a strong relationship with Young after the two met at The Opening Finals in Texas in June. That bond continued to strengthen over the following weeks and months, attributing to Cowan's enthusiasm in hearing Wednesday's news.
"I'm really excited that my bro Chase got reinstated," Cowan told Eleven Warriors. "It's definitely a blessing, and I know when he returns to the field he'll be better than ever."
Also, three-star 2021 defensive tackle Michael Hall Jr., an uncommitted in-state talent from Streetsboro High School, commented on his own excitement: "It's great to have Chase Young back because he's a big factor in the defense of Ohio State and just a great athlete on and off the field."
Payne joins All-American team
Four-star 2021 Ohio State defensive line target Damon Payne, the top-ranked junior in Michigan, announced he was invited to the All-American Bowl.
Happy and honored to be invited to the All-American Bowl pic.twitter.com/TEjXKKOs13

— Dame (@DamonPayne2021) November 14, 2019
James sets OV
Ohio State 2020 offensive lineman commit Jakob James will be taking his official visit to Columbus for the Buckeyes' game against Penn State, James told Eleven Warriors' Mick Walker. 
That adds James' name to the long list of visitors for the Nov. 23 noon bout with the Nittany Lions.
Ohio's high school football participation drops nearly 30 percent
Associated Press college football writer Ralph D. Russo wrote a really interesting piece last week about the troubles facing Ohio prep football.
According to data tracked by the National Federation of State High School Associations that's referenced in Russo's article, participation in Ohio high school football has dropped 28 percent over the last decade and the percentage of Ohio players competing at the Division I college football level has dropped from 5.9 percent in 2013 to 5.1 percent in 2018. That's still ranked as the fifth-highest percentage in the country, but Louisiana and Alabama are starting to gain on the Buckeye State.
Ryan Day, Olentangy High School head coach Mark Solis and Pickerington North head coach Nate Hillerich all had comments in the Russo piece. 
Day said in an Ohio State press conference in early October that the Buckeyes' recruiting strategy is centered on creating a foundation locally.
"It's huge because in recruiting, our foundation is in Ohio, for sure, and the Midwest," Day said. "Then we supplement it with national guys, but when you have so many talented guys in the state of Ohio that are right down the street, it's big."
Behind the scenes of Stroud's comeback attempt
In Week 2 of the regular season, a film crew followed 2020 Ohio State quarterback target C.J. Stroud as he led his Rancho Cucamonga (Calif.) High School team into a showdown with Calabasas on Aug. 29.
Check out the video of Stroud's comeback bid that fell short in a 45-26 loss, as a 93-yard touchdown pass from Stroud was called back due to a penalty, negating a score that would have brought Rancho Cucamonga to within a six-point deficit in the second half:
The behind-the-scenes video adds some more publicity to an already-hyped rising star in the 2020 class whom the Buckeyes are eager to land. 
For several months, Ohio State has had plans in place to try and land a two-quarterback class, a rarity for the program. The Buckeyes are hoping to have one guy as the class' top option at signal caller with the other QB being a complement. 
At this point, it's hard to tell which would be which between Stroud and Jack Miller. Each is a very different QB (Stroud with better athletic ability and ability to improvise when plays break down; Miller the better pure pocket passer right now), and it remains fascinating to see where the 2020 QB class winds up in the end.