CINCINNATI – Corey Kiner's story is one littered with multiple chapters, most of which have not yet been written. 
Consider this the preface.
Kiner is Ohio's seventh-ranked junior football prospect, the state's top-rated running back and America's 10th-ranked player at the position in the 2021 class. 
In just his third season, Kiner has broken Roger Bacon High School's career marks for rushing yards, all-purpose yards and rushing touchdowns, and he may be on a path careening toward Tony Alford's running backs room at Ohio State. 
But to understand Kiner's story, his career to this point and his future in football, you first must understand the background of his strength coach Solomon Tentman and why things like a mid-October pre-practice exercise called a "Breath Reset" have been so important for Kiner's growth.
---
It's not as if Tentman, who doubles as Roger Bacon's defensive coordinator and triples as the school's guidance counselor, is solely responsible for creating Kiner's success. That's an absurd notion Tentman laughs off. 
Kiner himself and his father, Clifton, are much more at the core of Kiner's achievements, and Kiner would still probably have gained a strong reputation without Tentman. With him, though, Kiner has soared, and that has to be acknowledged.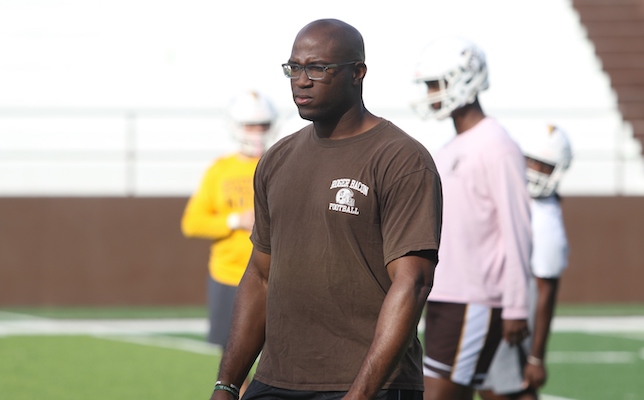 Tentman's story is unfortunately filled with pain and disappointment.
Tentman was a 2010 graduate and three-star inside linebacker at Roger Bacon, nationally ranked in the top 20 and ranked inside the top 30 in Ohio, and his quick ascension as a freshman at the University of Cincinnati was the biggest storyline during the Bearcats' preseason training camp.
But during the team's final preseason scrimmage, a freak left knee injury brought his budding career to a screeching halt.
Tentman fully tore his ACL, MCL and LCL, partially tore his PCL and patella tendon and eventually lost part of his meniscus. It was an injury so severe that Cincinnati's head athletic trainer, who had more than 35 years of experience, subsequently used Tentman's story as an example to teach his students about worst-case scenario knee injuries.
Tentman underwent a grueling 21-month process to get back on the field, eventually playing in all 13 games as a redshirt sophomore and showing a determination and work ethic that made him a fan favorite and beloved teammate in Cincinnati. But injuries kept hitting, and he eventually left with an emotional exit during his fifth year of eligibility to focus on life outside of football. 
Once he graduated, Tentman landed an internship with Ohio State football's strength and conditioning staff in 2015, working for Mickey Marotti, Quinn Barham and Phil Matusz. 
It's largely because of his injuries that Tentman became so enthused with training high school football players, getting them on the right regimen to help avoid injuries, and his experiences learning under those three coaches helped him end up here: A mid-October day when his Spartans are performing the "Breath Reset" by laying with their feet elevated and connected to a wall, slowing breathing in through their nose for 4-6 seconds, out with their chest for 6-8 seconds and repeating the process for 4-6 minutes. 
Kiner is one of those players performing this revitalizing neurological reset, one that is more psychological than it is physical. It's more akin to a yoga session than it is running a mile, and it can reenergize you even after a long work day. In other words, it does not come with a don't try this at home label (hint, hint). 
"Everything I've learned from Coach (Tentman) I've seen in one way or another at each college."
For Kiner specifically, the process has paved the way for longevity and freshness. It's partially to thank for him becoming the 19th player in state history to rush for eight touchdowns in one game like he did Oct. 18, as he continues to be the offensive backbone for a 7-1 team that will finish with its first winning record since making its last playoff appearance in 2010. 
"After school you've got a lot on your mind," Kiner told Eleven Warriors. "You're thinking about a lot with homework and everything. When you hit the reset before practice, it calms your mind and your nerves and everything, and it blocks everything out. It's basically like meditating.
"I was extra sore at this time last year in the middle of the season. My legs were sore. My shoulders were sore. This time, I feel like I haven't played a game yet. I'm fine right now. The reset's really helped with that."
Though it hasn't gained much steam at the high school level, the breathing exercise is popular among many college programs, and Kiner says he's going to continue to do it at whatever college program he chooses – whether that's Ohio State, Michigan, Notre Dame or elsewhere.
He may not have to do it on his own time, though. His next team may already have it in place. After all, Tentman plucked it directly from a college football program (University of Rhode Island strength coach Richard Johnson told him about it), and it's one of many examples of how Tentman has helped Kiner rise over the last three years to prepare for the next level. 
 
---
Kiner already feels like he's getting a taste of what a college program's training regimen will be like, and he's grown a fascination with it.
"Everything I've learned from Coach (Tentman) I've seen in one way or another at each college," Kiner said. "Whenever I go on visits, I ask about strength and conditioning. If I'm not in class or in practice, I'm gonna be in the weight room. I don't have to necessarily be lifting, but I'm gonna be stretching and in ice baths because it's there. Why not take care of your body?"
Taking care of his body isn't something he took seriously until coming across Tentman. He admits he didn't use to know anything about stretching and flexibility. Now, he stretches before practice, after practice and every morning when he wakes up. 
Kiner used to be addicted to candy and Sprite. But after Tentman helped him zap those bad candies from his diet, Kiner cleaned up his nutrition even further. 
He substituted Sprite for water, Gatorade and Pedialyte, and he did research on the best foods and supplements to put in his body for better recovery and muscle growth – including chicken, bananas and oranges to complement glutamine, arginine and creatine. 
"I don't eat a lot of junk food or fast food anymore," Kiner said. "Whatever I'm putting in my body now is healthy. That's a big part of maintaining and lasting the whole season. If you're putting a bunch of junk food in your body, you probably don't feel tremendous. That's what I was (doing). Today, I feel great."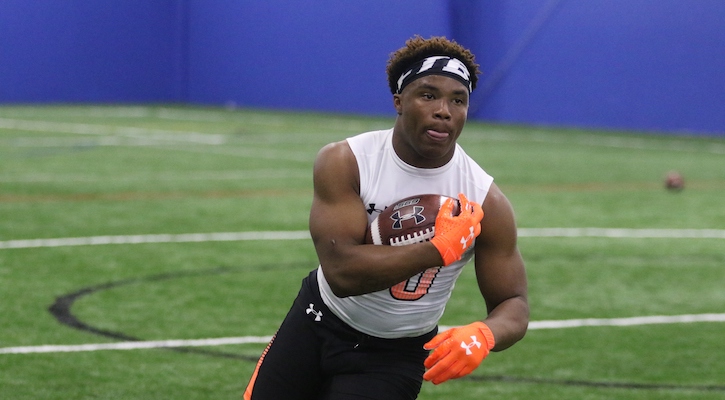 It goes beyond the nutritional off-field aspects of development for these two. The on-field lessons have been just as strong. 
"Another thing is I didn't pay attention to the defense coming in," Kiner said. "But he taught me that being an offensive player, you have to pay attention to the defense and know the defense. So now I'm learning defenses that I wouldn't have learned without him."
---
Those defensive fronts are the same ones Kiner has been shredding since he was 11 years old, when Tentman first heard about some kid who was going to come in right away and put this Spartans program back on the map. 
Tentman had a pretty reliable source – his own brother, Ronnie, was one of Kiner's middle school coaches.
"I've known Corey since sixth grade because my brother always told me, 'You're getting this running back that's a stud,'" Tentman said. "And I'm like, 'Yeah, we'll see.' And sure enough, he's a stud."
Ronnie got Kiner on Tentman's radar, and Tentman followed suit by using his Ohio State connections to get Kiner's name circulating around the Woody Hayes Athletic Center. For instance, he reached out to former Buckeyes assistant coach Kerry Coombs, who coached Tentman at Cincinnati.
So when asked if he's responsible for putting Kiner on the Buckeyes' radar, there's a long pause from Tentman because the answer sounds like it's yes. Sort of. 
Tentman puts together Kiner's highlight tapes. But he's not the one who gave Kiner the speed to burst through a hole and hit 4.44 in the 40-yard dash, the elusiveness to dip his shoulders to get a linebacker leaning one way before swinging his hips and exploding the other, the balance to bounce off arm tackles in the backfield, or the athleticism and durability to do a celebratory front flip into the end zone after sprinting around right tackle all the way across and up the field for a 40-yard touchdown.
Those are "God-given abilities" and "it'd be laughable if someone was not pursuing this kid and if they didn't have him on their radar," Tentman says. "He puts himself on the map."
But Tentman put Kiner's reputation and recruiting profile, at least amongst Ohio State coaches, on fast forward. 
He was so eager to do so because he knows the special talent and character he has on his hands. He's seen firsthand what the opposite end of the spectrum looks like, having had plenty of college teammates who were highly talented but "just weren't great people."
Some of them were selfish, always looking out for themselves and never held themselves accountable.
"Corey's not like that whatsoever," Tentman said. "There aren't people walking around with his type of talent and composure and humility. There just aren't that many. I've known that for a long time."
One of the pillars Ryan Day has already built his recruiting focus on is high-character guys who fit into the culture, are willing to work hard and, obviously, have the potential to be special.
Kiner fits all of those criteria. 
He's gained a reputation as one of Roger Bacon's hardest, most phenomenal workers, often eagerly jumping in on scout team offense and sometimes having to be pulled off the field by head coach Mike Blaut to avoid injury. 
That's just who he is. It's been like that since the first day he entered Blaut's program and took a knee front and center, which Blaut says he's done almost every practice and game since.
"I've never noticed another kid do that before," Blaut said. "It's amazing how he's always been that guy.
"Then he's the kid over there filling water bottles and getting out equipment. When you're a blue-chip player like that, you don't see that. I've got some sophomore kids who I've gotta fight with to go get water, and here's the best player in the state going out and getting water bottles and equipment. He's a great leader."
The reason he does those things?
"You can't lead from the back," Kiner says.
---
Wherever he ends up, Kiner is setting himself up for success from the moment he steps on campus. If it's at Ohio State, that means he would almost instantly become a "red guy" in Marotti's blue-red-gold, color-coded system that he uses to evaluate players.
"He leads from the front. That's what I like about him. He doesn't have a lot of fear of conflict."
Blue guys are not currently contributing to the program. They have bad attitudes, bad body language and have a long way to go to prove themselves. Almost all freshmen start out as blue guys as a baseline before moving up or staying put.
Red guys are doing what they're supposed to be doing, how and when they're supposed to be doing it and give strong effort daily.
Gold guys go above and beyond. They're the team leaders. Being a gold guy is a special honor for a Buckeye.
"Corey would end up being somebody who will be a gold guy for them," Tentman said. "He is one of those types of kids. He leads from the front. That's what I like about him. He doesn't have a lot of fear of conflict. He isn't scared to tell his teammates what to do and when to do it – no matter how much they might dislike him in the moment for it.
"I don't believe he'll (stay) a blue guy. Unless something completely catastrophic happened and his brain turned completely upside down in his head, I don't see that happening because that's just not who he is. … He's humble enough to know he's not just representing himself. He's representing the coach that recruited him, he's representing his teammates, and he's representing his family."
Time will tell if Kiner does decide he wants to suit up for the Buckeyes, as his recruitment still has a while to play out, and he still has plenty more he wants to improve on.
"I wanna be the best running back and the best athlete in the class of 2021; the best student, the best person for my family, the best friend, the best boyfriend, the best everything," Kiner said. "If you wanna be No. 1, you gotta keep working."
The Buckeyes are sitting in pretty good shape at this stage to get Kiner's work ethic to campus, and if Columbus is where Kiner ends up, the program will be getting a player who says – in terms of playmaking and influence – he is "trying to follow in the footsteps" of a similar-sized, similar leader in J.K. Dobbins. 
He saw Dobbins showcase both of those assets during the Buckeyes' 2019 spring game, witnessing the latter behind the closed doors of the running backs' meeting room during that visit as Dobbins took control of the room, standing up and detailing pass-blocking assignments on linebacker blitzes.
"I came in, I was more shy than anything so I didn't really speak much," Kiner said. "All the running backs come in, and I look at my dad like, 'Dad, that's J.K. Dobbins' and he's like, 'I know son.'
"I was more amazed than anything, and once they started talking I stopped being a fan – I'm still a fan, but I started to put myself in their shoes as if I was a student-athlete at Ohio State."
By this time in October 2021, maybe he will be. But the pages in that chapter will be left blank for now.