We've reached the end of June, and while we're now sitting in a recruiting dead period, it's a bit easier to get a feel for what Ohio State's 2020 class could look like come February.
The spring official visits are behind us and the Buckeyes have 15 commitments in the fold for what is now the country's No. 4 recruiting class. The latest news came yesterday when four-star linebacker Cody Simon made his intentions known and Cincinnati defender Darrion Henry also made things official. 
While the June visits did help to clear things up a bit, the biggest remaining questions seem to be in the backfield and along the defensive line. We've got an updated summer forecast for a class that is expected to exceed 25 signees. And it's quite different from how things were looking just a few short months ago.
Back in late April, we looked at the offense and defense separately. Today, we're going all out.
---
Quarterback (1)
Jack Miller remains solidly committed and has been one of Ohio State's lead recruiters. With Kyle McCord also in the fold for 2021, it's looking unlikely that Ryan Day and Mike Yurcich will bring in another this cycle. 
Running Back (2)
Running back recruiting has been a hot topic for the last six weeks so we'll spend a bit more time discussing this one. Kendall Milton and DeaMonte Trayanum were on our April forecast, and both have been removed for different reasons. Milton had a great official visit to Columbus but it's looking like Athens will be the ultimate destination. Trayanum pledged to Arizona State last week and he certainly looks to be the guy in the backfield for Herm Edwards.
The Buckeyes still need two backs for the class, and there's no question who the top target is. It sure sounds like it's going to be Ohio State or Texas for five-star Bijan Robinson and the Tucson star is the priority tailback target for both programs. I've got him to Ohio State right now and that's for a few different reasons.
Confidence out of Columbus was high before he took his final official visit to Texas and that doesn't seem to have changed over the last week since his return from Austin. The Rivals.com team was around Robinson last week in Atlanta and a number of FutureCast picks to the Buckeyes have since been submitted.
Jack Miller put in some serious work at the Rivals' Five-Star Challenge and the Arizona signal caller sure seems confident that his in-state counterpart will be joining him in the Big Ten. Obviously, Texas is closer to home, but we shall see how big of a factor that proves to be. A decision timeline hasn't been set, but many expect that it could come in July.
Congratulations to #Rivals100 4 RB Bijan Robinson on winning the RB MVP at this years #RivalsChallenge! pic.twitter.com/3DVBtfGAoZ

— Rivals Camp Series (@RivalsCamp) June 25, 2019
As for the second back, that one seems totally up in the air. Deerfield Beach, Florida's Jaylan Knighton is looking to make a decision sometime this summer and it's expected to be the Buckeyes or Seminoles. That recruitment has gone quiet, though it seems like a quick decision following the June 21 trip to Columbus would have been good news.
There's no exact reason (and honestly no real intel) for it, but I'm going with Knighton as the other back. The thing I keep coming back to is will a running back rather play at Florida State or Ohio State right now? This is a Florida kid we're talking about, but the Noles have only won 12 games over the last two seasons and the offensive line has been a major problem of late.
Cincinnati's Miyan Williams (Winton Woods) is a three-star tailback that Ohio State had previously been in touch with. He's expected to announce this week and schools like Purdue and Kentucky are in the running. It's not going to be the Buckeyes if a decision comes soon, but this is a prospect I could see flipping down the road if it comes down to it. He remains one to watch and would actually complement a guy like Bijan Robinson quite nicely.
We're definitely still watching Knighton, Williams, and Dallas's E.J. Smith, but for now we'll go with Knighton as the second back. There's admittedly not a whole lot of confidence in that pick, however.
Wide Receiver (4)
Brian Hartline is the hottest recruiter in the country right now and Ohio State's 2020 wide receiver haul is already a special unit. St. Louis wideout Mookie Cooper appears to be the missing piece and he's now talking about making a decision this summer. A talented slot wideout is just what Hartline needs to go along with the three studs already in the fold. Five-star LSU commit Rakim Jarrett also remains one to watch going forward. 
Tight End (1)
What once looked to be a two-man class is now looking like the Buckeyes may just bring in one local product. Cincinnati Elder's Joe Royer earned an offer earlier this month following a solid camp performance. Arizona State is also in the running but this one could be over relatively soon. Royer recently was bumped up to the No. 3 tight end in the country by 247Sports where he checks in as a four-star and No. 201 overall. 
Offensive Line (6)
Likely the most important unit for the 2020 class, Ryan Day and Greg Studrawa are getting it done along the offensive line. Paris Johnson Jr. certainly seems locked in after taking a number of visits and flipping Grant Toutant from Penn State was a big move since he's another guy who seems destined to play tackle. Right now it's looking like Indiana's Josh Fryar could be the sixth and final piece following last week's official visit. Listed as a center, he's a guy the Ohio State staff thinks can play multiple spots; possibly even tackle.
Defensive Line (3)
Defensive line is the other unit that's hard to get a pulse on, but there's no denying that one of the top targets is now in the fold following the Darrion Henry pledge. The other primary targets hail from the Tar Heel State and we're banking on the Buckeyes being able to land at least one of them. North Carolina is in the mix for all three but interestingly enough the Heels now have four defensive linemen already committed. 
Five-star edge rusher Desmond Evans remains the dream but most have him pegged to Chapel Hill. Kedrick Bingley-Jones is high on the Buckeyes as is his Charlotte teammate Jacolbe Cowan. Georgia is heavily involved in the Cowan recruitment which means that one will be a challenge. We'll go with Bingley-Jones for now but the confidence isn't too high on this one.
We're projecting three signees but this is a unit that could go to four; especially if a certain linebacker moves down as more of a pass rusher. I still think Jaheim Thomas might be worth watching if he's willing to make the switch to defensive end.
Linebacker/Bullet (3)
Ohio State got some good news yesterday when Cody Simon selected the Buckeyes over Penn State and Nebraska. Simon is the first of what should be a three-man linebacker/bullet class. Kourt Williams is close to making his decision known and it's definitely looking like he could be in the fold before the summer is over. Penn State, Tennessee, and a few others remain in the mix for the California four-star.
Mitchell Melton is an interesting prospect and it's been an interesting recruitment. The Olney, Maryland defender took his final official to Michigan last week, and in the midst of that, the Wolverines landed approximately 10 commitments; some silent and some that have gone public. Several people (myself included) speculated that Melton was perhaps one of them, but that doesn't seem to be the cast at all. He's set to announce on Wednesday and it's looking like Ohio State will be the choice. 
At 6-foot-3 and 235 pounds, he's not the most athletic specimen (he ran a 4.87 forty back in May), but he could project as more of a pass-rushing specialist at the next level. It will be interesting to see how Al Washington and Larry Johnson sort this one out if he does end up in Columbus.
Defensive Back (4)
We've got two corners on board for 2020, but there's a real chance Jeff Hafley elects to take a third. In a perfect world, five-star LSU commit Elias Ricks would join close friend Lejond Cavazos in Columbus. Is that a possibility? I'd say it's at least worth watching for the next several months; especially if Ricks ends up at IMG Academy.
Lathan Ransom is on our list and we're thinking a decision should be coming in July with Ohio State and Texas being the favorites. Makari Paige is a bit of a wildcard here because there's a chance another potential signee could take one of those safety spots (more on that in a second). If it's not Ohio State then either Kentucky or Penn State should be Paige's landing spot.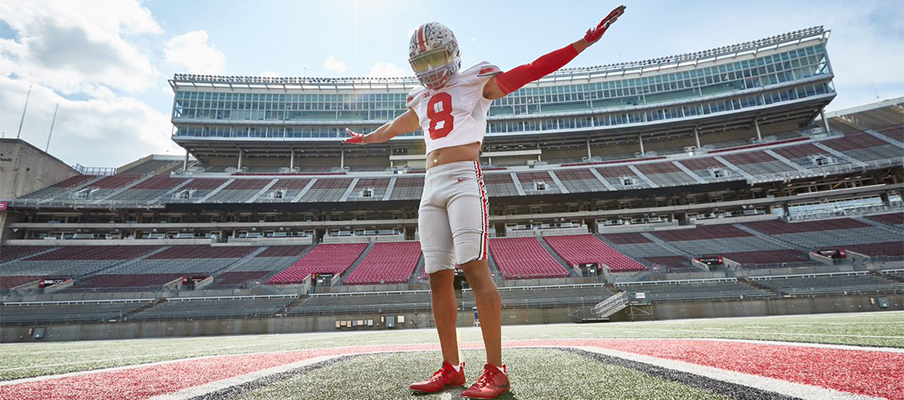 Athlete (1)
Cameron Martinez has quietly been a top target for several months now. The high school quarterback projects as an athlete at the next level, but many seem to think safety is the ideal spot for the 6-foot, 195-pounder. For now, we're thinking that Ohio State brings him in as an athlete and still takes Paige as more of a true safety. This one may very well be over within the next week. 
Kicker (1)
Cincinnati La Salle's Jake Seibert committed to Ohio State in early June and should be the lone special teams signee. Rated as the country's top kicker according to some outlets, he's expected to come to Ohio State as a grayshirt. 
---
That would be a total of 26 signees for the Class of 2020 (that's if you are counting the grayshirt). There have been some questions as to whether or not it's still possible for a team to exceed 25, and quite honestly it's difficult to get a definitive answer. Previously there were some loopholes such as early enrollees not counting toward the max number, but the NCAA seems to be trying to cut back on the 30-man classes. 
The 247 Sports class calculator spits out a score of 306.34 with the above 26 names. That would have been good for No. 3 in the country last cycle (behind only Alabama and Georgia) and No. 3 for the 2018 class (behind only Georgia and Urban Meyer's Ohio State). 
I'd suggest keeping a close eye on things this week as Saturday's pair of commitments were only the beginning of what should be a nice little run.