The Hurry Up is your nightly dose of updates from the Ohio State football recruiting trail, keeping tabs on the latest from commits and targets from around the country.
Joe Royer offered, Luke Lachey not
Cincinnati tight end Joe Royer received an offer from Ohio State on Friday, he announced via Twitter. Both he and in-state tight end Luke Lachey were at Ohio State's one-day camp Thursday in what seemed to be a battle for the offer, though there was a slim chance they both could have received one.
Lachey was called and told that he was not receiving an Ohio State offer, but he congratulated Royer on Twitter anyway. The two had never met before Thursday.
Congrats Joe!! https://t.co/fVXitfTDPw

— Luke Lachey (@lukelachey) June 7, 2019
Now, the Buckeyes' in-state focus turns to Royer, who attends the same high school, Elder High School, as current Ohio State commit Jakob James. There are still a few options out of state, but Theo Johnson appears to be going to Penn State or Iowa, while Jalin Conyers seems to be leaning toward Oklahoma and Cam Large to Georgia.
Royer showed a good ability to both catch and block and was largely the most impressive tight end at the camp Thursday. He was able to create space on his routes, caught the ball smoothly and drove through his blocks. Those were all things Lachey struggled with throughout most of his reps.
At 6-foot-5, 225 pounds, Royer doesn't appear to be that big because he runs smoothly and downhill. He also ran a 4.81-second 40-yard dash Thursday. He will need to gain more weight, but Ohio State seems confident that it can get him where he wants to be. So far he's shown the willingness to block and play in the passing game with the ability to do so.
It wouldn't be surprising to see Royer commit to Ohio State soon, even though his offers list has taken off in recent weeks.
Gavin Blackwell pops out to Brian Hartline
North Carolina wide receiver Gavin Blackwell was expecting to come to Ohio State's one-day camp Thursday trying to earn an offer. The Buckeyes, however, offered the Sun Valley wideout on May 15, so Blackwell made his way to Columbus on June 6 to simply showcase what exactly Ohio State had offered.
"I didn't know what to expect. I know I received an offer, but I just wanted to come out and show them what type of player I am, just show them that I'm a competitive player," Blackwell told Eleven Warriors. "They told me before that I had to come out here and earn the offer and they offered me before, but I still wanted to come out here and show that the offer was valid and that I'm good enough."
Blackwell was one of the top receivers at the camp, as he took most of his reps with 2021 Massillon receiver Jayden Ballard. Hartline worked closely with both of the receivers all day, including leading Blackwell to the side after a few competition reps to have him work independently with quality control coach Keenan Bailey. Blackwell was also part of a group of five receivers that worked privately with Hartline during position groupings.
After the camp was finished, Blackwell stayed after to get in some extra reps with the receivers coaches.
"He's amazing," Blackwell said about Hartline. "It's like every rep he wants to fix everything and show you where you can get better That's the kind of coaching I want. I want to be cached like that. He doesn't sugarcoat anything. Coming out and talking to Coach Day, Coach Hartline, Coach Kee and Coach (Kevin) Wilson was really important."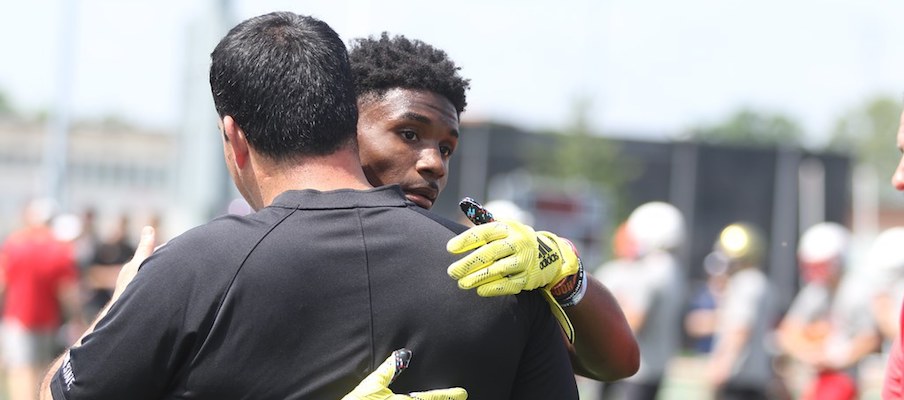 Blackwell has received some big offers, including offers from Florida State, Florida, Penn State, Tennessee, Georgia Tech and others, as well as ran the 40-yard dash at The Opening Regionals in 4.63 seconds and jumped 35 inches in the vertical.
The Ohio State 2021 wide receiver pool is becoming crowded, with talk of Brian Hartline being one of the best receivers coaches in the country and Julian Fleming's commitment to go along with it. Jayden Ballard, Marvin Harrison Jr. and Emeka Egbuka headline the class, but Blackwell is looking to embolden his name with the crowd as well, and Thursday's camp was a step in the right direction.
"I feel like they really like me," Blackwell said. "Getting one-on-one work with them meant a lot to me because Coach Hartline is the best in the business and shows that he really cares about me and wants me to get better. I plan on coming back as often as I can. The next time I come up, I'll make sure to bring my whole family."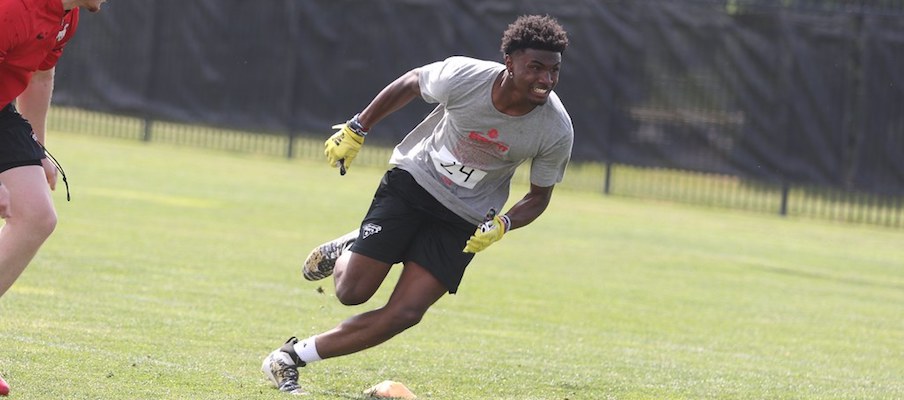 JuTahn McClain commits to Kentucky
Cincinnati all-purpose back JuTahn McClain committed to Kentucky on Saturday night. He was expected to commit with three of his former high school teammates on July 4, but he made the announcement early.
The journey has just began.. 1000% COMMITTED #MASONSTRONG pic.twitter.com/XzXAnrffK2

— JuTahn McClain (@JuTahn9) June 9, 2019
The Fairfield star was expected to be the prospect that Ohio State brought in to play an H-back role for a large part of his recruitment, but as other names continued to rise and time continued to pass, the conversations about McClain and others have begun to cool down.
McClain is rated as the No. 6 2020 Ohio recruit, and while Ryan Day wants to land the top Ohio prospects, the 2020 class is a very top-heavy in-state group, with Paris Johnson Jr. and Darrion Henry at the top and other prospects littered into it, like DeaMonte Trayanum, Luke Lachey, Joe Royer and Ty Hamilton.
Other H-back options for Ohio State at this point are Mike Drennen, who has also cooled down recently, Corey Wren and, most likely, L.V. Bunkley-Shelton.
Ohio State targets making official visits
June is the big weekend for official visits, since July is the dead period and most recruits want to make a decision before their senior football seasons. With this being the first weekend of June, many Ohio State targets will be at other schools for, for most, their first official visits.
This is where some of those targets traveled.
Five-star running back Kendall Milton made a trip to LSU a week after making his first official visit to Columbus. He still has visits to Alabama and Georgia to make before making his decision in July.
Just me and myself getting bacc to the basics... #GeauxTigers pic.twitter.com/bxHtbP4X9R

— Kendall Milton (@therealkmilt) June 8, 2019
Four-star New Jersey linebacker Cody Simon, who has an official set up with Ohio State on June 20, was at Nebraska this weekend, He is Crystal Ball'd fairly strongly to Notre Dame.
Four-star cornerback Henry Gray was at Michigan as he begins his officials. He has not yet released all of the dates he has planned for visits.
In-state defensive lineman Ty Hamilton traveled to Penn State for an official visit. He has an official scheduled for next weekend at Ohio State.
9 vs 11 what yall think #Weare #officialvisit pic.twitter.com/lXnmlNIwE5

— TH11 (@tfhamilton02) June 8, 2019
Deamonte Trayanum was at Wisconsin this week,Cam Large was at Alabama, Tyler Baron was at Oklahoma, Vernon Broughton was at LSU and Kourt Williams was at Penn State.