Four high-level 2020 Ohio prospects that have drawn interest from Ohio State throughout their recruitments announced via Twitter that they will be committing together on July 4.
Fairfield No. 8 Ohio recruit and all-purpose back Jutahn McClain, Cincinnati No. 22 Ohio recruit and running back Miyan Williams, Cincinnati No. 23 Ohio recruit and wide receiver DeMeer Blankumsee and Cincinnati No. 61 Ohio recruit and safety Miquan Grace were all once teammates as recently as their freshman year of high school.
ME AND MY BROTHERS WE GOT SOMETHING FOR YALL ON 4th of JULY, PLZ RESPECT OUR COMMITMENTS @MiquanGrace3 @JuTahn9 @GloMannyy #2020VISION

— H O 1 1 Y W 0 0 D 1 (@DeMeerLeMaun1_) April 23, 2019
Dating back to their youth football days, the four Cincinnati products played together, and after their freshman year, McClain transferred from Winton Woods High School to Fairfield High School. The other three remained teammates, so Grace wanted to share the moment together, including McClain.
When asked whether the quartet would be committing to the same place as a package or if each was committing to his own program, Grace replied with "maybe." It appears that the most probable outcome would be each committing to his own school, though, because there is a strong chance Ohio State lands at least one of those commitments, but the Buckeyes haven't offered Williams, Grace or Blankumsee, at least not yet.
This is where Ohio State stands with each of the four Cincinnati prospects the day after their announcement.
Jutahn McClain
Of the four that plan to commit, it's probably No. 8 all-purpose back Jutahn McClain's commitment that Ohio State folks will be holding their breath for.
McClain has been an oft-spoken back in the sphere of Ohio State recruiting as a player with the skillset to play H-back. He has the speed to get around the corner, the agility to make defenders miss and the ability to get small while maintaining speed through holes and skinny seams. He also said he believes his biggest strength is being able to play slot and running routes out of the backfield.
He's the only recruit of the four to already have an Ohio State offer, which he received in October. But, like his friends, his Ohio State recruitment hasn't been an easy road. The Fairfield back began his relationship with former coach Taver Johnson, and after a blip in his contact with the Buckeyes after Johnson left for Oakland, he's just now beginning to develop a relationship with running backs coach Tony Alford.
"We're trying to build a relationship," McClain said. "That takes time, so we have to use it wisely."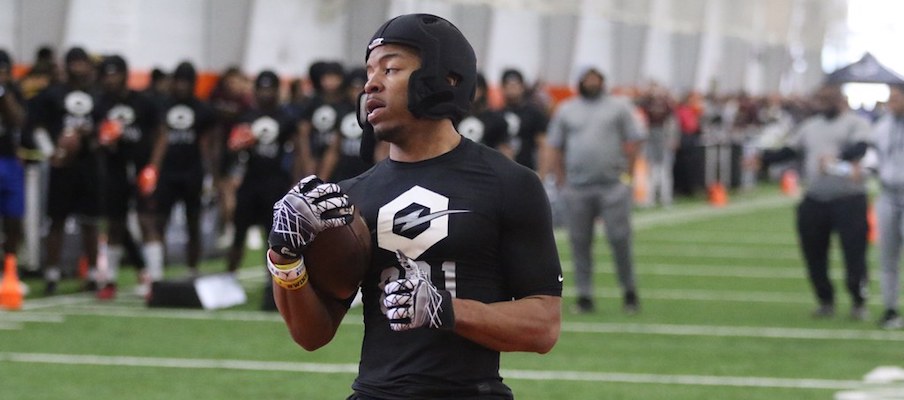 McClain was in Columbus for a visit in early March and said it went well. He hadn't had a one-on-one conversation with Ryan Day until that point, and he hadn't really met Alford either. Now, he's beginning to feel more comfortable as they continue to talk, he said.
The No. 393 overall recruit in his class participated in The Opening Regionals in Massillon on March 31 and also competed in the Under Armour All-America Camp on April 14. Between those two camps, Indiana reached out to him and he also paid a visit to Kentucky, which is a top interest of McClain's and has ins with all four of these Cincinnati prospects.
McClain said he is interested in any program that is interested in him, and that includes Ohio State, Michigan, Kentucky, Cincinnati, Notre Dame and others, but it seems like it will come down to Ohio State, Kentucky and Cincinnati.
Miyan Williams
Three-star running back Miyan Williams said his relationship with Ohio State began fairly "shaky." He didn't really know the Buckeyes that well toward the beginning of his recruitment, but now that Ohio State is zeroing in on more in-state talent for the 2020 class, Williams has been around Columbus, and the Buckeyes are making a late push.
The No. 49 running back attended the spring game on April 13 and then made another visit just a couple days later.
"It was amazing," Williams said about the spring game visit. "I didn't know it was going to be that crowded. It opened my eyes to them a little more. A lot of people say it's most Ohio kids' dreams. It wasn't my dream, but it'd be a great experience to play there."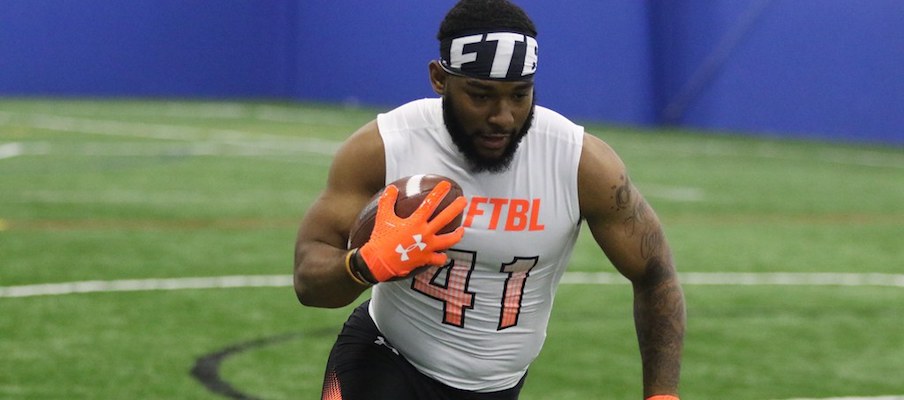 At 5-foot-10, 210 pounds Williams already has a lot of the size and bulk that programs want to see out of their running backs, and he showed at the Under Armour All-America Camp that he won't be a top option in the passing game but can beat a linebacker if needed. He won't be the fastest player on the field, but he can be a balanced option out of the backfield.
At Winton Woods, he ran for 2,842 yards and totaled 38 touchdowns as a junior in 2018.
He's in regular contact with Ohio State running backs coach Tony Alford and talks with Ohio State on a weekly basis, but he still doesn't have an offer. Alford hopes to see him in a summer camp, and Williams plans to attend. If he shows what he showed in Cincinnati at the UA camp, he will likely receive an offer and therefore have the opportunity to commit by July 4.
Miquan Grace
Grace is one of the more interesting cases of the four. He plans on setting up an official visit date with Ohio State, along with Illinois, Maryland and Kentucky, even though he doesn't have his Buckeye offer yet.
"Bigger, faster, stronger," Grace said about the changes he's made since he began talking to Ohio State. "They were recruiting me off my potential to be great. Now it's based off my results. I'm out here making plays."
Grace is 5-foot-11, 190 pounds and stood out physically with a few others among the safeties at the Under Armour All-America Camp. He was also at the spring game the day before. As a junior in 2018, Grace recorded 87 tackles, seven tackles for loss, six interceptions and 10 pass break-ups.
He's been working with trainers outside of his curriculum to improve his top-end speed, what he said Ohio State wants him to show more of when he participates in a summer camp in June.
Grace has 15 offers, including offers from Indiana, Maryland, Purdue, Cincinnati and Kentucky, the school that has offered that he is most interested in. Grace also hopes for offers from Ohio State and Michigan State.
DeMeer Blankumsee
Blankumsee had developed a good relationship with Ohio State early on in his recruitment, but he still has yet to receive his Buckeye offer. He has offers from Indiana, Cincinnati, Kentucky, Iowa State and Rutgers, as well as some other non-Power Five programs, but his recruitment never took off to the level of schools like Ohio State.
"I honestly don't think they'll offer me," Blankumsee said. "We had a really good relationship, but it's totally died down."
Blankumsee is setting up his official visits now, and he said he wanted Ohio State to be one but didn't have the offer to make it happen, so he's keeping his options open while scheduling the visits. It appears that it'll be down to the schools above, though.