When he was introduced as Ohio State's next head coach, Ryan Day made it clear that the Buckeyes need to keep the state's top talent from leaving. We've heard it before and the local efforts – or sometimes lack thereof – have been a regular point of controversy among some members of the fanbase. 
Regardless of where you stand on the topic, it's pretty clear that Ohio State recruiting is going to look a bit different without Urban Meyer at the helm. But does that necessarily mean that the makeup of each class is going to be a drastic change from what we've grown accustomed to?
Since his arrival prior to the 2012 season, Meyer's classes have featured a heavy dose of national talent sprinkled in with some local heavy hitters. Florida, Texas, California, Georgia, and plenty of other hotbeds have been integral dating back to the recruitments of players like Vonn Bell, Raekwon McMillan, J.K. Dobbins, and plenty of others. 
Signing the state's top players shouldn't be an issue for Day, but the national outlook may be a bit cloudy; at least for now. Florida has been an important place for the Buckeyes, and Meyer's reputation in The Sunshine State was instrumental. Say what you will about Zach Smith and his antics, but he too was an elite recruiter and his presence was absolutely felt in SEC territory. 
Tony Alford, Taver Johnson, and Alex Grinch have all dabbled in the state of Florida, but it will be interesting to see what kind of success Ohio State will have without Meyer in the picture. A pair from the state are committed right now in tailback Marcus Crowley and defensive back Jordan Battle, but the Buckeyes – unsurprisingly – have plenty of targets in the state of Florida beyond 2019.
Keeping their footing in the Southeast will be important, but with Alabama and Florida consistently ranked in the top five it's going to be a tall task for Day and whomever may be the point man for the area. The Gators bounced back nicely this year under Dan Mullen and their success – coupled with Meyer's departure – should absolutely present hurdles for the Ohio State staff.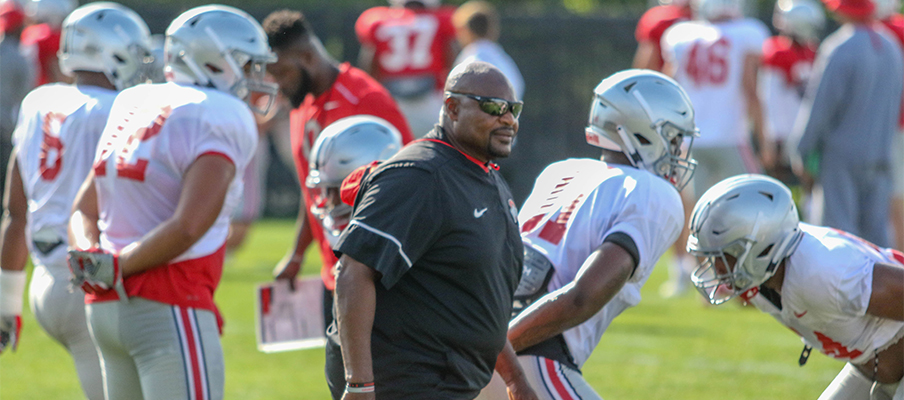 Larry Johnson's ties to the Maryland and D.C. areas and general wizardry in coaching up defensive linemen will still be a vital part of Ohio State's success. With an offensive background, there's no doubt Day will rely heavily on veteran defensive minds like Johnson and Greg Schiano. 
As it pertains to recruiting, the coaches' assignments can be a bit tricky and difficult to keep up with. Regional duties are certainly important but developing a rapport with future coordinators and position coaches is also an integral part of the process. Thus, there's often no "exact" assignment for one particular coach and there can be plenty of overlap.
We saw it a year ago with the recruitment of Chris Olave. A product of San Marcos, California, Olave was heavily recruited by both Zach Smith and Ryan Day. For the Class of 2019, players like Garrett Wilson and Harry Miller have gotten plenty of attention from a number of staff members.
Urban Meyer's division of territories and assignments clearly paid major dividends over the years with top-ranked classes being delivered on an annual basis. The biggest and most prestigious piece of the puzzle, however, is now out of the picture for the Buckeyes. 
"It will continue to be our first priority to recruit Ohio football players. It is our staff's responsibility to make sure we recruit them at the highest level."
Day's message last Tuesday was heard loud and clear. He praised Ohio's high school coaches and the talent pool within the state's confines. As things stand today, four of the 16 commitments for 2019 hail from inside the state of Ohio. Some of the recent classes have been stronger than others, but the future is pretty darn bright for 2020 and 2021. 
Regions and recruiting assignment may be tweaked a bit and we're likely to see at least some turnover from within the staff, but even without Meyer at the top, it's reasonable to assume that Ohio State remains in very good hands; both locally and nationally.