We've seen this one before.
Earlier this week, Ohio State's 2018 recruiting class was dealt with a bit of a blow when four-star defensive end Andrew Chatfield elected to open things back up. This was hardly a surprise as we had previously discussed the likelihood of the Sunshine State product ending up closer to home.
Subsequently, the Buckeyes' class has plummeted all the way down to No. 1 in America.
Urban Meyer spoke earlier this week about recruiting dilemmas and the challenge as it pertains to evaluating needs, accepting commitments, and holding spots. This may especially be true at defensive end as Ohio State will almost certainly finish with the nation's top class at the position.
I suppose it's important to note that not every decommitment is created equal. Sometimes a coaching staff may cut back on contact in hopes of sending a message. This is more commonly referred to as being "forced" out of a class, but there certainly may be grades or other factors at play.
Other times a kid may just decide that he'd rather be elsewhere. The Tyjon Lindsey situation comes to mind and is one that can likely be filed under this category. Columbus is a fantastic place and Ohio State is one of the country's more storied institutions – from both an athletic and academic standpoint – but still, it's just not for everyone. And that's totally fine.
A number of players have been close to coming to Columbus but ended up elsewhere, whether it be for worst or better. Some have gone on to have fine careers while the jury is still out on others.
For the most part, Urban Meyer and the Buckeyes have rebounded quite nicely.
Class of 2014: Lawrence Marshall ---> Jalyn Holmes

Four-star defensive end Lawrence Marshall committed to Ohio State in February of 2013. The pledge itself came mostly as a surprise, primarily because the nation's No. 9 weak-side defensive end called Southfield, Michigan his home and was thought to be a virtual lock to Mark Dantonio's Spartans.
The Buckeyes already held a pledge from Detroit's Damon Webb, but the Marshall commitment never really felt right. His Ohio State allegiance lasted for three days before he opened things back up and went on with visiting both Michigan and Michigan State.
Ohio State continued to focus on Norfolk, Virginia's Jalyn Holmes. The country's No. 4 defensive end was thought to be a Florida State lean, but Holmes would go on to commit to the Buckeyes in June of 2013; just about a month after Marshall pledged to the Wolverines.
Class of 2016: Tristen Wallace ---> Dwayne Haskins

Ohio State's 2016 quarterback recruiting was a site to behold. Tristen Wallace was one of the country's best athletes, but never really looked like a quarterback. The DeSoto, Texas native committed to Ohio State in April of 2015. His senior season didn't start off too hot as Wallace struggled to consistently throw the ball with much accuracy. His running ability was impressive, but there was a long way to go. 
Wallace – who checked in as the country's No. 10 athlete and No. 202 overall prospect – decommitted from Ohio State in December of 2015. It was hardly a surprise as he backed off of his pledge just a few days after Dwayne Haskins officially visited Columbus. The Potomac, Maryland quarterback was a top-100 prospect and well respected throughout the country. Haskins committed to Ohio State just about one month later.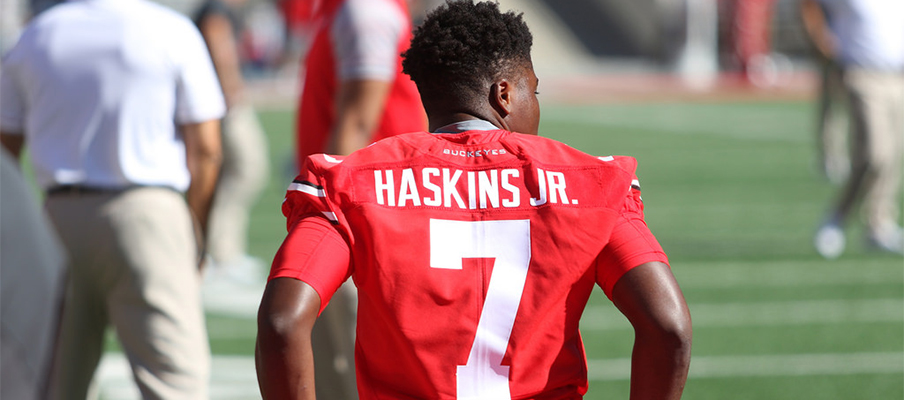 Class of 2017: Antjuan Simmons ---> Baron Browning 

Four-star linebacker Antjuan Simmons spent his high school days just a stone's throw from the University of Michigan. Despite having offers from both the Spartans and Wolverines, the country's No. 15 outside linebacker committed to Ohio State in March of 2016. 
The drumbeats began to grow about a potential parting of ways, and the inevitable happened on Nov. 30 of last year. It certainly wasn't a coincidence that the decommitment took place 24 hours before five-star linebacker Baron Browning publicly committed to the Buckeyes. Browning was the country's top outside linebacker and No. 11 overall prospect. Simmons would go on to sign with the Spartans.
Class of 2017: Danny Clark ---> Tate Martell

Perhaps the most talked about scenario happened at quarterback, and it was a little bit different than most of the others. Danny Clark committed to Ohio State during his freshman year of high school and helped to spearhead the recruiting efforts thereafter. In this day and age, it's unheard of for the Buckeyes to accept commitments that early in the process. 
As his high school days went on, it became more and more apparent that Clark was poised to be more of a pro-style quarterback. There's certainly nothing wrong with that, but it seemed as though both sides were aware that it wasn't the ideal fit for the offense Ohio State runs. Clark even acknowledged as much in a tweet regarding his decision to open things back up. 
The situation was also different because, at the time of the decommit, the Buckeyes already had their guy in the fold in Las Vegas (Bishop Gorman) quarterback Tate Martell. Martell was the country's No. 2 dual-threat passer and No. 57 overall prospect. Clark checked in at No. 15 in the pro-style ranks and No. 386 overall. 
Obviously there's a lot to play out still as Martell is just beginning his career in Columbus and Clark is doing the same in Lexington. But considering the system that each team runs, it's likely that this will work out for the best for all involved parties.
---
In regards to the aforementioned Andrew Chatfield, it's reasonable to expect more of the same. The staff has already honed in on three other elite prospect, each of whom is more highly coveted than the recent Buckeye decommit. 
| Prospect | Measurables | Rating | Nat. Rank | Status/Considering |
| --- | --- | --- | --- | --- |
| MICAH PARSONS | 6-foot-3, 235 pounds | ★★★★★ | No. 5 | OSU, PSU, Georgia, Bama, FSU |
| BRENTON COX | 6-foot-5, 247 pounds | ★★★★★ | No. 19 | Ohio State Commit |
| TYREKE SMITH | 6-foot-3, 260 pounds | ★★★★ | No. 69 | Ohio State, Penn State |
| JAYSON OWEH | 6-foot-5, 236 pounds | ★★★★ | No. 177 | Ohio State, Penn State |
The best news is that the Buckeyes have one five-star in the fold and continue to be in great shape for the remaining three targets. As of today, it appears very likely that Larry Johnson will sign either three or four of the country's best defensive ends. 
Someone will eventually be getting a very good player in Andrew Chatfield. For the Buckeyes, he's probably going to go down as another one who simply came and went.
It's almost as though the Ohio State coaching staff knows exactly what they are doing.