We are now a quarter of the way through the new recruiting cycle.
Shortly after Ohio State put the finishing touches on the 2017 class, myself and Andrew Lind offered some way-too-early guesses on how the 2018 class may end up looking. Three months later and there are already a number of names in the class that neither of us had projected. 
The commitments from Brenton Cox, Max Wray, Josh Proctor, and Sevyn Banks were hardly expected – at least not back in February when we offered our initial lists. Needless to say, we were way off. 
As time passes by and prospects are added and removed from the board, it really does become a guessing game of sorts; especially with the staff's ability to make a quick and lasting impact on a prospect that, at one point, no one had even been discussing. The Wray recruitment is a prime example of this.
Following the commitment of Dallas Gant on Tuesday, we decided to give it another shot. With just over eight months until February of 2018, here are our updated predictions for what the class will look like come national signing day.
---
QUARTERBACK 

ELLIS: Emory Jones
LIND: Emory Jones
Emory Jones has been committed since July of 2016, and he's been one of the class's leading recruiters since making the pledge. There's been some chatter about other programs – most notably Alabama, Georgia, and Florida State – but there's no reason for concern at this point. 
Jones is a five-star and the No. 24 prospect in America per the 247Sports composite rankings. The Buckeyes aren't actively pursuing any other 2018 quarterbacks.
RUNNING BACK

ELLIS: Jaelen Gill and Brian Snead
LIND: Jaelen Gill, Brian Snead, Tavion Thomas
Jaelen Gill ended his recruitment back in March and – like Jones – has had on his recruiting hat ever since. The 6-foot-1, 182-pounder earned an invite to Nike's The Opening finals as he continues to bounce back nicely from the fractured fibula.
Initially thought to be a commit to keep a close eye on, Brian Snead continues to say and do all of the right things. The No. 4 tailback in America hasn't been a regular visitor in Columbus since the commitment, but he hasn't been checking out other schools either. It is still one to watch, but right now everything seems solid on the Snead front. 
Tavion Thomas has been one of the country's hottest recruits over the last several months and it's reasonable to think the Buckeyes will be the choice if they push for a commitment. The Dayton Dunbar tailback has offers from pretty much all of America's top programs.
Five-star running back Zamir White absolutely remains one to watch leading up to his June 27 announcement. The Buckeyes are still battling the perceived favorite Georgia Bulldogs for his services.
WIDE RECEIVER

ELLIS: Kamryn Babb, L'Christian Smith, Meechi Harris
LIND: Kamryn Babb, L'Christian Smith, Meechi Harris
Kamryn Babb has been the top target on the board for some time and that isn't likely to change anytime soon. He's considering a number of Midwest powers and is planning an SEC tour as well. Ohio State remains in great shape here, ahead of schools like Michigan and Notre Dame. 
Some question marks had emerged regarding the recruitment of L'Christian Smith, but after visiting with Urban Meyer last week, it sounds like things are back on track. Smith is one of the country's most talented athletes, and his crystal ball currently favors the Kentucky Wildcats. Meyer looks to have honed in on the Dayton star, which likely spells bad news for the Lexington faithful.
Meechi Harris has yet to receive a Buckeye offer, but with a fairly thin board at receiver, the Xenia product definitely has a shot to make that happen. Babb is a balanced wideout who may be able to end up anywhere, Smith is the 6-foot-6 freak athlete, but Harris could bring more of the sheer speed element to Zone Six.
TIGHT END

ELLIS: Jeremy Ruckert and Zach Sheffer 
LIND: Jeremy Ruckert and Zach Sheffer
Lindenhurst, New York's Jeremy Ruckert has been the priority tight end for this entire recruiting cycle. The Buckeyes absolutely need at least one tight end in the class, and there's nothing to suggest that Ruckert won't be the guy. The four-star is planning a summertime decision and could very well make it back to Columbus in the coming months. Michigan appears to be the primary competition.
Florida's Zach Sheffer visited Ohio State in April and has since named the Buckeyes as his leader. The country's No. 21 tight end is planning a return trip for the summer. Auburn, Tennessee, and Michigan have also offered. 
OFFENSIVE LINE

ELLIS: Max Wray, Jackson Carman, Matthew Jones, Verdis Brown, Juice Scruggs
LIND: Max Wray, Jackson Carman, Verdis Brown, Juice Scruggs, Jake Kradel
The staff needs to reload at offensive tackle after bringing in just Thayer Munford in 2017. Josh Myers was one of the nation's top prospects and arrived on campus early, but it remains to be seen whether his future will be at tackle or guard. 
Max Wray is already in the fold and things continue to look just fine for Jackson Carman, even amidst all the Clemson chatter. Another true tackle could be brought in, but right now the more likely scenario could simply be a guy like Matthew Jones who could play pretty much anywhere along the line. 
Things get a little trickier on the interior and we should know a lot more next month when Jake Kradel makes his decision. It's been mentioned before, but a camp performance could be an important part of his recruitment. The Buckeyes likely will need someone from the class to play center down the road, and Kradel is a possibility at the position.
IMG Academy's Verdis Brown doesn't do a whole lot of talking, but the Chicago native's recruitment could come down to Ohio State and Michigan. Penn State remains the primary competition for Juice Scruggs. Brown and Scruggs are also potential candidates to play center.
Cleveland's Darian Kinnard (St. Ignatius) committed to Kentucky last month, but the 6-foot-7, 336-pound tackle has been impressive on the camp circuit this spring. If he makes it to Columbus in the coming months, then this would instantly become one to keep an eye on.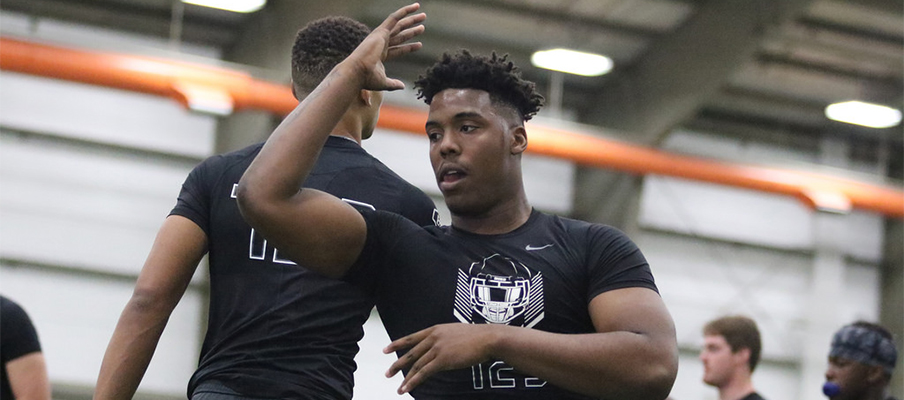 DEFENSIVE LINE

ELLIS: Taron Vincent, Brenton Cox, Micah Parsons, Tyreke Smith, Aeneas Hawkins
LIND: Taron Vincent, Brenton Cox, Micah Parsons, Tyreke Smith, Aeneas Hawkins
Tyquan Lewis, Jalyn Holmes, Michael Hill, and Tracy Sprinkle are all entering their final seasons and Sam Hubbard could be gone as well. Thus, Larry Johnson and the Buckeyes have a lot of reloading to do between now and February.
Two of the country's top prospects are already committed in five-star tackle Taron Vincent and four-star defensive end Brenton Cox, and the Buckeyes are looking at adding another three or four along the defensive line. Micah Parsons officially decommitted from Penn State last month, and while Ohio State looks like the favorite right now, there's still a long way to go for the nation's No. 3 prospect. 
Tyreke Smith and Aeneas Hawkins are both intriguing players who could end up at defensive end or tackle. Smith has been impressive this spring and has shown a very nice burst in the camp settings. Weighing in at 260 pounds already, he could be a versatile player along the line. The same goes for Hawkins who is also considering Penn State, USC, and Cincinnati.
LINEBACKER

ELLIS: Dallas Gant, Christopher Oats, Xavier Peters
LIND: Dallas Gant, Teradja Mitchell, Christopher Oats, Michael Harris
In our first projection, we touched on Luke Fickell's departure and the impact it could have on linebacker recruiting. It seems that thus far the biggest impact may have been on Dallas Gant. The four-star nearly committed last winter, but Fickell's absence caused some hesitation which has obviously since been rectified by Bill Davis and the staff.
The waiting game is still going on for Teradja Mitchell, and it may actually be a good thing coming off of last weekend's visit to Florida State. It's going to be the Buckeyes or Seminoles when he announces here in the coming weeks.
Cincinnati's Christopher Oats has been to campus countless times, but it is a bit curious that he still hasn't made a commitment. It could be the staff slowing things down a bit or he could just be exploring his options. He may project best as an OLB in a 3-4 scheme, but at this point we still expect him to find his way into the class. 
Xavier Peters has yet to receive a Buckeye offer, but the West Chester linebacker has added a number of national offers in the past few months. The Buckeyes are likely waiting to see how things go on the field and in the classroom before making their move. Peters was invited to The Opening and seems more than willing to earn the Ohio State offer.
Three-star Georgia linebacker Michael Harris was offered back in March, and he's made it pretty clear that he wants to play for the Buckeyes, his longtime favorite. Right now it looks as though the staff is waiting for some other pieces to fall into place, but Harris is looking into visiting in June.
DEFENSIVE BACK

ELLIS: Jaiden Woodbey, Josh Proctor, Anthony Cook, Tyson Campbell
LIND: Jaiden Woodbey, Josh Proctor, Sevyn Banks, Anthony Cook
What was initially expected to be a smaller defensive back class could end up with around 4-6 new signees. The departures of Joshua Norwood and Rodjay Burns may open a few spots for the unit, but a lot is going to depend on how guys like Marcus Williamson and Amir Riep develop throughout the season. 
Three commitments are already in the fold, but I'm not totally sold on the Sevyn Banks situation just yet. He's been invited to The Opening and is a very impressive athlete, but something still doesn't quite feel 100 percent right with this one. It seems like he's already recovering nicely from the ACL injury, and we'll continue to monitor things into his senior season. 
Anthony Cook and Tyson Campbell may very well be the top remaining targets in the secondary. The Buckeyes are in a great spot for the five-star, but they'll have to hold off the Longhorns, LSU, and Clemson. Cook's connection with Jeffrey Okudah and the recent NFL Draft success certainly won't hurt Ohio State's chances.
For Campbell, this one just feels like it could be a bit of an Urban Meyer special. The Hurricanes already have three corners and two safeties committed and they'll most assuredly add Al Blades Jr. to the fold before signing day. Zach Smith has done a heck of a job in Florida and already has ties to American Heritage thanks in part to the Torrance Gibson recruitment. 
Campbell was planning to make a decision this summer, but a later date now appears more likely. The 6-foot-3, 180-pounder was in Columbus last month, and this should continue to be one to keep a close eye on.