The Hurry Up is your nightly dose of updates from the Ohio State football recruiting trail, keeping tabs on the latest from commits and targets from around the country.
JOIN THE TEAM
Ohio State four-star running back commit Jaelen Gill and his father, Rod, attended the Buckeyes' practice on Thursday morning.
It's something we should expect to see regularly over the next year, so the visit isn't groundbreaking news in itself. The timing is, however, as Bradenton, Florida, IMG Academy five-star Taron Vincent is wrapping up his two-day unofficial visit as you read this.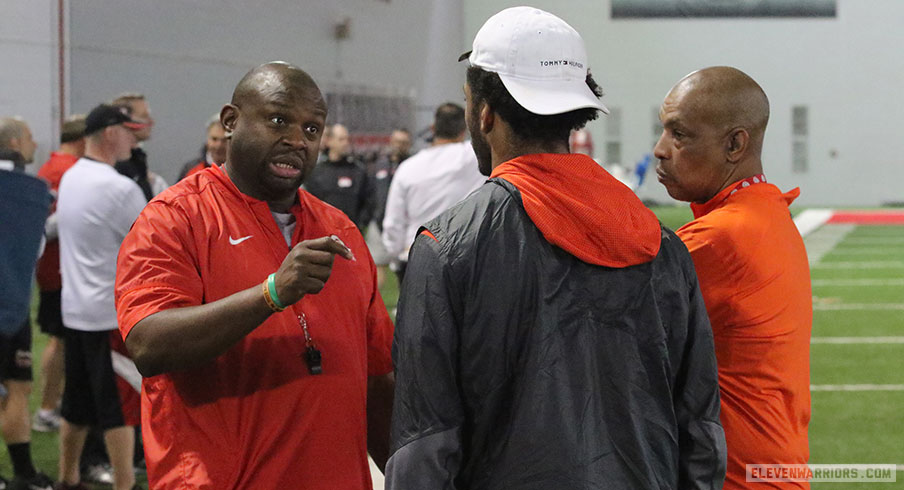 Gill and his family haven't been shy about opening their home in Westerville to help Ohio State recruit top prospects, and he'll certainly try to be on campus every time a priority target stops by.
"Since I live so close, about 20 minutes from campus, my house is always welcome to anyone if they're visiting," Gill said the day he committed. "It's just a family at Ohio State and they stress that."
It would be easy to assume five-star dual-threat quarterback Emory Jones or five-star safety Jaiden Woodbey is the leader of the class, but Gill's proximity — plus who I know he's talking to behind the scenes — makes him the unquestioned leader of Supreme '18.
ANY ROOM FOR ME?
Linebacker is among the strongest positions in the state this year, which means Ohio State certainly doesn't lack some homegrown options to fill a position of need. Toledo's Dallas Gant and Cincinnati's Christopher Oats will get all of the headlines, of course, but Dublin Coffman three-star Jeslord Boateng is an intriguing prospect.
He, like Gill, made the short trip to campus this morning, which was actually his first time at the Buckeyes' facilities.
Go Bucks pic.twitter.com/IV6d36BNwM

— Jeslord Boateng (@JeslordBoateng6) March 30, 2017
"It went well. I really enjoyed my time there," Boateng told Eleven Warriors. "I was there for the practice and toured around the whole facility.
The 6-foot-2, 200-pound Boateng is considered the 61st-best outside linebacker and No. 869 prospect overall in the Class of 2018. He holds 10 offers from programs such as Cincinnati, Indiana, Iowa State, Kentucky and Louisville, but — like almost every kid growing up in Ohio — hopes to land one from Ohio State.
"It would mean so much cause I've been a Buckeye fan my whole life," Boateng said, noting offensive coordinator Kevin Wilson first reached out to him earlier this week.
NOT SO FAST, MY FRIEND
ESPN ran an article on Wednesday detailing Michigan's increased presence in the state of Georgia, claiming the Wolverines are the Bulldogs' biggest rival on the recruiting trail. And with offers out to 28 Peach State prospects from the Class of 2018, it's easy to make that assertion.
But let's not forget about Ohio State, which extended a scholarship offer last night to Suwanee North Gwinnett three-star offensive guard Warren Ericson.
Very excited to receive an offer from Ohio State!! pic.twitter.com/Yw0PwEgNam

— Warren Ericson (@warericson54) March 29, 2017
The 6-foot-4, 290-pound Ericson is considered the 23rd-best offensive guard and No. 414 prospect overall in the Class of 2018. He holds more than 20 offers from programs such as Alabama, Florida, Georgia, LSU, Michigan, Notre Dame and Tennessee.
THAT NEW, NEW OFFER
Ohio State followed that up by offering a scholarship on Wednesday afternoon to Atlanta Hapeville Charter three-star cornerback Chris Smith II. It marks the 20th offer given out to a Peach State prospect this year.
Honored to receive an offer from THE Ohio State University #GoBucks !! pic.twitter.com/GGDwTSwwHB

— Chris Smith ll (@cpsmithdb) March 30, 2017
The 6-foot, 165-pound Smith is considered the 36th-best corner and No. 431 prospect overall in the Class of 2018, having recorded 17 tackles and five interceptions for the Hornets last season. He holds more than two dozen offers from programs such as Alabama, Auburn, Georgia, Michigan, Oregon, Tennessee, USC and Virginia Tech.
Smith has been in frequent contact with Ohio State defensive backs coach Kerry Coombs and had hoped to earn an offer from the Buckeyes while on campus.
"I think he's great. He always speaks highly of me, and I love that," Smith told Eleven Warriors. "It'll be big if I could reel that one in."
Wish granted.
PUTTING OUT FEELERS
No matter how good your staff is, it's pretty much impossible to leave no stone left unturned on the recruiting trail. On occasion, a prospect has to take it upon himself to get noticed, which is why Big Stone Gap, Virginia, Union three-star tight end James Mitchell recently reached out to Ohio State director of player personnel Mark Pantoni to gauge the Buckeyes' interest.
"I mean, that's a great school and a great, historic program," Mitchell told Eleven Warriors. "Coach Pantoni emailed back and told us they want me to come visit."
The 6-foot-4, 218-pound Mitchell is considered — interestingly enough — the 59th-best receiver and No. 349 prospect overall in the Class of 2018. He holds nearly a dozen offers from programs such as Clemson, Duke, Miami, Tennessee, Virginia and Virginia Tech.
Mitchell finished his junior season with 43 receptions for 728 yards and eight touchdowns. He also added 124 yards and two more scores on the ground.