Over the last few weeks, we've touched on every unit for the 2017 recruiting class. Every unit except for the one that is in the best shape right now and should wind up with several of the class's top-rated prospects.
Ohio State currently has 2-3 defensive backs in the fold. That number is a bit tricky to pinpoint because Brendon White could ultimately end up at linebacker and Isaiah Pryor — who was originally listed at safety — has since seen his position switched to linebacker on 247sports.com.
Regardless, two of the nation's top corners are already committed, and we are expecting 2 to 3 more to hop on board between now and February of 2017. 
---
LAMONT WADE • CLAIRTON, PA (CLAIRTON) • COMPOSITE RANKING: NO. 38

Ohio State has struggled a bit with Pittsburgh-area defensive backs, missing out on Jordan Whitehead and Damar Hamlin in back-to-back years. The good news is the recruitment of Lamont Wade appears to be shaping up a bit differently. 
Clairton is only about 15 miles from Pittsburgh, but Wade seems to be a bit more open to leaving the area than his local counterparts. The Buckeyes have been at the top of his list for a while now, and that appears to still be the case after the nation's 5th-ranked cornerback was in Columbus last month for Ohio State's first Junior Day of 2016. 
Wade doesn't have a commitment date set yet and Pittsburgh and a few others will certainly need to be watched, but the Buckeyes remain in a great spot for one of the nation's premier corners. The 5-foot-10, 185-pounder is set to check out Penn State this weekend.
JEFFREY OKUDAH • GRAND PRAIRIE, TX (SOUTH) • COMPOSITE RANKING: NO. 9

Five-star Jeffrey Okudah, the nation's top-ranked safety, surprised some people back in October when he named Ohio State as his leader. In November, the 6-foot-2, 195 pounder told Eleven Warriors that if Chris Ash were to accept a position elsewhere, it could shakeup his recruitment a bit. 
Since then, Greg Schiano has developed a relationship with the Grand Prairie star and it would appear that Ohio State remains in solid position to add another huge piece to the 2017 class in the secondary.
"I'm coming in for the spring game," Okudah said. "Then maybe again in the summer, and God-willing, for an official visit."
Okudah is planning multiple visits to Columbus over the next several months. He recently attended a Junior Day event at Oklahoma and will be in Austin this weekend to check out the Longhorns.
AMIR RIEP • CINCINNATI, OH (COLERAIN) • COMPOSITE RANKING: NO. 182

The hottest prospect in America resides in the Queen City, and Amir Riep has been adding national offers seemingly every day. Wednesday night, Jim Harbaugh and the Wolverines were the most recent school to throw their hat into the ring for the versatile defensive back. Florida, Penn State, Oklahoma and Notre Dame have all extended offers within the past 10 days.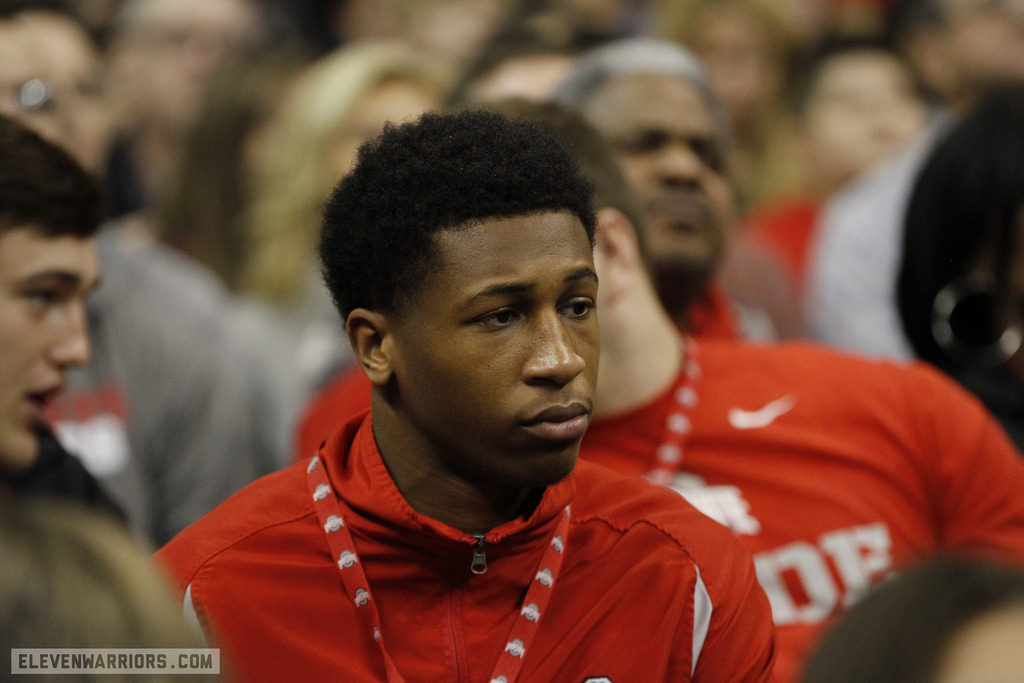 The state's top defensive back is expected to check out Penn State and Michigan State this weekend. He then will venture to Knoxville and South Bend in March. Though there isn't a return trip to Columbus set up just yet, it's difficult to imagine this one escaping the Buckeyes. Kerry Coombs was the head coach at Colerain for a number of years and has a tremendous reputation throughout Cincinnati. 
The 6-foot, 180-pounder is capable of playing anywhere in the secondary. He recently shot up the 247sports.com rankings and now finds himself as the No. 87 player in America.
DARNAY HOLMES • CALABASAS, CA (CALABASAS) • COMPOSITE RANKING: NO. 7

Holmes has been toward the top of the Buckeyes' defensive back board for a while now, but the five-star is probably going to be one of the tougher defensive back targets to land. At 5-foot-10, 190 pounds, Holmes was arguably the top performer at last July's Friday Night Lights and has been saying all the right things about Ohio State. However, Stanford and Nebraska appear to be at the top of his list for now, though he claims no favorites. 
The nation's top corner has made multiple trips to Lincoln with his close friend and teammate Keyshawn Johnson Jr. and the Stanford education looks to be a huge factor here as well. 
JAYLEN KELLY-POWELL • DETROIT, MI (CASS TECH) • COMPOSITE RANKING: NO. 251

Coombs will continue to work his flag-planting magic up north this cycle as another Cass Tech standout is high on the Buckeyes. The general thought is that Jaylen Kelly-Powell, the 6th-ranked player in Michigan, will end up in Ann Arbor or East Lansing, but the Buckeyes have landed a couple crystal ball picks.
Those same sentiments were once in place for players like Damon Webb and Mike Weber, but Kelly-Powell could be an exceptionally tough pull. The four-star safety was in Ann Arbor Wednesday for their basketball game against Northwestern. The Spartans were a little bit late to the party as they just offered a few weeks back. 
---
The defensive back recruiting board has remained fairly consistent for the last several months. The biggest changes have been Richard LeCounte committing to Georgia and the late-January offer to Amir Riep. Players like Lamont Wade and Jeffrey Okudah have been sitting atop the board for a long while now. 
Other names to potentially keep an eye on include Detroit's Ambry Thomas and Mansfield's Tyrell Ajian. Thomas has been offered by the Buckeyes but appears to be leaning toward the in-state schools. Ajian doesn't appear to be an option at the moment. Maple Heights' athlete JaVonte Richardson would be another option if the Buckeyes were to send an offer his way. 
Defensive back is one position group that may not see a lot of new offers between now and signing day. Rather, the staff is likely to focus on keeping guys like Shaun Wade while continuing to work on the top remaining targets.