The Hurry Up is your nightcap of Ohio State recruiting news, catching you up on the day's events with an ear on the ground for what's next.
---
WILLIAMS IN, WHAT'S NEXT FOR WALKER?
This morning the news that Antonio Williams, a four-star running back formerly committed to Wisconsin, had committed to Ohio State broke. Williams, according to one source, actually informed some folks last week that he would be a Buckeye, but wanted to make his visit this weekend before going public.
Naturally, the question people are asking is "what happens with Kareem Walker?" I mentioned this morning that I felt Walker would make a decision here very soon, probably within the next 24-48 hours about whether or not to officially change his "status." He's gone from "in a relationship" to "it's complicated" in the last two weeks, but is "single" coming down the pike? Walker himself isn't giving many hints.
From NewJersey.com:
Coach (Urban) Meyer and coach (Tony) Alford, the running backs coach, knew from the start I was taking all of my visits. Coach Meyer doesn't have an issue with it. He's confident these trips will confirm my wanting to attend Ohio State.
Walker is expected to make an official visit to Ohio State soon but if he decommits, don't expect that to happen. He was clearly considering his options as of this afternoon.
Decision decision decision...

— AlightyReem (@_KareemWalker) October 18, 2015
LAWRENCE VISIT GOES WELL
One of the weekend's biggest – and most important – uncommitted visitors was Monroe, Louisiana's Rashard Lawrence. The five-star defensive tackle had the Buckeyes in his top five schools as of August and despite a widespread belief he'll end at up LSU, he did make the trip to Columbus twice in the last four months.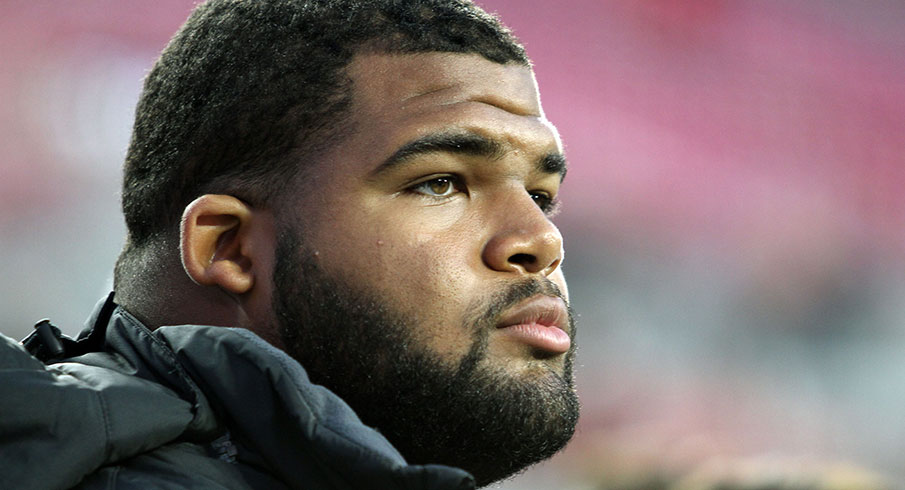 "I think he had a great time," one Ohio State commit said of Lawrence. "He likes the cold weather."
With 19 commitments in the mix for 2016 and only a few spots left, could Ohio State steal one of the south's best defensive tackles? 
VICTOR GETS FIVE-STAR TREATMENT
Outside of Lawrence, the weekend's biggest uncommitted name was probably Coconut Creek, Florida's Binjimen Victor. The 6-foot-4 wide receiver, the country's eighth-ranked player at his position, was a major focus for the Buckeyes this weekend.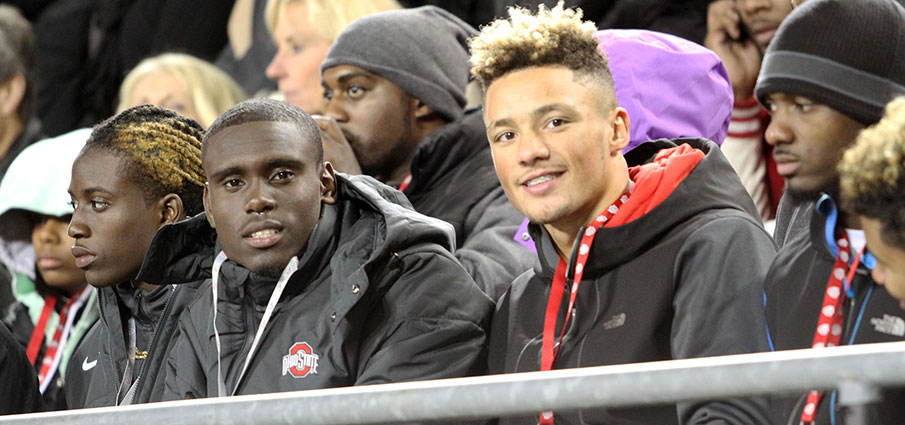 He spent time with a couple of guys – Austin Mack and Richard LeCounte – that are very familiar with Ohio State and was generally one of the guys who received the most attention from the staff.
Where do things stand with Victor? Ohio State remains confident – despite a less than stellar night in the passing game – that they're in a great spot to land the US Army All-American. After talking to a few folks, I'm not changing my crystal ball, which has been in the Buckeyes' favor since August.
JORDAN ENROLLING EARLY
Last Monday we talked about Saturday's "big announcement" from 2016 offensive line commitment Michael Jordan. We predicted what we'd hear from the four-star tackle from Canton, Michigan.
What is likely? Jordan could be announcing a decision about what All-American game he's participating in, he could potentially be announcing that he's enrolling early and yes, I suppose it's possible – albeit unlikely – that he's reopening his recruitment.
Well, two out of three ain't bad, right? On Saturday, Jordan let the secret out.
Michael Jordan announces he is enrolling early to Ohio State and will play in US Army All American Game in January.

— Evan Paputa (@EvanPaputa) October 17, 2015
Jordan joins Tuf Borland, Austin Mack, Jonathon Cooper, Antonio Williams, Malik Barrow and Tyler Gerald, all of whom will enroll at Ohio State in January. Following his announcement, Jordan and made the drive south to Columbus.
BRENDON WHITE FEATURE FROM NBC4
Ohio State's most recent 2017 commitment, Olentangy Liberty's Brendon White, made no bones about his desire to become a Buckeye. White told many folks, many times, that if Urban Meyer's team offered he'd join the Scarlet and Gray and he did that a few weeks ago, days after getting the coveted offer.
White and his father William, who played for the Buckeyes in the 1980s, sat down with Columbus' NBC4 and talked about his commitment.