Yesterday, we began an effort to rank each of Jim Tressel's Ohio State recruiting classes by presenting the 11th through 6th ranked groups considering his final batch of commitments are set to enter their true-senior seasons in Columbus this fall. 
While there is always room for debate within such a subjective exercise, the 2003 class was easy choice for the 11th slot with just six contributors and nine guys who failed to finish their careers at Ohio State. The 2007 class headlined by Cam Heyward and Dane Sanzenbacher amidst just seven total contributors ranked 10th while the 2009 class featuring a handful of top-flight leaders and players in John Simon, Zach Boren and Kenny Guiton along with mainstays in the trenches like Jack Mewhort Corey Linsley and Marcus Hall but a whopping 10 "empty" scholarships placed 9th. 
The 8th spot belonged to the 2010 class anchored by studs Carlos Hyde, Bradley Roby and Johnathan Hankins and legit contributors Christian Bryant, Philly Brown and Andrew Norwell. In the 7th slot, the 2006 crop had just one superstar in Beanie Wells but totaled 10 significant contributors including Ross Homan, Chimdi Chekwa and Kurt Coleman. 
Finally, the 6th slot discussed yesterday belonged to the 2001 haul featuring key cogs in the 2002 national championship season including Chris Gamble, Dustin Fox and Mike Nugent, among others, as it saw 10 of 15 guys make solid-to-huge contributions. 
Today, we conclude our list by ranking The Vest's top five classes.
#5 - 2004 CLASS

The 2004 haul was a large one at 25 players and was ranked just 16th by Rivals.
Ted Ginn Jr. was the crown jewel of the class and the speedster was a joy to watch but a few underrated but outstanding players dot this class, most notably Antonio Pittman, Marcus Freeman and Nader Abdallah. 
Vernon Gholston also had his moments for the 2004 group and was a fun get considering he hailed from Detroit Cass Tech. 
Despite an epic fall from grace, Todd Boeckman did have one solid year as he earned 1st-team All-B1G honors on the strength of nearly 2,400 passing yards and 25 touchdowns before Terrelle Pryor had to take his job the following season mostly because the offensive line was a disgrace and the statuesque Boeckman was a sitting duck. 
The class also produced multi-year starters in the trenches in Steve Rehring and Ben Person and at tight end in Rory Nicol. 
The class did lose six guys to transfer and one to academics highlighted by local product Erik Haw and Albert Dukes was a huge bust after coming out of the same high school as Santonio Holmes while drawing reviews that said would be even better but had all of four catches for the Buckeyes. 
#4 - 2011 CLASS

Tressel's final recruiting class at Ohio State, the 2011 crop, hasn't yet written its final chapter but is still good enough for 4th on my list and could move up once all is said and done.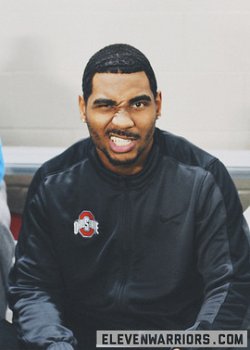 Ranked 11th by Rivals and 6th by Scout, the class of 23 was headlined by none other than Braxton Miller.
Just nine of the 23 have figured prominently to date (39%) but the book is not yet closed on guys like Cardale Jones (redshirt junior), Joel Hale, Chris Carter (redshirt junior), Chase Farris (redshirt junior) and Antonio Underwood.
Along with Miller, the class featured two other elite talents in Ryan Shazier and Michael Bennett. Shazier is already grabbing the attention of many during his first few weeks as a Pittsburgh Steeler and Bennett is one strong season away from being a 1st round pick while Miller is rewriting the OSU record books.
The 2nd tier players in this class feature the underrated Jeff Heuerman (until this year anyway), Devin Smith, Curtis Grant and Doran Grant. Smith has already had his share of big plays for the Buckeyes but a consistently productive senior campaign could be on the way and would certainly vault this class even higher up the ranks. Curtis Grant is looking to finally put it all together after coming in as a five-star linebacker while Doran Grant has a chance to be all-conference in his swan song.
Fringe contributors include Evan Spencer and redshirt junior Nick Vannett who would be starting for most teams in the league.
On the strength of the Big Three, the notion Smith and Heuerman are primed for big seasons and the redshirt juniors who still have work to do, the 2011 class checks in at 4th and trending upward. 
#3 - 2005 CLASS

The 2005 class was highly touted as Rivals slotted them 12th while Scout placed them 7th nationally. In fact, only three other classes during Tressel's tenure came in with a higher consensus national ranking.
The haul was highlighted by eventual superstars in Malcolm Jenkins and James Laurinaitis – a pair of three-stars – and considering Tressel was famous for concentrating on in-state talent, it was noteworthy that both his cornerstones were from New Jersey and Minnesota, respectively. 
Of the 18 players, a very respectable 12 went on to be legit contributors during their time in Columbus. Alex Boone, Jim Cordle, Brian Hartline and Brian Robiskie emerged as multi-year starters on offense while the the Jenkins/Laurinaitis anchored defense was also dotted with other out of state guys like Doug Worthington (NY) and Donald Washington (IN). 
The defense also featured lesser contributors yet starters in Anderson Russell and Jamario O'Neal along with the talented yet oft-injured Lawrence Wilson. 
Rob Schoenhoft was an Elite 11 quarterback but as we know, that didn't pan as he was one of just three recruits lost to injury or transfer. 
#2 - 2008 CLASS

Depending on how you view Tatgate with regard to where you the lay the blame and how much you might factor that in to evaluating a class, you could have this class ranked lower but based on talent and my own views on Tatgate, I think the two-hole makes sense. 
Ranked 4th overall by both Rivals and Scout, the class featured six players ranked a five-star by at least one of the major services highlighted by Terrelle Pryor, DeVier Posey, Mike Adams and Mike Brewster. 
Beyond those four, the class of 20 boasted no less than 13 contributors to varying degrees in Nate Williams, Jake Stoneburner, Andrew Sweat, J.B. Shugarts, Garrett Goebel, Orhian Johnson, Travis Howard, Ben Buchanan and Etienne Sabino. 
Thirteen contributors is the most of any class during the Tressel Era, by my rough count anyway, and again, whether you were a fan of some of these guys, they won some huge games including a Rose Bowl over Oregon and a Sugar Bowl to end the SEC curse. 
Also impressive, the 20-man class lost just four guys via transfer highlighted by Lamar Thomas. 
#1 - 2002 CLASS

The undisputed kings of the Jim Tressel Recruiting Class Rankings, the 2002 class was ranked 5th by Rivals and 3rd by Scout. Another large class with 25 guys in the fold, 12 went on to be selected in the NFL Draft with four going in the 1st round. 
Impressively, 17 of 25 players were significant contributors failed to meet the hype headlined by Justin Zwick, Mike D'Andrea, Mike Kudla and transfer Derek Morris.
Ohio was loaded that year and Tressel capitalized signing 20 players from our great state including Troy Smith, A.J. Hawk, Maurice Clarett, Nick Mangold,Carpenter, Quinn Pitcock, Doug Datish, Rob Sims, T.J. Downing, Tyler Everett, and Roy Hall while Santonio Holmes was the lead out-of-state dog complimented by Nate Salley (FL) and Brandon Mitchell (GA). 
Clarett grabbed the headlines right away as his practice mentality caused the veterans to sit up and take notice. His hair-on-fire approach to every snap carried over into the season, rubbing off on his teammates, and the electrifying, powerful runner emerged as the most important player on the national championship team.
Smith won the Heisman engineering some of the best offensive football ever seen at Ohio State, Hawk was good enough to have his name mentioned right alongside OSU greats like Spielman, Gradishar, Katzenmoyer, Cousineau and Marek and Santonio went on to become a Super Bowl MVP. 
Mangold emerged into an elite center before doing the same in the NFL and fellow o-linemen Sims, Datish and Downing became multi-year starters.  
That is some collective heat right there, folks.
---
So that wraps up the effort to slot these classes. Where did I go wrong on the top five?
I'm guessing the slotting of 2004 as a top five class will draw the most criticism which is fair because if I retried this effort a month from now, the order of some teams ranked 3rd through 8th could easily slide up or down a slot or two. To me, that's a testament to Tressel and his staff's ability to bring in consistently solid classes to Columbus.