It was mid-May, and Damien Harris was doing what Damien Harris does best: dominating on the football field. Sure, today it was only during his high school's spring football game, but three carries for 170-plus yards and three touchdowns is impressive in a video game, let alone against real competition on a real football field. Just another day at the office for the nation's top-ranked running back. 
What isn't widely known about that Spring Game performance is that Harris did it with an ailing elbow that required surgery three days later. That elbow surgery forced him to hold out during Nike's Football Training Camp in Columbus, Ohio on June 1st, although he did make the trip north to support his teammate, Aaron Sipple. What you may not know about Harris is that despite being the country's top-ranked running back, is that he's the type of guy to make a three-hour drive to watch a teammate compete. It's the person he is off the field as much as the player he is on it that makes him so widely recruited. 
Ohio State offered Damien Harris November 5th, 2012. If he were to become a Buckeye come February 2015, it would be as a result of nearly two-and-a-half years of recruiting, two-plus years of relationship building. It's that relationship that has given Urban Meyer and the Buckeyes another shot to land the nation's top running back after he re-opened his recruitment this past January.
"It's just the relationship I've built with the coaches (at Ohio State,)" Harris said of why the Buckeyes have maintained a spot in his top schools since last summer. "I mean, its everything about Ohio State, but I definitely have a special relationship with them."
The relationship with Ohio State is centered around Urban Meyer. Harris says that he and Meyer don't discuss much football at all during their regular conversations. 
"Every time I get on campus, we talk about life after football," the 5-foot-11, 205-pound speedster said about his relationship with the Buckeyes' head coach. "(We talk) about having something to fall back on."
Harris has also begun to develop a steady relationship with Justin Hilliard, who's been on college campuses all over the country this spring. Hilliard, the nation's top outside linebacker from Cincinnati St. Xavier High School, has a number of schools on his list that mirror Harris'.
"I've gotten to know (Justin) pretty well," Harris said of the Cincinnati star. "We're always talking about which schools we like and what we have in common as far as interests. Whenever we've met things just clicked. We'd be great friends off the field."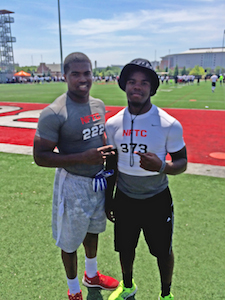 As the expression goes, Hilliard and Harris are veritable "birds of a feather." Two elite high school football prospects uniting over shared interests but also over shared struggles that come with the unexpected fame and publicity of being a top-ranked athlete in today's social media driven, 24-hour news-cycle-world. To put it bluntly, it's not something any random person can relate to. 
"Average friends don't understand what we go through on a daily basis," he said of the constant phone calls, text messages, emails, and more. "It's good to develop a friendship with someone that can understand what it's like."
Hilliard, like Harris, is currently uncommitted and is still searching for the right fit for his talents. There are many highly-touted players Harris has come to know during his recruitment who've already selected their school and they generally have one thing in common: they're working hard to convince Harris their school is the right one for him. It's something he understands well, because he was active as a recruiter when he was a verbal commitment to the University of Michigan.
"Recruiting is everywhere," Harris said laughing. "I used to do it myself when I was committed to Michigan. Commits are always talking to other players, trying to get them to come on visits and tell you how great things would be if you joined their class."
Harris admits freely that while he's not going to base his entire decision on where any one other player is going to school, the lure of playing with other great players is a big draw.
"I'd love to play on a team full of great recruits," he says. "I'd love to try and build a great class (somewhere.)"
In early July, Harris and his surgically repaired elbow will get back to work on football and in relationship-building when he heads west to Oregon for Nike's The Opening. It's an event he's been looking forward to.
"I'll definitely be ready for The Opening," Harris said, referencing his elbow. "I'm getting a lot of my range of motion back and I'm back running. I'm lifting a little bit and catching the football. I love the competition (of these camps) and I love competing with the best players in the country. I definitely love both those aspects and the swag of the camp and the experience that comes with it."
Competition is everywhere, and Harris knows that when he gets to college, he's going to be competing for playing time no matter what.  He contends that whether or not his recruiting class has another running back in it doesn't matter...that much.
"It does (matter) and it doesn't," he said when asked if another running back commitment will put any schools behind the pack. "I don't mind coming and trying to compete for my spot, but I'd still like to be the only back in my class. I mean, if I have to go in and win a spot, I will have no problem with that whatsoever."
Harris announced his top eight schools via Twitter just about a week ago, but he's already looking to narrow down his list a bit more. While he doesn't have any specific plans for the summer visit-wise, he does know when he wants to cut things down. After that, a decision is liable to come at any time.
"I will cut my list to five after the summer," the Madison South High School star said. "I haven't planned out many visits yet, and I don't know if I will make it Ohio State for Friday Night Lights or not, but I'm going to try and visit on June 17th. I'm not sure (when I'll decide), I just know it will be after the season for sure."