About six weeks ago we introduced you to Noah Listermann, one of the rising offensive linemen in Ohio. We told you about how he's only been playing football for two years, his high ceiling and the Buckeyes interest in him. At the time he held offers from Illinois, Indiana, Kentucky and Cincinnati. He has since picked up offers from Louisville and Georgia Tech, in addition to visiting Notre Dame, Louisville and Illinois.
Despite the recent wave of new offers and visits, Noah told 11W that Illinois and Indiana are still standing out the most of those who have offered him. Still, could Louisville be in the mix for Ohio's fifth-ranked offensive tackle?
"Louisville was great... I wish I had seen the campus more though. They practice with such intensity, I'm pretty sure they didn't stop moving the entire time. [Louisville offensive line] coach Klenakis is a very intense coach too, he made sure his men knew what was up."
Visiting Notre Dame though was quite an experience for Listermann. "The campus of Notre Dame was something I'll probably never forget. All of the coaches there are great people, they treat you like family. The whole time I was there I really enjoyed myself."
Ohio State remains quite interested in Listermann and would like him to camp in Columbus again. Coach Coombs sees Listermann as "a project," but at 6-foot-8, 280 pounds and the athleticism to ride a skateboard, imagine what Marotti and Warinner could do with a guy like Listermann.
An Ohio State scholarship offer would mean a lot to Noah, who says he's "always really liked it in Columbus." He's certainly on the staff's radar, and with a strong showing at camp he could earn one.
Listermann is visiting Ohio State today, which is something he's looking forward to. "I saw both of them play last season and they were both amazing," he said of Ohio State and Michigan State, who he is visiting next week. Listermann visited Ohio State twice last fall, taking in the San Diego State and Wisconsin games.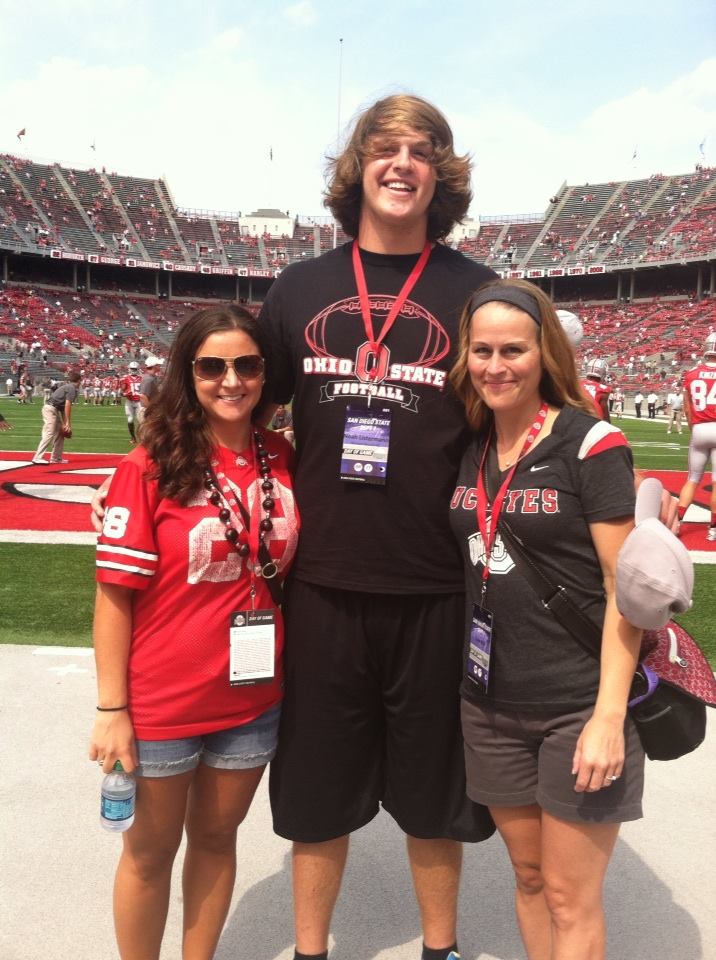 Noah is really looking forward to watching the Buckeyes practice today. "I want to see how the new offensive line is at Ohio State too, because [four of the five] starting linemen were seniors, it'll be neat to see the current players take on the role," he said.
Next week he'll be visiting Michigan State, which excites him as well. Noah said "I've never had a chance to talk to Michigan State's offensive line coach, so I'm looking forward to hopefully getting a chance to have a conversation with him." Michigan State could be close to offering Listermann, as he has been in regular communication with other members of their staff.
"I generally talk to [Michigan State defensive backs] coach Barnett. He's from Cincinnati and I'm pretty sure he recruits my area," Listermann said of the coach who he's talking with the most.
Where things stand right now, while Indiana and Illinois are on the top among the schools that have offered. Noah is taking things slow, keeping his options open and going through the whole process.
"I'm hoping to go see schools that have offered me in the next few weeks and months," he said, and he previously told 11W that he won't be making a final decision until early next year.
One thing is for sure, the list of schools chasing after Listermann is only going to get longer. Like the title of his highlight video says, he's "just getting started," which is pretty amazing when you think about where he already is.