INDIANAPOLIS – Upsets happen. This wasn't the first time a No. 15 seed beat a No. 2 seed. Michigan State experienced it five years ago. Georgetown has had it happen. So, too, have Missouri, Duke, Iowa State, South Carolina, Arizona and Syracuse.
Oftentimes, though, those results transpire when the lower-seeded team puts together one heck of a performance that the heavy favorite simply cannot match. That doesn't much describe Ohio State's 75-72 overtime loss to Oral Roberts.
The Buckeyes had their chances. The Golden Eagles didn't run away with this one at all. After all, Oral Roberts shot 35.7 percent from the floor, 31.4 percent from 3 and got out-rebounded by 17. That's not typically what a box score of a low-seeded team pulling a first-round upset looks like. But it does in this case.
Here are 10 of the main reasons that explain how Ohio State's 2021 NCAA tournament run ended in a single game.
Free-Throw Shooting
The numbers tell most of the story: Ohio State went 9-for-18 from the free-throw line. Compare that to Oral Roberts going 14-for-18 – including 8-for-8 in the second half – and the disparity between the two teams is quite obvious.
Washington went 1-for-3 from the foul line in overtime, missing a pair that could have turned a three-point deficit into a one-point deficit with 1:09 left. E.J. Liddell missing the front end of a one-and-one with 35 seconds left in regulation when leading by two likely won't leave his mind anytime soon.
What makes the foul shooting issues more painful? It wasn't an issue all season. Even after the 9-for-18 performance, the Buckeyes are ranked 44th in the country with a free-throw percentage of 75.6. For whatever reason, they just couldn't connect enough on Friday.
Late-Game Offense
This shouldn't have shocked anyone. The same flaw that was an issue for the past several weeks materialized once more on Friday. This time, Ohio State couldn't overcome it.
The Buckeyes went scoreless in the last two and a half minutes of regulation and made a single shot from the field in the last four and a half minutes of the second half. To put it in other words: They had control of the game, had a chance to put Oral Robert away and failed to do so.
The last four possessions were as follows: A turnover by Washington, a turnover by Liddell, a missed layup by Washington that Liddell rebounded then got fouled but missed the free throw, a missed step-back jumper by Washington.
"That was a critical stretch," Holtmann said.
And it wasn't good enough.
Turnovers Piled Up
Only once all season – during a late-January win against Penn State – did Ohio State end a game with a worse turnover rate than the one it had on Friday. The Buckeyes uncharacteristically coughed it up 16 times at a rate of 20.6 percent of their possessions. 
Liddell had a game-high five turnovers, and Washington, CJ Walker and Musa Jallow each accounted for three. Zed Key turned it over twice, too.
"I thought we had a few careless ones, but I give them credit for their activity too," Holtmann said. "I thought we had a few careless ones in the first half, and they dug down and got a few offensive rebounds and a few turnovers off of some post-ups."
For comparative purposes, Oral Roberts turned it over six times in 45 minutes.
Defensive Plan For The Big Two
The lack of in-season improvement on the defensive end – especially in ball-screen situations – continued to haunt this team until the very end.
The Golden Eagles didn't put on a show by any means, failing to crack 35 percent shooting or 31 percent 3-point shooting. But their two-man game with Max Abmas (29 points) and Kevin Obanor (30 points) accounting for 59 of 75 points was enough for the victory. Considering nobody else had more than six points and the rest of the team shot a combined 6-of-25, the Buckeyes essentially got beat on one end of the court by two players.
"Obviously we gave them too many clean looks throughout the game – both guys – so that's ultimately my fault," Holtmann said. "They just had too many clean looks."
Abmas and Obanor accounted for 23 of Oral Roberts' final 24 points.
Scoring Droughts
The metrics say Ohio State has the fourth-best offense in college basketball. The numbers have been friendly to this bunch all season.
But especially late in the season, the seemingly random periods of time where the Buckeyes' offense went flat continually hurt this team. Those moments once again did them in on Friday.
They scored two points during a five-and-a-half-minute stretch in the mid-to-late first half.
They made one shot from the field between Key's bucket with 10:54 left in the first half and Justice Sueing's dunk with 2:29 to go.
They made one shot from the field between Justin Ahrens' 3-pointer with 16:28 left in the second half and CJ Walker's layup with 10:05 to go.
They began the game with nearly two scoreless minutes and ended it with two and a half scoreless minutes.
They made one shot from the field in the first 3:51 of overtime.
Yes, as Washington often says, basketball's a game of runs. But too often this season, Ohio State became reliant on runs. It was a team of runs – both good and bad.
Out-Hustled
Holtmann said in the aftermath of the loss that he felt both the vibe and the preparation of his team was "really good." He thought his guys were "as ready as they've been all season." But Walker vocalized a belief that Ohio State "kind of took it for granted thinking we could just come in here and win a game" after coming so close to a Big Ten tournament championship the week prior.
And it showed in the Buckeyes' play.
"I thought they were quicker to loose balls," Holtmann said.
Duane Washington Jr.'s Inefficiency
Liddell wasn't perfect, of course. He missed the aforementioned free throw in the final minute of regulation. But for the most part, he provided Ohio State with the production it wanted: 23 points on 10-of-15 shooting, 14 rebounds and five assists. The same cannot be said of Washington.
The third-year guard entered the postseason as arguably the most important player on this team given how often he has the ball in his hands with important decisions to make, and he recorded 18 points on 7-of-21 shooting, including going 3-of-12 from 3 and 1-of-3 from the foul line. 
He turned it over in the last two minutes of regulation and missed two free throws in the last minute of overtime. At the end of the second half, he had a chance to win it and missed a step-back jumper. At the end of overtime, he had a chance to tie it up and force double-overtime and missed a 3-pointer.
Those moments will now sit with him throughout the upcoming offseason.
"Maybe there's some different things I could've done better to kind of relax him because I thought he played uncharacteristically, maybe a little too wound up," Holtmann said. "I just thought he had some clean looks that he missed, and then he had a couple poor decisions. Duane's a guy that's been such a terrific player for us all year. He'll use this as a learning experience."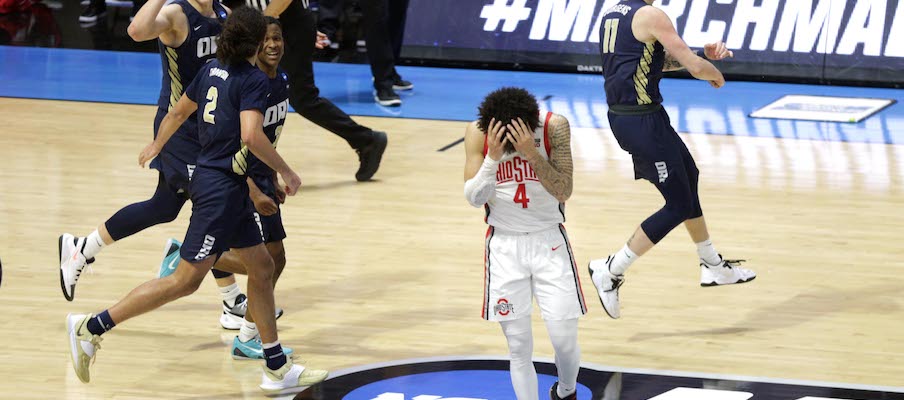 ORU wasn't "guarding some guys"
Here's part of Holtmann's answer about why Ohio State's offense couldn't stay into a rhythm as the game progressed: "They weren't guarding some guys and we had some careless turnovers. I think the biggest thing is they were not guarding a couple of our guys and really crowding things and making driving lanes and post-ups difficult."
In a high-major vs. low-major matchup, the high-major team doesn't typically have the issue of inserting players who aren't much of a factor on one end of the court. But Ohio State did on Friday. 
Jallow, who ended the season with a 50.8/5.6/56.5 shooting split, continued to not do much offensively. Even with Oral Roberts mostly leaving him alone on that end of the court, he had three points, three assists, three rebounds, three fouls and three turnovers in 32 minutes. Zed Key had four points in six minutes with a pair of turnovers. To Ohio State's coaches' estimation, it wasn't worth having him stay in the game considering his issues defending a Golden Eagles team that doesn't utilize a true post threat. Justin Ahrens (5 points) and Seth Towns (0 points) were largely in the game for offensive purposes but combined for five points in 33 minutes.
Poor 3-Point Shooting
For the season, Ohio State was a perfectly fine 3-point shooting team, hitting 36 percent of their attempts from deep. As of Saturday, that ranked 68th-best in college hoops.
Friday's performance was quite obviously subpar. The Buckeyes made only 5-of-23 triples for their second-worst single-game 3-point percentage of the season. They made three of their first four, then proceeded to go 2-of-19 the rest of the game. Incredibly, they went through separate stretches of 19 and 20 minutes without a single made 3. 
Duane Washington Jr: 3-of-12 
Justin Ahrens: 1-of-4 
E.J. Liddell: 1-of-3 
Justice Sueing: 0-of-2 
CJ Walker: 0-of-1 
Seth Towns: 0-of-1
No Kyle Young
Nobody will ever know whether Kyle Young's presence could have swung the game in Ohio State's favor. Of course, a No. 2 seed shouldn't drop a game to a No. 15 seed even if somebody like Young can't play – hence the 16-point betting line.
But one imagines he would have provided some of the energy this group lacked, defensive versatility it missed and complementary scoring it didn't get enough of. He sat out with a concussion.
"This team misses Kyle more than any team that I've been a part of, and it certainly missed his versatility today at the five because of how they play," Holtmann said. "We knew that coming in and we knew there were going to be some matchup challenges with how they play. But there's a reason why Kyle didn't play today. He wasn't ready to play. He wanted to play but he wasn't ready or cleared to play."