Even before the 2020-21 season tipped off, Ohio State dealt with a health-related issue. Abel Porter, a graduate transfer from Utah State, was diagnosed with hypertrophic cardiomyopathy – a rare heart condition – that ended his basketball career before ever playing a minute for the Buckeyes. He remains listed on the official roster and has been on the bench for several games, but unfortunately for him, that's as close as he'll get to taking the court.
As it turns out, Porter's situation was the first of many health-related matters the Buckeyes would have to deal with this season. On an unusually constant basis, head coach Chris Holtmann has had to offer injury updates for a multitude of players who have dealt with both nagging problems and new complications that pop up.
"This has been a year of certainly some injuries, more so than probably any year we've had together," Holtmann said on his 97.1 radio show Monday.
Musa Jallow, a fourth-year junior wing, is the latest player to miss a game unexpectedly. 
He sat out Sunday's game against Michigan due to an ankle injury he evidently suffered a few days beforehand during the win at Penn State. Jallow played through pain, finishing the game with nine points in 23 minutes – the most he had played in nearly two months – with his head coach saying he "did what we kind of hoped he would do in that game" by remaining active, rebounding and showcasing defensive versatility.
Afterward, Jallow's ankle "ballooned" as he dealt with "a significant amount of swelling." Holtmann thought he could help against a Michigan team with skill on the wing, but he was deemed unavailable. For Jallow, who sat out the 2019-20 season due to multiple ankle surgeries, this isn't particularly a new situation. Still, it's not one that's expected to sideline him for a long-term period.
Holtmann wants to get him back for Thursday's game at Michigan State, though he is unsure whether that will happen.
"I'm hopeful, obviously, I'm hopeful," Holtmann said on Monday. "But at this point, it's very much day to day."
Ahead of the Michigan game, Holtmann pointed to two others – Kyle Young and Seth Towns – who needed to heal, saying "got to get our guys right physically." He called them both "banged up" on Friday. Young continues to deal with lower-leg soreness that has plagued him throughout his Ohio State career and appears far from subsiding. Towns, who returned to play a couple months ago after missing more than 1,000 days between college basketball games due to a knee injury, continues to work his way back to full strength while fluctuating daily in how he feels.
Both were in the action Sunday, with Young managing five points and four boards in 33 minutes and Towns – notably without a knee brace – playing seven minutes off the bench.
There was "a little bit of concern" from the coaches that Young, a senior starting forward, might end up having to miss the game versus the Wolverines after Holtmann nearly needed to pull him from the Penn State game three days earlier due to lower-leg pain. Yet, he remained active on Sunday and should start once more in a couple of days – provided he doesn't have more unexpected issues.
"He's got to get some rest here between now and Thursday," Holtmann said after the game.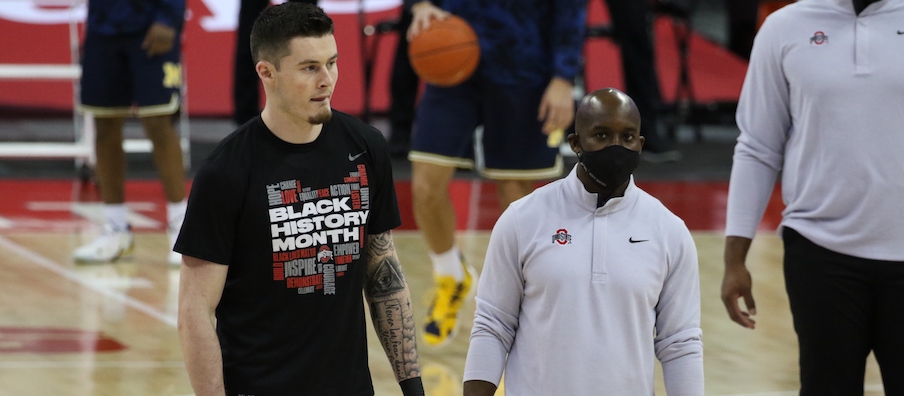 Young, along with his teammates, had time to recover on Monday. The Buckeyes didn't practice, taking an off day.
CJ Walker has spent the past month playing through pain, too. Every game, he has had three fingers on his right hand taped together due to torn ligaments that caused him to sit out four games in early January. Holtmann has said he doesn't expect the senior point guard to get completely healthy until he takes five to six weeks off in the offseason. So, Walker will remain active as he figures out how best to produce while his hand isn't healed.
The hope of Holtmann, of course, is to avoid the list of unavailable Buckeyes from getting longer than it is at this point. As of now, they have two players – guard Jimmy Sotos and center Ibrahima Diallo – out while dealing with injuries that require long-term recoveries.
Sotos will miss approximately six months after having surgery to repair a separated shoulder. He underwent the operation nearly three weeks ago. Diallo is still coming back from what Holtmann said was a sprained MCL. He has worked out before games on the court recently, including on Sunday, while wearing a brace. When he might return to game action is unclear, though.
Regardless of what happens on the injury front – which, while an obstacle, hasn't prevented this team from achieving an 18-5 record and No. 4 ranking – Ohio State's regular season will come to a close in less than two weeks. 
Just three games separate the Buckeyes from the postseason. Next up, Michigan State on Thursday.
"Obviously we need every healthy body here down the stretch," Holtmann said.