For nearly nearly the entirety of the second half, Ohio State held the lead.
That, evidently, wasn't enough.
| Team | 1 | 2 | FINAL |
| --- | --- | --- | --- |
| NORTHWESTERN | 34 | 37 | 71 |
| #23 OHIO STATE | 34 | 36 | 70 |
With five seconds remaining and a one-point deficit, Ohio State went to Duane Washington Jr. who missed an out-of-timeout layup and E.J. Liddell got stripped, leading to free throws that eventually gave Northwestern a 71-70 victory.
The Buckeyes dropped to 7-2 on the season and 1-2 in the Big Ten, while the Wildcats jumped to 6-1 overall and 3-0 in the conference.
Chase Audige drilled a 3-pointer to put Northwestern ahead by one point with 1:48 remaining, followed by a timeout and Kyle Young hitting a jump hook to put the Buckeyes back on top. But Boo Buie came right back down the floor to drain another triple, giving the Wildcats a 71-68 lead with 1:04 left. Young's pair of free throws with 47 seconds remaining put the Buckeyes behind by just one point. They couldn't finish off the game for a win, however, despite leading for more than 18 minutes of the second half.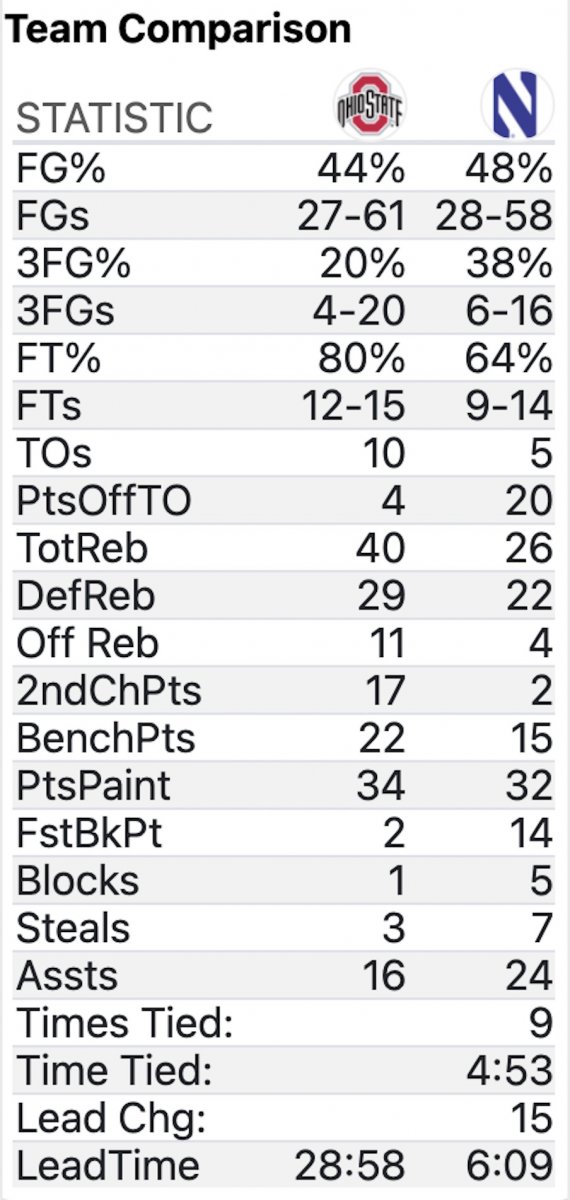 Miller Kopp led Northwestern with 23 points. His team shot 48.3 percent from the field and went 6-for-16 from 3-point range.
In the loss, E.J. Liddell scored 15 points and Kyle Young added 14 points, also grabbing eight boards.
For the second game in a row, the Buckeyes did plenty of work on the offensive glass. Four different players grabbed at least two offensive boards, with the team collecting 11 of them. They held a 40-24 edge in the rebounding department. That wasn't enough for the victory, though.
Neither team managed to get much of an edge early.
Off of makes from Kyle Young, E.J. Liddell, Justice Sueing and CJ Walker, Ohio State pulled out to an 8-0 run – which included a disappointed Chris Collins calling a timeout after the first three buckets – but couldn't keep it going. After trading baskets, the Wildcats went on an 11-0 run to tie it up at 14 points apiece. Kopp scored 12 of his team's first 14 points.
For the rest of the half, neither team scored more than six unanswered points, going back and forth. A healthy version of Seth Towns gave the Buckeyes a boost, scoring 11 of his team's 19 end-of-half points. Uncharacteristically loose with the ball for a team that entered the day ranked top-10 nationally in turnover rate, Ohio State gave it up eight times in the first half, leading to 16 points off of turnovers.
By the end of the opening half, which ended with a Musa Jallow and-one jumper and Walker committing an inexplicable foul at half-court, the teams were knotted at 34 points apiece, setting up an entertaining latter 20 minutes.
Next up: Ohio State returns to Columbus to play host to Nebraska on Wednesday at the Schottenstein Center. The game will tip off at 6:30 p.m. and will be shown on Big Ten Network.
Other Notes
Chris Holtmann stuck with his typical starting five of CJ Walker, Duane Washington Jr., Justice Sueing, Kyle Young and E.J. Liddell. Musa Jallow and Zed Key were the first two substitutions into the game at the under-16 timeout in the first half.
Though they both traveled with the team, Meechie Johnson and Ibrahima Diallo were the only two Buckeyes not to play on Saturday. Johnson's debut as a Buckeye is yet to be determined after enrolling at Ohio State in mid-December, and Diallo was recently dealing with a concussion.
This was the first of two matchups with Northwestern this season. They'll face each other at the Schottenstein Center on Jan. 13 four days after the Ohio State-Rutgers rematch.
Entering Saturday, the Buckeyes were 3-1 versus Northwestern in the Holtmann era.