Only three days separated Andrew Dakich from his player-coach debut in The Basketball Tournament as he listened to his three de facto advance scouts explain on a Wednesday conference call what they had learned about Big X's first-round opponent, the Jackson TN UnderDawgs.
Three days to figure out how to avoid an opening upset.
Less than a week prior, Dakich had called a trio of Ohio State basketball student managers – Kevin Marklay, Devan Morrow and Tyler Hicks – to see if they'd be interested in helping him out. They aid Dakich throughout the Buckeyes' season, and now he needed them again for TBT.
Dakich, a program assistant on Chris Holtmann's staff, was already slated to be both the general manager of Big X and a guard on the team when the coach had to back out shortly before the tournament began. In response, Dakich took over as the coach in what Marklay described as "this sort of Jackie Moon role," referencing Will Ferrell's movie "Semi-Pro."
"He's just got too much going on, so he reaches out to the three of us this past weekend just looking for help, looking to scout these other teams," Marklay said.
It was an easy decision for each of the Ohio State students who happen to be aspiring coaches. 
Yes, yes and yes.
They had each cut film for Ohio State's coaching staff before. They have seen the behind-the-scenes workings of the basketball program, helping out Dakich, fellow program assistant Robbie Rucki and video coordinator Kyle Davis on the back end of the scouting operation. This, though, represented the next step for each of them.
Rather than watching the film, chopping it up, then passing it along for others to analyze, they were the ones offering feedback on what they had seen.
"It's really cool to be able to give some sort of input, and not that we deserve any input in Ohio State," Marklay said. "But it's really cool to have your voice heard kind of in that circle of somebody who's going to make a decision on it. It's new for all of us."
As the Wednesday conference call with Dakich progressed, the managers-turned-scouts felt good about what they had done. Hicks and Morrow had taken the lead on scouting the UnderDawgs, with Marklay focusing on the Red Scare, the Dayton alumni team that Big X would face if it reaches the second round.
Suddenly, in the midst of their conversation, Dakich interrupted them. 
"Oh crap, fellas," Morrow remembers Dakich saying.
He had just received a text message with some breaking news. Unexpectedly, the UnderDawgs had dropped out due to a player testing positive for COVID-19, which under TBT regulations forces the team to be removed from the competition. 
Dakich quickly hopped off of the call. About 10-15 minutes later, the student managers learned of Big X's next opponent – D2, a team filled with former Division-II players – and got to work.
"It was a little soul-crushing, I'm not going to lie," Hicks said. "But we bounced back and adapted, and I think you've got to be willing to do that in this situation where teams might drop out."
Shortly before noon on Thursday, they wrapped up scouting D2 and began looking ahead at Big X's potential future opponents.
---
Had Holtmann never left Butler, Hicks almost certainly wouldn't be in Columbus right now.
The Indianapolis native grew up watching Brad Stevens, looking up to the former Bulldogs coach. His family had season tickets, his grandfather was a long-time professor at the university and he was a diehard Butler fan. Throughout school, Hicks always saw himself ending up at Butler, one way or another.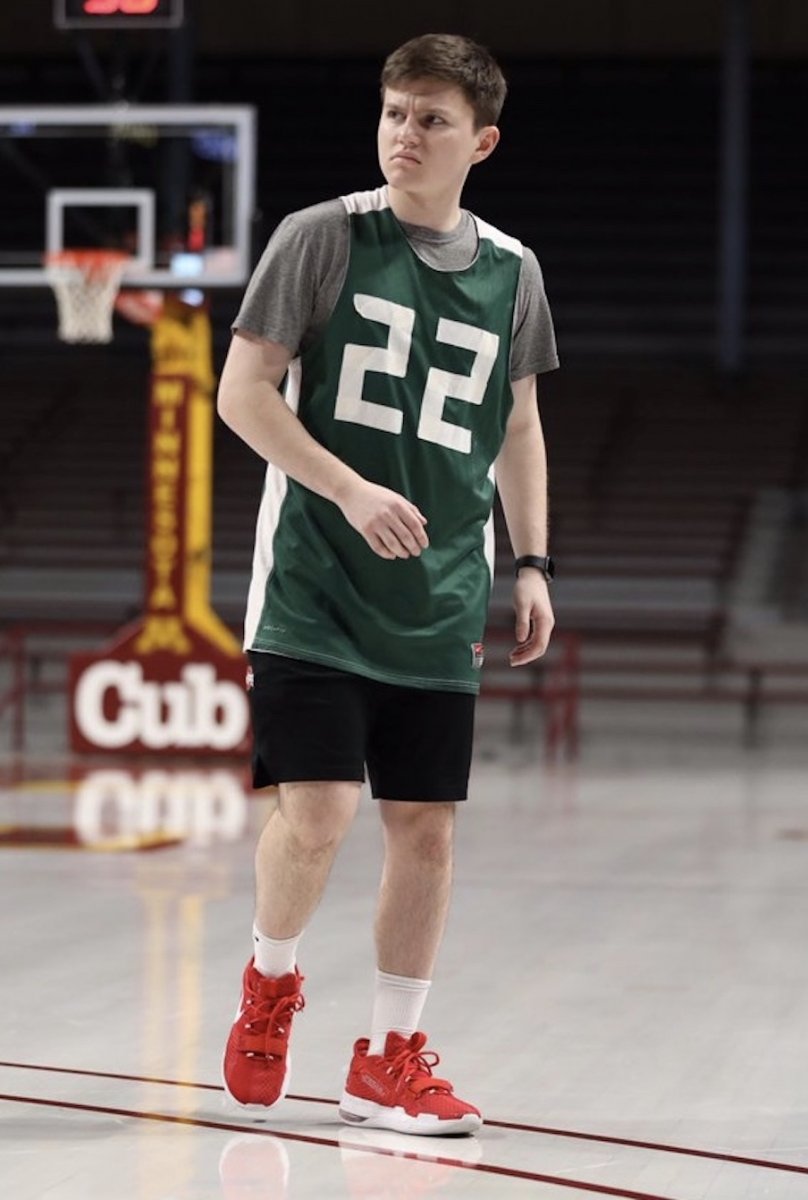 In high school, he even ran a Twitter account dedicated to the basketball team and Butler's recruiting, which caught the interest of assistant coaches Ryan Pedon and Mike Schrage – who has since become Elon's head coach – about 4-5 years ago. Hicks built a relationship with them, and as he began to go through the college-selection process, they followed Holtmann to Ohio State.
"I think when they left, it opened my eyes and made me kind of step back and reevaluate all my options," Hicks said.
Pedon and Schrage, with whom he had built a steady relationship, told him that if he ended up at Ohio State, he could be a student manager. After a campus visit, Hicks took them up on their offer.
He's two years into his time at Ohio State, with two years remaining. Eventually, he hopes to parlay his experience into a job in the sports industry, whether in college basketball operations, coaching or working in an athletic department.
Marklay has a similar goal of ending up in the coaching world, though he initially didn't really know how to achieve it after graduating from Moeller High School in Cincinnati.
"I didn't know really how to get involved in it until I became a manager because my playing career was over," Marklay said.
As a sophomore at Ohio State last year, he became a student manager, which sent him on his current career path. He also started scouting upcoming opponents for Moeller during the 2019-20 season.
Like Hicks, Morrow doesn't quite have the scouting experience of Marklay. However, he's known for a while that he's wanted to wedge his way into the coaching industry, ever since he became a student manager in 2018.
The prior year, he had interviewed to become a manager and was turned down. So, he spent a summer working with renowned local basketball trainer Drew Slone, helping him get the position at Ohio State as a sophomore. He's now been with the Buckeyes for two years.
"Honestly, I wasn't 100 percent confident this was what I wanted to do until I became a manager," Morrow said. "Just seeing the way our coaches are able to interact with players, and they care for them and they're mentors in their lives. I just think that's the coolest thing that they can look at them as sort of a father-figure type of thing."
Neither Morrow nor his fellow managers have that type of role with Big X. Regardless of how far Dakich's team advances, none of them will be allowed to see any of the games in person, even though they're all being played at Nationwide Arena in Columbus.
Instead, they're helping from afar.
"This is definitely one of the next steps," Morrow said. "(Dakich's) basketball knowledge is higher than ours. He's used to talking to Holtmann and Pedon, so it's cool that he respects our knowledge enough to take that, because his main focus right now has been focusing on our team, and he hasn't had, especially with the turnaround with the team changing, he hasn't had a chance to look at this squad yet. He's constantly texting, asking us. It's an awesome learning experience."
---
The rarity of the opportunity presented to Hicks, Marklay and Morrow by Dakich isn't lost on any of them. 
"It's the first basketball game back on America on national TV, and we get to have a little small part of it," Hicks said. "I think we're all really excited."
The small part, however, hasn't been particularly simple.
Unlike when Ohio State scouts opponents, the trio of managers had to figure out what they could learn about a nine-man roster of players who don't play on the same professional team. Rather, they're scattered throughout the world. 
For Hicks, he dialed up games played in various continents, tapping into at least one game in Japan.
"They had like 10,000 fans there," Hicks said. "It was one of the best crowds for basketball that I think I've ever seen. These little plays that we probably don't appreciate, they would go absolutely wild on. I was kind of just cracking up to myself watching how wild I was."
Morrow caught the other end of the spectrum, checking in on D2 shooting guard Mike Davis Jr.
"I watched a game with maybe 10-12 people in the stands from the country of Georgia," Morrow said. "This guy, he's awesome. He's very talented. But it was like a grade-school gymnasium with like 12 people and this guy's going off for like 30 points."
As it turns out, Morrow said, the transition from scouting the UnderDawgs to D2 was easier than he anticipated. Some of the Tennessee-based team's players were further removed from college, making film more difficult to find. Most of the D2 players are younger and thus have more footage readily available online, Morrow said.
Most of them, Hicks said, have 5-10-minute highlight videos on YouTube that are "really revealing on what they like to do."
"It's almost kind of like this ball you have to unravel of the layers of how this guy plays, how this guy plays and see if you can piece together what they might do," Marklay said.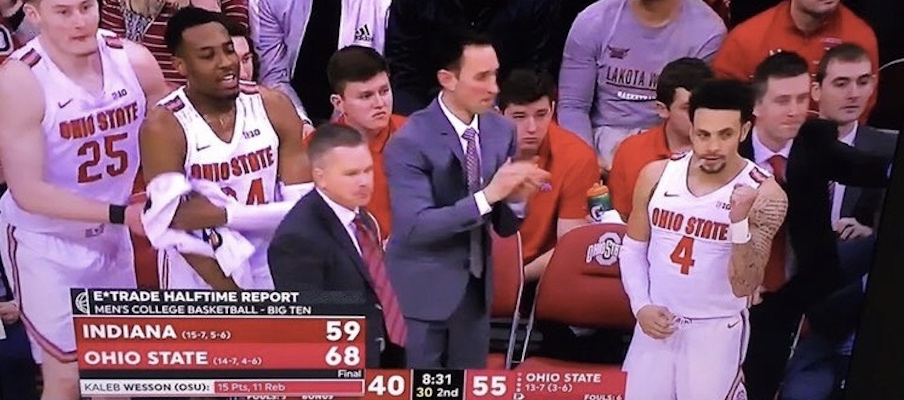 Together, the trio piled information about each player into a Google document. Their goal? To create easy-to-consume personnel sheets for Big X to know what to expect from each opposing player.
That was when Hicks' time with Davis and Ohio State's assistant coaches became an important factor. 
He has spent countless hours working with Davis – whom he called a technology "maestro" – on the template the Buckeyes use for their opposition scouting. Since he had been tasked with doing some of the back-end formatting and filling in roster information during for Ohio State, he felt comfortable taking the design lead for Big X.
Using the information they collected, Hicks created color-coded boxes for each D2 player with their name, alma mater, height, weight and position. He classified their willingness to take jump shots, and he included five bullet points about the player's traits and five more regarding what Big X needs to try to do to stop them. He took a look back at Ohio State personnel sheets Schrage and assistant coach Jake Diebler had filled out the past two years to use the simplest terms possible.
For the sake of brevity, Hicks added a one-line description of each player at the top, understanding that most players won't memorize the scouting report and will play instinctually.
"It's a challenge. It's exciting," Hicks said. "It's kind of cool to see this is what our coaches do for the season. You can watch people do it. That's a cool experience. But to actually be a part of it and to be doing it yourself, it was definitely a little bit of pressure, but I think we're all really excited to see the games actually being played and see if what we've put together is actually going to work."
Hicks plans to have the filled-out personnel sheet open on his laptop during Saturday's game, and he's surely not alone.
"I think after doing a couple weeks of this, maybe I'll be able to become more involved with our scouts at Ohio State, or if I'm applying for a grad assistant job eventually, I can point to this and say I've done scouts," Hicks said. "These guys are professional basketball players. A lot of them are playing at a really high level, even if that's overseas, or they played at an extremely high level in college. This week, they're looking at our stuff and basing their game plans off of that."
Then he chuckled.
"Our fingers are crossed it produces good results and we can point to a TBT championship," Hicks said. "I think that'd look a little bit better."