Around 8:30 a.m. last Wednesday, the NCAA took the next step toward allowing college athletes to profit off of their name, image and likeness by announcing recommendations from the Board of Governors.
By the time the day ended, numerous Ohio State football staffers had taken to social media to showcase what both the university and the city of Columbus have to offer. Director of player personnel Mark Pantoni, wide receivers coach Brian Hartline, linebackers coach Al Washington, assistant director of player personnel Weston Zernechel, quality control coach Keenan Bailey and graduate assistant Billy Fessler were among those leading the charge.
"I saw that too and applaud those guys for doing that," Ohio State basketball coach Chris Holtmann said on the latest edition of Real Pod Wednesdays.
Neither Holtmann nor anybody on his staff pushed a similar narrative on their social channels.
But off of social media, he says, they had already been at work. Since Ohio State president Michael Drake and athletic director Gene Smith have been heavily involved in the process of allowing college athletes to make money off of their name, image and likeness, Ohio State's basketball coaches had an idea of what was coming. Acting proactively before the NCAA made its announcement, Holtmann said, they had already spoken to recruits and families about what the recommended reformation could look like.
"We have had conversations about the benefit of being in Columbus, the benefit of being at a place like Ohio State as it relates to name, image and likeness, with our recruits," Holtmann said. "We've tried to be proactive about it because we know that this is going to happen, so we behind the scenes – and that's typically how we do a lot of things – behind the scenes we've begun to look at presentations that we're going to put together for recruits."
Just how much the anticipated changes will revamp the landscape of college sports can be debated, but they undoubtedly will alter how programs operate. A finalized version is expected to be implemented when the NCAA membership votes at its convention in January, allowing the adjustments to go into effect in time for the 2021-22 academic year.
Certain specifics, however, remain unclear and won't be set until later this year at the earliest. 
The degree to which agents can be involved, whether or not boosters can hire college athletes to promote their companies and the decision of if to allow shoe and apparel brands – including Nike, Adidas, Reebok and Under Armour – to get involved are among the topics that don't yet have finalized answers. NCAA president Mark Emmert and the other representatives on last week's teleconference to discuss the announcement used the term "guardrails" so much that Smith even made a joke about it at one point late in the call. 
"I do think it's going to have a dramatic impact on things, although I think we're all unclear as to exactly monetarily what it's going to look like," Holtmann said.
What he knows for sure is he doesn't want Ohio State hoops to be left behind.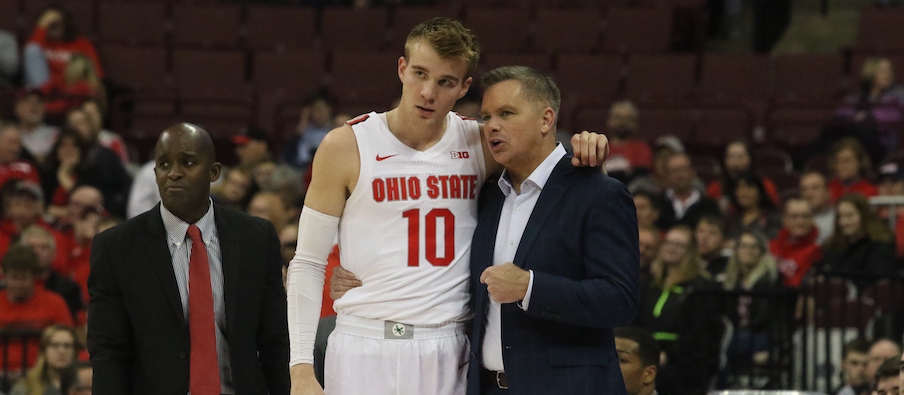 Theoretically, Ohio State – including both the football and men's basketball teams – is set up to thrive in the changing landscape of college sports.
It has a massive athletic department backed by a gigantic alumni base with deep pockets, having financially supported the program with significant donations in the past. Ohio State also has a rabid fan base and is the undisputed king of athletics – ahead of the Columbus Blue Jackets and Columbus Crew – in the nation's 14th-largest city. 
Holtmann said his staff, which has gotten used to recruiting virtually while dealing with the limitations posed by the pandemic, already had a "really powerful presentation" about the value of being located in a big city. 
"We're now in the process of putting some things together that will be as specific as you can be with still some uncertainty about name, image and likeness," Holtmann said. "But we are going to put some specifics about the selling points about being in Columbus and being at Ohio State."
Beyond simply looking at the revenue that athletes will be able to generate from an Ohio State perspective, Holtmann has consistently expressed support for college athletes having the ability to profit off of their name, image and likeness. In doing so again this week, he referenced the amount of money generated by college football and men's basketball.
"I think given the amount of money that's generated from college sports, in particular our sport the NCAA tournament, and obviously we know what a profound impact college football has on the overall economy of a university and a campus, I think it makes sense to allow guys, to allow athletes, men and women, to profit off of this," Holtmann said. "Again, I think it's going to, just like the regular marketplace, it's going to be significant for some and maybe somewhat insignificant for others. But that's also a lesson as to what life is going to look like in the marketplace beyond college."
Had these rules already been implemented, there's a chance Joey Lane – a towel-waving former walk-on – would have benefited more than any Ohio State hoops player in the past couple of years. The skill and production of players won't solely dictate who makes the most money in a given locker room.
To Holtmann, that shouldn't be a deterrent.
"I think the challenge of sports, college sports, today is you have to evolve," Holtmann said. "And I think we can all cling to these things that maybe we appreciated about college sports or specifically about college basketball that are just different today. It doesn't mean it's better or worse. In some cases, people might say it's better. In some cases, a lot of cases, people say it's worse, our game is worse because of transfers or the doing away with the amateurism or the addition of the stipend a couple years ago. People cling to this amateurism model and I get it, I understand it and I appreciate it. But it is a different time in so many ways."
As Drake and Smith continue to lead the NCAA's charge into the new age of college athletics, both Holtmann and Ryan Day have indicated they plan to do whatever they can to ensure Ohio State stays ahead of the curve.