The lucky one or two of Ohio State's players found a gym in somebody's house.
They're the exception, Chris Holtmann said.
Since the Buckeyes can't work out together in Columbus, they're forced to do whatever they can to stay in shape and try to get better while at home adhering to social distancing policies. That's especially difficult with everybody separated from each other while public gyms and basketball courts throughout the nation have closed. Players are forced to do what Holtmann described as makeshift "home workouts."
"It's not the same as being here and being monitored and evaluated here by coach (Quadrian Banks)," Holtmann said on Tuesday. "That's really what all of the guys are doing is they're doing some of those. And they're harder than, I think, they anticipated them being, based on our meeting yesterday and some of the complaints we were getting, which you love to hear as a coach. They're a lot harder than people imagine."
Pushups. Pull-ups. Burpees. Lunges. Whatever Banks can come up with.
For E.J. Liddell, that means going to the track at his Illinois high school, Belleville West, to work on conditioning while running with his mother, Michelle. Everybody's on a different plan since they each have different circumstances.
Rehabilitations Affected
The 2020-21 season won't tip off anytime soon. Yet Ohio State has a cadre of rehabilitating players whom it would like to get back to full health in order for them to have productive offseasons.
Seth Towns had knee surgery a few months ago. In January, Musa Jallow had reconstructive ankle surgery and Justice Sueing had foot surgery. Kyle Young wrapped up last season still dealing with a high ankle sprain.
"We do have some guys recovering," Holtmann said. "I think they'll all recover and be healthy, but that's a question mark as well."
The injury recoveries are made further uncertain by the coronavirus pandemic.
"We've been able to try to keep tabs on it, but honestly what we're going through, everything's taken a back seat, and that even includes to some degree our players' ability to do certain things," Holtmann said. "But they have been able to rehab through some things with Brad (Watson), our trainer. In all cases it's actually been virtually done. But there's some limitations on that. That's just part of where we're at right now."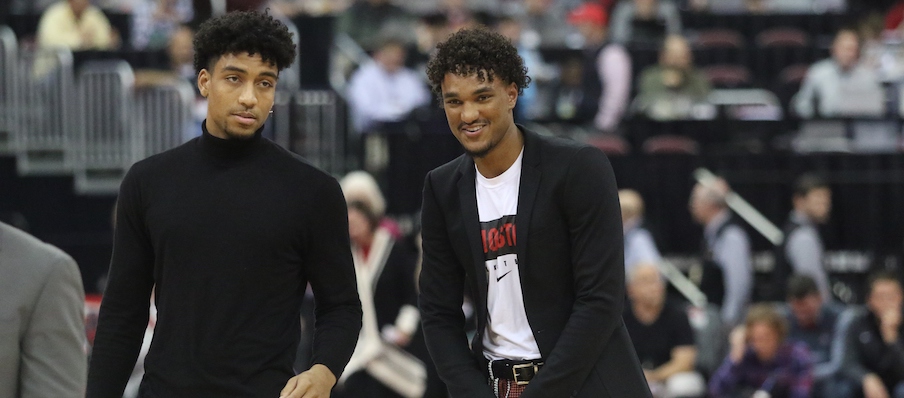 Goodbye to the Wessons
Whatever hope anybody out there still has about Kaleb Wesson staying in school might as well be quashed.
All indications from those within the program have consistently been that he has already played his last game as a Buckeye, and Abel Porter's transfer from Utah State put Ohio State at the 13-scholarship maximum. On Tuesday, Holtmann strongly hinted that Wesson's time in Columbus has ended.
"Obviously Kaleb has put his name in, and I believe he's really committed to this process, as we expected that he would be," Holtmann said. "And we fully support that. Kaleb had a tremendous year for us, as did his brother (Andre Wesson). Those two guys will be significant losses for us, there's no question. Both Wessons will be significant losses for us. But we really fully support Kaleb in this."
Wesson, who put up 14 points and 9.3 rebounds per game last season as a junior, is viewed as a borderline second-round pick. ESPN's latest mock draft didn't have him getting selected, and The Athletic's big board ranks him as the No. 51 overall prospect.
Until June 3, Wesson will have a chance to change his mind and stay at Ohio State for his senior season. But him making that decision would be characterized as a major shock. He's expected to remain in the 2020 NBA Draft pool, which means the Buckeyes will have the challenge of figuring out how to replace him over the course of the next six months.
"Listen, I get it. It's a major question mark for us moving forward, how we're going to answer that," Holtmann said. "He did a lot for us offensively and defensively, so that'll be obviously an offseason challenge for us moving forward."
Hitting The Ground Running...Eventually
The lack of in-person work for the foreseeable future due to COVID-19 hurts everybody. There's a chance, though, that Ohio State might be among the teams most affected because of the massive turnovers.
The Buckeyes lose Andre Wesson to graduation, Kaleb Wesson to the NBA, Alonzo Gaffney to professionalization and Luther Muhammad and DJ Carton to transfer. They'll add Seth Towns, Jimmy Sotos and Abel Porter via transfer and Eugene Brown III and Zed Key as freshmen. Four players – Jallow, Young, Sueing and Towns – are coming off of injuries. 
The only returners who entered the offseason relatively healthy were Duane Washington Jr., CJ Walker, Ibrahima Diallo, E.J. Liddell and Justin Ahrens, and they can't even get work in together due to the coronavirus keeping everybody at their respective homes.
"It's a concern. It is a concern," Holtmann said. "I'm sure it's a concern for every coach. But we do have a number of new faces, and given the uncertainty about when we're all going to be able to gather together. We're going to have to hit the ground running as soon as we can get back together. That doesn't mean we're going to overwork our guys, but it does me I think we're going to have to hit the ground running in terms of our ability to connect as a group and figure out each others' strengths."
For the freshmen who've been looking to enroll in courses and join the team for the summer, there's a certain amount of uncertainty about when they'll be able to get together.
"They'd love to be able to do that in June," Holtmann said. "Who knows if that's going to happen."
Pair Of Senior Leaders
And then there were two.
Because Wesson's headed to the NBA, Young and Walker are the only returners who'll be seniors next season. For now, they're tasked with keeping everybody working from afar.
"Those two play a major, major role in that," Holtmann said. "I put it on both of those guys to stay in touch with our guys, to monitor how they're doing. 
Once they're back on campus, the returning team captains will step into leadership positions for a team that, given the turnovers, will need a few veterans to guide everybody else.
"I think that'll be a next step for Kyle, too," Holtmann said. "I think he's anxious for that, but that's a next step for him to kind of accept that ownership moving forward. He's more than capable of doing it. He has the respect of everybody in the team. Certainly CJ does as well. I think both of those guys are going to play a major role when it comes to that. CJ is naturally more inclined to do that. Part of it's the position he plays. But we're going to need Kyle to do that as well."
Walker has declared for the NBA draft, but he's fully expected to stay in school for his redshirt senior season. By going through the pre-draft process, he can get feedback from professional teams.
Guest From The NFL
Every week or two, Ohio State hoops brings an outside speaker to address the team. Earlier this week, it was former Indianapolis Colts head coach Tony Dungy taking his turn via a Zoom video chat.
Many thanks to Super Bowl XLI champion, Tony Dungy, for sharing with our group today. Excellent stuff! pic.twitter.com/zNrGfOTLKF

— Chris Holtmann (@ChrisHoltmann) April 13, 2020
Dungy spent some of his time speaking about the NFL's strike-shortened seasons in two years – 1982 and 1987 – well before any players were alive. For Ohio State, which is only able to communicate virtually, the experience is applicable.
"He just talked about how they were able to utilize their time apart and that when they returned, they had a real closeness and a real bond," Holtmann said.
Dungy also delivered some stories about the work ethic of former Colts Peyton Manning and Marvin Harrison. Everybody knew of Manning, Holtmann said, but most of the Buckeyes' players didn't remember Harrison. If that makes you feel old, you're not alone. 
A solution to that generational gap will arrive on campus in a year or so, though. 
Hello, Marvin Harrison Jr. Meet Ohio State's hoops team.