Thirteen points separated Ohio State and a No. 1 ranking in the Associated Press top-25 poll just a little over three weeks ago.
All it needed, after nine victories in a row to begin the 2019-20 season with a spotless record, was a win against Minnesota. With that, the team would've had two wins over Big Ten teams, Villanova, North Carolina and Cincinnati.
That didn't happen, so instead of rising a spot, the Buckeyes dropped in the poll for the first time all year. At the time, the 84-71 road loss to the Golden Gophers felt like a mere bump in the road of what had otherwise been a dominant season.
But after a third loss in a row on Tuesday, this one coming by 12 points on the road at Maryland, the Buckeyes suddenly feel closer to dropping all the way out of the top 25 rather than grabbing that top spot. 
"I feel like we kind of got like a false sense of reality with those games that we had in the past with winning by so much or being up a certain amount of points and things like that," CJ Walker said on Monday.
In each of the three straight losses, with the other two coming to West Virginia and Wisconsin, they've struggled mightily to score consistently. They've put up 59, 57 and 55 points the past three games, which are the three lowest scoring totals of the year. Multiple players who were draining seemingly every shot have recently gone cold. Late-game issues doomed the Buckeyes versus the Mountaineers and Badgers, but they couldn't even stay close enough to the Terrapins to get a look at that aspect of their game on Tuesday. 
With a quick drop-off from nearly reaching the top of the rankings to three straight losses, it's fair to wonder whether this is a rut or a reality check.
The answer probably lies somewhere in between. No, this team isn't about to fall to the bottom of the Big Ten and miss the NCAA tournament. But it's also not the best team in the country – or really anywhere close to that right now.
Either way, we take a deeper look at certain key areas that'll determine Ohio State's path for the rest of the season.
Defense
An optimistic evaluator would first point out the defense. Chris Holtmann's teams have had a knack for prowess on that end of the court, which has translated to this season.
As shaky as Ohio State's offense has been the past three games, the team remains one of the nation's premier defensive units. It ranks sixth in adjusted defensive efficiency, fifth in defensive effective field-goal percentage and has allowed opponents to make only 39.8 percent of their 2-point attempts, the third-lowest rate in the country. Maryland managed to go 8-for-18 from beyond the 3-point line, but the Terrapins scored only 67 points, a total the Buckeyes had eclipsed in all but one game before their losing streak began. 
Such consistent defense gives Ohio State a higher floor than most teams, even allowing it to stay within striking distance in each of the past three losses.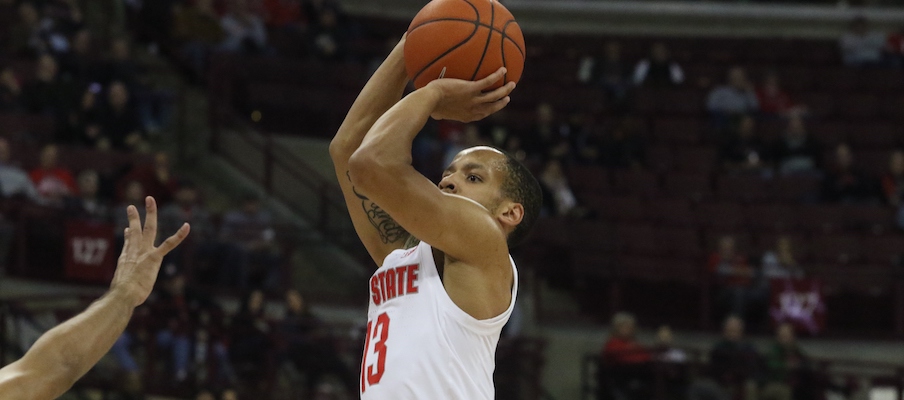 3-point Shooting
Outside shots have to start falling more consistently for some of the Buckeyes' best shooters from distance. From 3-point range, the team shot 33.3 percent against West Virginia, 26.1 percent against Wisconsin and 18.5 percent against Maryland. Even when factoring in those porous performances, Ohio State ranks 23rd in the nation, having hit 38 percent of its triples this season.
Four players – Andre Wesson, Kaleb Wesson, Duane Washington Jr. and DJ Carton – have made at least 40 percent of their 3-pointers. CJ Walker shoots 37.1 percent from 3 and Luther Muhammad has drilled 35.4 percent of his triples. Those six players have combined to make only 28.8 percent of their 3-pointers during the three-game losing streak. 
It's not hard to view most of those recent shooting percentages as outliers. But with an offense built around a 6-foot-9, 255-pound big man who can also stretch the floor, it's key for Ohio State to knock down open looks around Wesson from the outside. It's that simple, and the Buckeyes haven't made enough of them recently.
Kyle Young
Ohio State hasn't had Kyle Young in each of the past two games since he had an appendectomy, and he's been missed.
Especially against Wisconsin, the Buckeyes badly needed him. Immediately after the game, Holtmann referenced power forward Tyler Wahl pulling down five offensive rebounds against his team. Freshman E.J. Liddell, who played 13 minutes that game, had four fouls and zero rebounds. Only Kaleb Wesson had more than five rebounds. It's not outlandish to think Young's presence could have swung that game's result in favor of the Buckeyes.
His return, which could come as soon as Saturday against Indiana, will be a welcomed sight to a team that can benefit from his rebounding, boundless energy, and ability to score without the offense ever running through him.
Kaleb Wesson
Ohio State's offense is once again built around Kaleb Wesson, and he's upped his defensive game, too.
Averaging 14.7 points and 9.3 rebounds in 27.1 minutes per game, he has built himself into a more versatile scoring threat who is hitting 42 percent of his 3-pointers. The adept passer also averages 2.1 assists per game. Ohio State has needed everything it can get from him, and he's usually played well even in the losses. 
If there's an area of his game that needs to improve, it's finishing at the rim through contact. He's taking significantly fewer shots under the basket than he did a year ago – 46.5 percent last year came at the rim compared to 31.9 percent this season, per Hoop-Math – but is converting them at a slightly lower rate, hitting 62.2 percent this year compared to 65.5 percent a season ago.
Even with that area to work on, Wesson's the team's linchpin around which Holtmann has built both the offense and defense. That won't change. He just needs more scoring around him.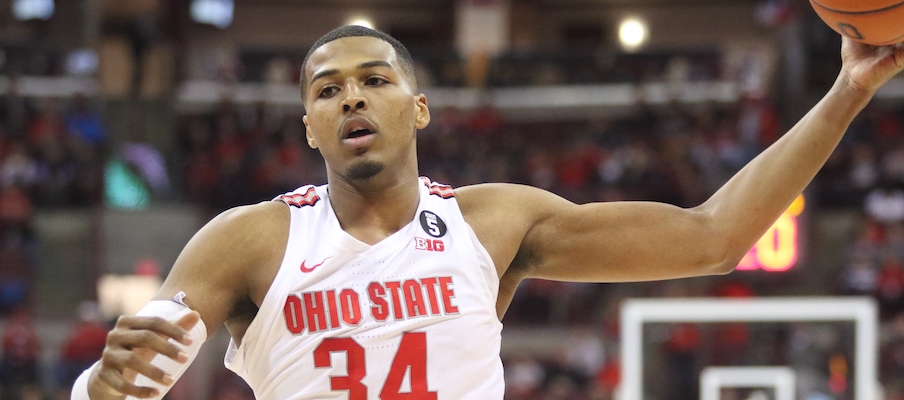 Offense from Everyone Else
As much as anything, the balanced offensive attack in the first month and a half of the season stood out – especially after a 2018-19 season permeated with questions of who would step up as a secondary scorer. 
That balance has been thrown out of whack recently, and thus the offense has declined. Ohio State has had three of its five worst single-game effective field-goal percentages of the season during the losing streak.
Duane Washington Jr. has gone cold, making 13-of-45 shots from the floor since returning from a rib injury that sidelined him for two games. DJ Carton had a combined three points, three assists and nine turnovers in ugly performances against West Virginia and Wisconsin before bouncing back with 14 points versus Maryland. Luther Muhammad has scored 12 points in the past three games, hitting 3-of-19 shots. CJ Walker has 17 points but just three assists during that stretch. E.J. Liddell scored six points and made one shot from the field in the three losses. Justin Ahrens hasn't scored in the seven minutes he played across the last three games.
Andre Wesson was a bright spot against Maryland with 14 points, hitting 6-of-11 shots from the field. The Buckeyes, though, need more offense from multiple players, especially...
Duane Washington Jr.
...this guy.
Ohio State's three most productive and efficient players in the first month and a half of the season were Kaleb Wesson, Young and Washington. Suddenly, the Buckeyes find themselves with Young sidelined and Washington playing nowhere near the level he reached earlier this season.
Here are his stat lines since returning from a rib injury four games ago:
Kentucky: 14 minutes, 8 points (2-of-7, 1-of-5 from 3, 3-of-4 from the line), 1 rebound, 0 assists, 0 steals, 2 turnovers, 1 foul
West Virginia: 21 minutes, 12 points (3-of-8, 2-of-5 from 3, 4-of-4 from the line), 1 rebound, 1 assist, 2 steals, 1 turnover, four fouls
Wisconsin: 34 minutes, 18 points (6-of-19, 4-of-10 from 3, 2-of-2 from the line), 3 rebounds, 0 assists, 0 steals, 1 turnover, 2 fouls
Maryland: 30 minutes, 7 points (2-of-11, 0-of-5 from 3, 3-of-3 from the line), 4 rebounds, 1 assist, 0 steals, 3 turnovers, 2 fouls
Before his injury, Washington shot below 40 percent in a game just once. In the four games since returning, he's yet to reach the 40 percent mark.
"If he can't figure it out, then we'll have to figure out another option," Holtmann said. "But we've got to help him figure it out. I do think it's really important because he's got the ability to score, really, at all three levels."
There really isn't anyone else on the roster who has shown an ability to score at all levels as well as Washington.
Some of his pre-injury numbers are unsustainable. For example, he hit at least 50 percent of his 3-pointers in seven of the first nine games. But there's a balance that must be struck. To be at its best, Ohio State needs a much more efficient version of Washington. That's key to turning around a scuffling offense.
Turnover Issues
A year after ranking 193rd in turnover percentage, Holtmann's staff emphasized the importance of improving in that area throughout the offseason.
So far? Zero improvement. Ohio State has, in fact, somehow gotten worse. It currently ranks 226th in the nation, turning the ball over on 20.4 percent of possessions.
The difficulty in fixing that issue, and the reason why this could plague the Buckeyes throughout the rest of the season, is that the turnovers have come from all areas and many different players. The coaches can't pinpoint a singular area that needs improvement.
The presence of Carton and Walker as point guards was supposed to help, but both have had their own issues coughing up the ball. They lead the team in individual turnover rate: Carton (26.6 percent), Walker (23.4), Muhammad (20.1), Kaleb Wesson (20), Andre Wesson (18.1). Among the eight players typically in Holtmann's rotation, Washington (15.1), Liddell (12.9) and Young (6.8) have turned it over at the lowest rate.
Too many turnovers combined with poor shooting have made Ohio State's offense a slog lately. It's a difficult issue to fix, but one that must get better.
Late-Game Execution
Versus both the Mountaineers and Badgers, the Buckeyes had opportunities to close out games victorious, but they couldn't quite pull off either win.
Largely, the lack of late-game execution fell on the inability to create enough offense. 
With 4:43 remaining against Wisconsin, Ohio State held a four-point lead. Between then and Washington hitting an ultimately meaningless 3-pointer as time expired, the Buckeyes connected on just one shot from the field and didn't attempt a free throw.
Similarly, Ohio State had a one-point lead against West Virginia with 4:40 remaining, then went scoreless until Kaleb Wesson hit a 3-pointer with 51 seconds remaining to cut the Mountaineers' lead down to four points. The Buckeyes made one more shot the rest of the game before losing by eight points.
On both occasions, the team played well enough defensively to have a chance to win. In each game, the Buckeyes' offense simply couldn't find enough buckets. Holtmann recently attributed some of those struggles to the difficulty of running the offense through a big man – Kaleb Wesson – in the post late in games due to the inconsistency of when referees call fouls. Understanding that difficulty without an easy solution, Holtmann and his staff still need to find ways to manufacture points late in games.
This is a legitimate area of concern, and with a stout Big Ten schedule ahead, chances to show progress should be aplenty.