The drill was fairly simple.
Two lines of players under the basket. Two pads that looked like pop-up tackling dummies at the top of the key. Each Ohio State player had to dribble the ball around each of the dummies then finish for a layup over assistant coach Jake Diebler, who had a couple of pads to increase the level of difficulty. Two players were to do the drill at the same time, and they'd switch from beginning on the right side to the left side after a minute.
Following his 30-second explanation of the drill, during which he used redshirt junior point guard CJ Walker as the example, assistant coach Ryan Pedon shouted out the number of made shots he wanted to see from his players during the two-minute drill. 
"We got 38 last year," Pedon said. "Let's get 40."
Chris Holtmann paused before blowing the whistle to begin the drill. He wanted to make sure the players knew of last year's mark and this year's goal. 
They started out strong. A make from Luther Muhammad, and then one from Walker. A layup from Andre Wesson followed by a bucket from Justice Sueing. Ten made shots in a row.
Then, the pace of Ohio State's makes slowed. Danny Hummer missed a shot, and Justin Ahrens dribbled the ball off his leg and out of bounds. Sueing lost his handle and sent the ball to the other end of the court. Hummer and Harrison Hookfin couldn't convert on back-to-back opportunities.
The Buckeyes ended with 35 makes in two minutes. Five fewer than their goal of 40, and three fewer than they had a year ago. 
Buckeyes aimed for 40 makes in two minutes. They hit 35 shots in the timespan. pic.twitter.com/nL47zpVLxZ

— Colin Hass-Hill (@chasshill) October 16, 2019
Ultimately, the drill was just a small one near the beginning of Wednesday's practice, the 16th of Ohio State's preseason. It'll soon be forgotten. But it served as a visceral reminder of something Holtmann had said about an hour before while sitting at a podium in the Schottenstein Center to update the local media on the progress of the Buckeyes as they prepare for the season opener against Cincinnati on Nov. 6.
"I would say this group is not quite as far along as last year's group in certain areas, and I think that can probably be attributed to a variety of reasons," Holtmann said on Wednesday afternoon. "Overall youth, more guys learning new stuff."
Prophetic.
By adding DJ Carton, E.J. Liddell, Alonzo Gaffney and Ibrahima Diallo in the offseason, with CJ Walker also now eligible to play after sitting out last season, this year's team has an undeniably higher ceiling than the one Holtmann led a year ago. In the unofficial Big Ten media poll, the Buckeyes were picked to finish third in the conference.
But given the roster construction, which includes seven underclassmen compared to one senior, Holtmann thinks this group needs significantly more time to develop.
"Just defensively, we're not quite there. Our ballhandling and decision-making is not quite there, and it's something we obviously struggled with last year," Holtmann said. "Is it the byproduct of having seven freshmen and sophomores? I don't know. Maybe it's something I'm not doing well. But that's just an honest assessment of kind of where we're at. I think we've got to continue to make strides."
Sights and scenes from practice
For the first time this year, Ohio State opened up its practice to the local media for a 30-minute viewing window. Given the tight timeframe and the limited drills completed, there are only so many takeaways anybody watching can have.
Regardless, it offered an opportunity to see some of the newcomers – including four freshmen, Justice Sueing and Walker – for the first time as Buckeyes.
A quick look at E.J. Liddell working on D. pic.twitter.com/TiGOOjudl4

— Colin Hass-Hill (@chasshill) October 16, 2019
Ohio State opened up its practice with a 20-minute film session, and then strength and conditioning coach Quadrian Banks led the team through stretches.
They worked on a variety of drills that centered on transition offense, transition defense, half-court defense and post defense in the following 20 minutes before the media had to leave the practice.
Though we can't show the entire half hour of practice, here are a few minutes of footage.
Looking to the vets
From the outside looking in, it's common to believe that the readiness of the freshmen will determine how good this team is by the end of the season, and there's absolutely truth behind that.
"I really believe that we will go as our leadership takes us this year," Holtmann said. "When you talk about CJ Walker and Andre and Kaleb and Kyle and some of our older guys, I think we'll go as they take us. I'm excited to see them continuing to grow in those important roles."
Walker, in particular, has earned plenty of positive public comments from both his coaches and teammates due to his leadership. Ask anybody within the program about Walker, and that'll come up within their first two sentences.
He has a deep, bellowing on-court voice that carries across the court. Some day, Holtmann imagines, Walker will be using that baritone in his job. 
"CJ Walker is going to be one heck of a coach one day. I really believe that," Holtmann said. "Because his attitude. He brings that approach."
Until then, Ohio State will rely on Walker as one of its leaders.
Andre Wesson is in a similar position. As the sole senior on a team full of seven underclassmen, he's looked at as a leader even though he's more quiet than most of the team by nature. He's also viewed as one of the team's most important forwards. Wesson has always been one of his team's better defenders and tougher players, so he spent much of his offseason working on the offensive side of the ball in order to develop his shooting stroke from beyond the arc. 
From behind the 3-point line, Wesson shot 35.1 percent on 37 attempts as a freshman, 28.6 percent on 56 attempts as a sophomore and 33.6 percent on 110 attempts as a junior. In the first 15 practices of the preseason, he hit 41 percent of his 3-point attempts, per Holtmann.
"His numbers have been good, and his shot selection has been really good as well," Holtmann said.
Injury Uncertainty
Though Musa Jallow can now participate in non-contact practice drills, Holtmann is uncertain about his availability for the season opener against Cincinnati on Nov. 6.
When preseason practices began a few weeks ago, Jallow was not able to practice due to a lower-leg injury. And though he has progressed, he's not to the point where the coaches have inserted him back into full practices.
"It's really an unknown right now as to what his availability will be at the start of the season. I couldn't tell you," Holtmann said on Wednesday. "The wing position is something that we're kind of after Andre we're trying to figure out a little bit, to be quite honest with you. But we're not going to rush him back. It's not in his best interest. I think it's kind of a day-to-day thing with Musa."
Justin Ahrens missed the beginning of preseason practices, too. Having recovered from a back injury, he has since returned to participate in full practices.
However, Holtmann said, he still has hurdles to clear before he returns to peak physical shape.
"I think he'd be the first one to tell you that he is not what he was last year," Holtmann said. "Certainly not what he was in the spring; he had a terrific spring. What percentage he would be, I don't know. But he's clearly not physically at full strength."
E.J. Liddell also missed the beginning of the preseason with a lower-leg injury, but he returned to action about a week ago. Holtmann said he's "progressing well" and is now working on his conditioning.
During the 30-minute viewing session with reporters in attendance, every player on the roster – other than Alonzo Gaffney – participated in each drill. Gaffney, a team spokesman told the Columbus Dispatch's Adam Jardy, was resting on a break. He spent much of the time on the exercise bike.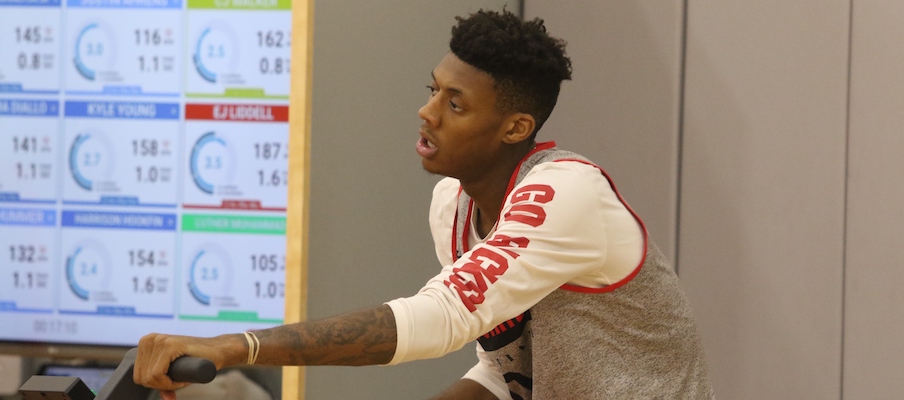 Other notes from interviews and the practice viewing
After a year of abysmal transition efficiency, Holtmann hopes the additions of Carton and Walker will aid his team in those situations. Along with the pair of point guards, he said he trusts Luther Muhammad, Duane Washington and sometimes Andre Wesson to run the fast break. Holtmann: "The way we play, it's primarily those guys, unless it's just an out-on-the-floor, two-on-one break. You saw Kaleb lead the break sometimes last year with those kind of freelance opportunities. But primarily those four guys."
Ohio State will go on the road to face Louisville in what's often known as a "secret scrimmage" on Sunday. Neither fans nor reporters are able to attend the closed scrimmage. The past two years, the Buckeyes have faced – and beat – Xavier in their private exhibitions. This year, they moved the date up a bit. Holtmann: "Part of the reason was to get earlier feedback, potentially, so that we can have more time to make some corrections."
Kaleb Wesson's drastic weight loss has translated to the court in certain areas. Both Kyle Young and Muhammad noted the big man has more "bounce" in his legs this year. When asked whether that leads to more dunks on players or better rim protection, Young said, "I think a little bit of both." Muhammad, however, followed up to say, "He's been dunking on guys," which elicited laughs from those in the room.
Banks had a giant screen open on the wall that detailed the health information of each player, including the heart rate of everybody practicing.
Sueing and Hummer effectively served as the scout team for a segment of the practice. When teammates were working on half-court defense, they were the offensive players. Those are the types of drills Walker went through a year ago and what Sueing will go through this season.
Ohio State has a fairly deep roster with a decent amount of players who can work at multiple positions. On a whiteboard in the corner, the coaches had five five-man lineups written out. One had Walker, Carton and Washington playing together. Another had Gaffney and Liddell as the two big men. The centers in each lineup on the board were different: Andre Wesson, Kaleb Wesson, Young, Diallo and Gaffney.
In a quick viewing period, it's tough to gather too much about individual players, but it's worth noting Carton's explosiveness, quickness and athleticism were on display. It's not breaking news – or news at all, really – but those attributes were readily apparent. They're why Carton nearly ended his recruitment as a five-star prospect and why the Buckeyes are thrilled to have him. 
Though he needs more development time than anybody else on the team, Diallo has recently caught the eye of Muhammad, who singled him out as impressing in the past week. Muhammad: "Lately, he's been catching onto the plays fast. Not really making many mess-ups. Catching the ball. Keeping it high." At 6-foot-10 and 220 pounds, Diallo's greatest advantage is his size.
Throughout the 30-minute practice viewing period for the media, the sound of clapping seemed as though it would never end. Whether it be players, coaches or student managers, clapping permeated the practice gym.