The bubble is not a particularly pleasant place to be at this time of year.
Before Ohio State's latest loss, Chris Holtmann said he hasn't fully delved into the discussions or analysis of which teams will make the NCAA tournament and which teams will likely be left on the outside, for it can be overwhelming. As a coach of a team on the edge, Holtmann knows there's only one thing the Buckeyes can do to secure a tournament spot: win.
Ohio State nearly captured an elusive top-25 victory on Sunday, completing a second-half comeback after trailing by 23 points to tie No. 21 Wisconsin with less than a minute left. But the Badgers held off the Buckeyes, eventually beating them by six points in overtime. Had Ohio State won, it likely would have locked up a spot in the NCAA tournament. But since it lost, the team is set to begin the Big Ten tournament with what might essentially be a play-in game to earn an at-large bid.
The eighth-seeded Buckeyes will take on ninth-seeded Indiana at 12:30 p.m. Thursday in a matchup between two teams squarely on the bubble.
ESPN's Joe Lunardi lists Ohio State as the last team in the field of 68 and has the Hoosiers as the last team left out, and he's far from alone. Bracket Matrix, which aggregates 118 brackets, also has the Buckeyes as the last team in and Indiana as the last team out. 
Thus, if Ohio State loses, it will likely fall out of the tournament field, and if it wins, there's a solid likelihood it will secure an at-large bid.
"If we're not good enough, we're not good enough," Holtmann said after Sunday's loss to Wisconsin. "But we're going to fight like hell to get there."
On Thursday, the Buckeyes will learn, as Holtmann said, if they're good enough.
They beat Indiana at Assembly Hall in Bloomington, Indiana, behind late-game heroics from C.J. Jackson and Andre Wesson for an important 55-52 win on Feb. 10 that kept them in the bubble conversation after a dreadful January performance. In order for Ohio State to earn a spot in the tournament for the second year in a row, it'll have to defeat Romeo Langford and the Hoosiers once again.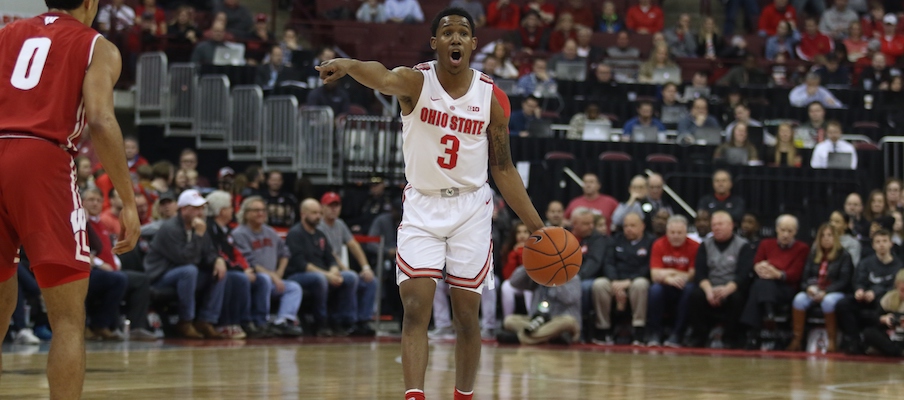 The NCAA tournament bubble is an inexact science. Immediately after the bracket is released on Sunday, analysts will spend their time excoriating the selection committee for putting a perceived undeserved team into the field and leaving a team that deserves a spot out. It happens every year.
But it's important to remember this isn't the College Football Playoff committee. The folks who determine which four football teams make the playoff change every year and can be unpredictable. Though NCAA Tournament bracketology is rarely completely accurate, there are only a couple surprises each year.
So, could Ohio State need more than one win in the Big Ten tournament to make the NCAA tournament? It's possible. And there's also a chance it could lose to the Hoosiers and make the field. The most likely outline of the Buckeyes earning a bid, though, comes with a win against Indiana on Thursday.
The only reason Ohio State even has a chance at a tournament bid after starting the calendar year of 2019 with a 6-11 record is due to the complete weakness of the bubble.
Consider some of the other teams fighting for at-large spots, and look at what's holding each of them back.
Clemson: a 19-12 record with a 1-9 record in quadrant-1 games.
TCU: A 19-12 record with a 3-7 road record.
NC State: A 21-10 record with a 2-8 record in quadrant-1 games, two quadrant-3 losses and the No. 215 strength of schedule.
Indiana: a 17-14 record with a 3-9 record on the road.
Florida: a 17-14 record with a 3-11 record in quadrant-1 games and two quadrant-3 losses.
Texas: a 16-15 record with a 4-5 record in quadrant-2 games.
Temple: a 23-8 record with a 2-6 record in quadrant-1 games.
Belmont: a 25-5 record with two quadrant-3 losses and the No. 191 strength of schedule.
Alabama: a 17-14 record with a 2-9 record in quadrant-1 games and two quadrant-2 losses.
None of those resumes are particularly awe-inspiring, and all of them can be picked apart. The Buckeyes' resume is similarly unimpressive.
Ohio State: an 18-13 record with a 4-9 record in quadrant-1 games and a quadrant 3 loss.
So, does Ohio State have an "NCAA tournament-worthy resume" or can someone deem it an "NCAA tournament team?" In most years, no. Has it defeated enough tournament-quality teams? Not in most years.
But the 2018-19 bubble is exceedingly poor, and that works in the Buckeyes' favor.
As it enters the Big Ten tournament, Ohio State has an 18-13 record. Just a couple months ago, it was 12-1 with wins against Cincinnati, Creighton and UCLA, seemingly having a strong early case at an NCAA tournament bid.
The team's situation changed quickly, though, and here it sits, likely one game away from securing a spot in the field. Win and they're in? That appears to be the most likely scenario of the Buckeyes earning a berth.