Just about everyone in Ohio is ready to turn the page on January after a ridiculous stretch of snowy, frigid weather. 
Chris Holtmann's basketball Buckeyes endured a January cold snap of their own as they dropped six of seven games during the month, capped by a blowout loss to Michigan in Ann Arbor, bringing their Big Ten record to a disappointing 3-6. 
But the calendar has now flipped to February and with the new month comes a stretch of four winnable games over the next two weeks, giving the Buckeyes – currently a 10-seed in Joe Lunardi's latest Bracketology – a real chance to pile up some much needed victories. 
Ohio State's next four opponents – Rutgers, Penn State, @Indiana, Illinois – boast a combined 9-31 record in league action. 
The potentially-friendly stretch kicks off tomorrow at noon as Holtmann's squad hosts a 4-6 Rutgers outfit that handed the Buckeyes a road loss in game two of the January skid. 
Rutgers is riding a three-game winning streak thanks to a friendly schedule of its own but we should expect to see a desperate Ohio State squad looking for revenge on its home floor. 
Following that matchup, the Buckeyes host a Penn State team that's yet to win a Big Ten game this season (0-10), followed by a roadie in Bloomington against what is now a 3-7 Indiana group, and finally, a Valentine's Day tilt with Illinois, which currently sits at 2-8 in conference play. 
It's hard to be optimistic after what we've seen over the last month but if Ohio State can pull a rabbit out of its hat and sweep the four games, it would improve to 7-6 in Big Ten play and 17-7 overall heading down the stretch. Even a 3-1 mark over the next two weeks would do wonders for a group currently taking on water. 
Of course, even with some opponents ripe for the picking, it won't matter if Holtmann's guys don't make some significant strides addressing key issues.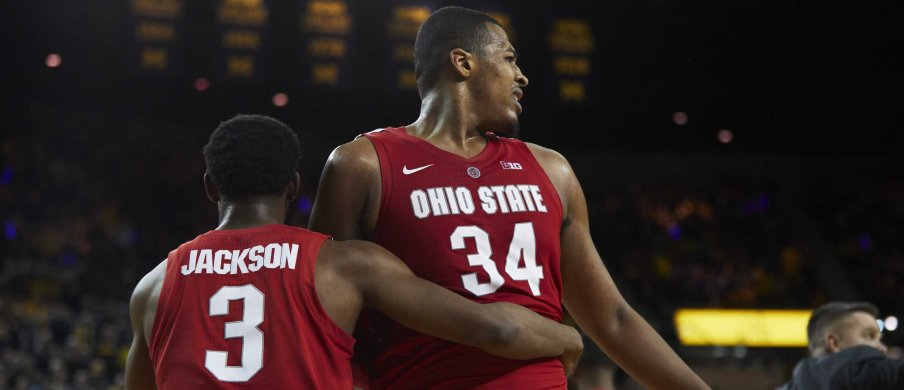 A few of those issues include the lack of a go-to scorer, Kaleb Wesson's constant foul trouble, the absence of a true point guard and elite ball-handlers, poor discipline leading to turnovers, and a lack of punch off the bench as some assumed shot-makers have struggled mightily in league play. 
Wesson's foul trouble is a double-edged sword as it forces a group already lacking baseline depth to play small and without its leading scorer. Through nine Big Ten games, Wesson has fouled out of three and racked up at least four fouls in seven. With Holtmann forced to bench him for long stretches, Wesson is averaging just 23.4 minutes per conference contest. The lack of minutes has Ohio State's leading scorer ranking just 25th overall in the Big Ten. 
Turnovers have also been front and center during Ohio State's difficult stretch as we witnessed this past Tuesday at Michigan when the Buckeyes racked up 11 first half turnovers followed by two-straight to open the second half helping turn a fairly close game into a 65-49 spanking. 
C.J. Jackson catches his fair share of heat for turnovers and leads the Buckeyes with 23 which averages out to 2.6 per game in Big Ten play. Jackson does lead the team with 34 assists in conference action but he'd need to have 46 dimes to reach the preferred 2:1 assist-to-turnover ratio. 
Wesson is averaging 2.0 turnovers per night despite the lack of minutes and Keyshawn Woods has been bad, averaging 2.1 turnovers per game with 19 against 14 assists in Big Ten action including four against one assist versus the Wolverines. Musa Jallow, you ask? Ten turnovers against two assists. 
The lack of consistent production from a depleted bench after Kyle Young's injury suffered against Maryland back on January 18 also isn't helping Ohio State's cause. 
Woods and Duane Washington Jr. have both started at least one Big Ten game but I'm considering them both reserves in the grand scheme and both haven't been able to throw it in the ocean against league foes. 
Washington Jr. deserves some leeway considering he's a true freshman but the Buckeyes could really use a more consistent spark and he's shooting just 25.6% from beyond the arc (10 for 39) and 35.8% from the floor overall through nine conference games. 
Woods, after scoring 1,000 collegiate points before transferring to Ohio State, has reached double figures four times in 20 games and only once in nine conference games. He's shooting 28% from three-point range on the season and 15% from distance (3 for 20) against Big Ten opponents. 
If Holtmann's squad can realize even modest improvement in these facets and see the young guys continue their development – I get it, that's a huge if – Ohio State could string together some wins and build much-needed confidence down the stretch.